Sales Have Ended
Registrations are closed
¡Hola, soy Jael! ¡Me alegra que hayas encontrado tu camino aquí! Gracias por unirte a nuestro taller. Taller de sanación energética | Encuentro Zoom de Jael Ortega Unirse a la reunión de Zoom Topic: Jael Ortega | Taller de Sanacion Energetica Hora: 10:00 AM Hora Ecuador Unirse a la reunión de Zoom https://us06web.zoom.us/j/9349594899?pwd=RW91ZGl3Z3FzNzArVEYyMStFdGlxUT09 Meeting ID: 934 959 4899 Codigo de entrada: 2410019 El taller comienza a las 10:00 hora Ecuador asegúrate de llegar 10 minutos antes. Tómate el tiempo para guardar este evento en tu calendario ahora. Dado que trabajamos con Energy Healing, les pedimos a todos los asistentes que usen ropa de colores claros para que Jael pueda leer fácilmente su energía. Al llegar al taller: * Ven 10 minutos antes * Té o agua para mantenerte hidratado. * Un cuaderno y un bolígrafo. Tema: Taller de sanación energética | Encuentro Zoom de Jael Ortega Hora: 10:00 AM Hora Ecuador Unirse a la reunión de Zoom https://us06web.zoom.us/j/9349594899?pwd=RW91ZGl3Z3FzNzArVEYyMStFdGlxUT09 Meeting ID: 934 959 4899 Codigo de entrada: 2410019 El taller comienza a las 10:00 hora Ecuador asegúrate de llegar 10 minutos antes. Nos divertiremos muchísimo juntos. Espero verte pronto. Jael
Sales Have Ended
Registrations are closed
¡Hola, soy Jael! ¡Me alegra que hayas encontrado tu camino aquí! Gracias por unirte a nuestro taller. Taller de sanación energética | Encuentro Zoom de Jael Ortega Unirse a la reunión de Zoom Topic: Jael Ortega | Taller de Sanacion Energetica Hora: 10:00 AM Hora Ecuador Unirse a la reunión de Zoom https://us06web.zoom.us/j/9349594899?pwd=RW91ZGl3Z3FzNzArVEYyMStFdGlxUT09 Meeting ID: 934 959 4899 Codigo de entrada: 2410019 El taller comienza a las 10:00 hora Ecuador asegúrate de llegar 10 minutos antes. Tómate el tiempo para guardar este evento en tu calendario ahora. Dado que trabajamos con Energy Healing, les pedimos a todos los asistentes que usen ropa de colores claros para que Jael pueda leer fácilmente su energía. Al llegar al taller: * Ven 10 minutos antes * Té o agua para mantenerte hidratado. * Un cuaderno y un bolígrafo. Tema: Taller de sanación energética | Encuentro Zoom de Jael Ortega Hora: 10:00 AM Hora Ecuador Unirse a la reunión de Zoom https://us06web.zoom.us/j/9349594899?pwd=RW91ZGl3Z3FzNzArVEYyMStFdGlxUT09 Meeting ID: 934 959 4899 Codigo de entrada: 2410019 El taller comienza a las 10:00 hora Ecuador asegúrate de llegar 10 minutos antes. Nos divertiremos muchísimo juntos. Espero verte pronto. Jael
TALLER EN LÍNEA GRATUITO DE SANACIÓN ENERGETICA UTILIZANDO HERRAMIENTAS PARA SANAR TU PROSPERIDAD Y TUS RELACIONES
About this event
Acerca de este evento
Hola 👋🏻
¿Te gustaría aprender los principios básicos de la sanación energética 🙌🏼 y activar tu propia fuente de poder? 💪🏻
Te invitamos a un día de exploración y creatividad.
Quedarás INSPIRADO, EMPODERADO y CLARO.
Aprende como:
✅ Entrena tu mente y cuerpo a estar presentes en tu realidad
✅ Encuentra tu propia frecuencia de luz, colores y sonido
✅ Descubre el elemento que orienta y apoya tu vida en este planeta (Agua, Aire, Tierra, Fuego, Mineral)
✅ Sanación física y emocional
✅ Libera cualquier energía estancada o apegos emocionales
✅ Limpia y activa los chakras
✅ Envía sanación a través del tiempo y el espacio y
✅ Prográmela para que se active en un momento y lugar designados
✅ Reprograma tus células
✅ Limpieza energética de ambientes: instala pilares de luz en casa
✅ Empoderate con la luz
Mi propósito es Servirte 🤗 con un corazón abierto y crear una plataforma desde la cual puedas descubrir tu propio Ser Majestuoso. 🙏🏼
Este taller te dará las herramientas para comenzar a practicar como un sanador energético intuitivo, también te guiará para descubrir, nutrir y compartir sus dones curativos con todos mientras desarrollaa tu técnica curativa. 🙌🏼
Este proceso creativo implica:
🦶Preguntas guiadas
🍃 Respiración consciente
🧒🏻 Trabajo del niño interior
🎼 Sanación con sonido y color
🧘🏻‍♀️ Meditación
⚛️ Mayor resonancia de guía
Entre otros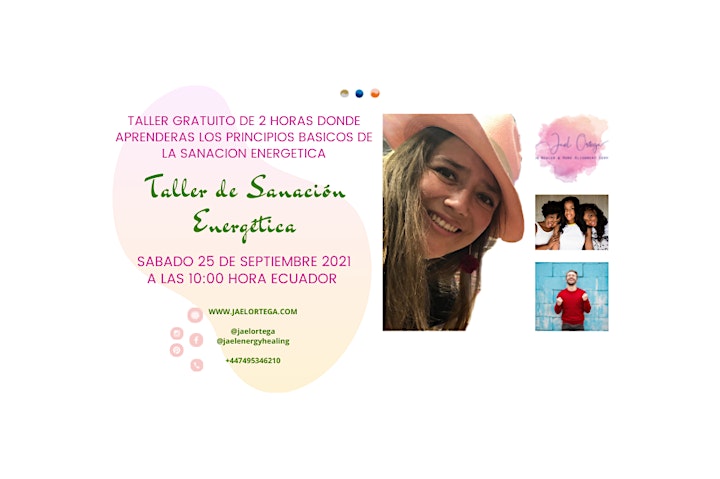 Organiser of TALLER GRATUITO DE SANACIÓN ENERGÉTICA PARA PERSONAS ALTAMENTE SENSIBLES
Hi, I am an Intuitive Consultant, Energy Healer and Empaths & HSP's Breakthrough Coach
Helping Empaths Leaders to:
Master their Mind & Energy
Create sustainable success at work and home
Expand and Transform to Amplify their Superpowers
Communicate powerfully in life
Equip them to blossom in their relationships while achieving success
Realize their Soul-aligned Purpose
CLUBHOUSE
♾ Follow our Club EMPATHS MIND MASTERY ♾
FREE Energy Healing workshops and 1 on 1 coaching to support #empaths working in the health care industry.
Let's connect:
DM me to BOOK a FREE discovery call
I'm glad you found your way here!