'TANGERINE' – Exclusive Berlin Premiere + Director Q&A

Saturday, 17 October 2015 from 19:00 to 23:00 (CEST)
Event Details
[BERLIN FILM SOCIETY]
presents

an exclusive Berlin premiere of

'TANGERINE' (2015)
Directed by Sean Baker 

"Tangerine jumps off the screen and wows you like nobody's business. A visually innovative knockout that grabs you from the first frame." 
– Rolling Stone

Shot entirely on an iPhone 5s, this instant cult classic was a break-out hit at Sundance this year and will be making its way to Berlin after several international film festivals.

We're incredibly excited to welcome the film's acclaimed director, Sean Baker, to Berlin for a Q&A after the film.

Sat 17th October
Join us from 19:00 for complimentary drinks courtesy of Jameson Whiskey.

19:00 Drinks Reception
20:00 Introduction + Film Screening
21:30 Director Q&A

Umspannwerk Kreuzberg
Ohlauer Str. 43

 

_________________________________________________
ABOUT THE FILM

When transgender working girl Sin-Dee hears that her pimp boyfriend has been cheating, she drags best friend Alexandra on a wild pimp chase from donut shops to drug dens down Santa Monica Boulevard. 

Featuring dazzling, inventive cinematography, this neon-lit romp from writer, director, and editor Sean Baker is high energy, high contrast, and equal parts snark and heart.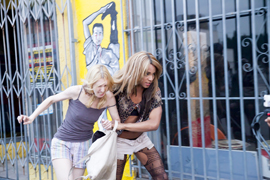 __________________________________________________
ABOUT THE DIRECTOR

Sean Baker shot his first feature 'Four Letter Words' in 1996 and finally finished it in 2000. Made for $80,000 with 35mm short ends, it's the only movie he has done on film. In 2004, he shot 'Take Out' on standard definition video for $3,000 and "finished it with favors." In 2008, he made 'Prince of Broadway' for $45,000. Then in 2012, he completed 'Starlet,' which was filmed in HD on a $235,000 budget. 'Starlet' received enthusiastic reviews, won the Robert Altman Award at the Independent Spirit Awards and was distributed by Music Box Films. 

How To Be Unstoppable: Sean Baker and the Digital Filmmaking Revolution – IndieWire
http://www.indiewire.com/article/how-to-be-unstoppable-sean-baker-and-the-digital-filmmaking-revolution-20150710
__________________________________________________
WITH THANKS TO OUR SPONSORS & PARTNERS

Avignon Capital

Umspannwerk Kreuzberg
http://www.umspannwerk-kreuzberg.de/

Hotel Zoo Berlin
http://www.hotelzoo.de/en/

Jameson Irish Whiskey

Dunkin' Donuts
When & Where

Umspannwerk
Ohlauer Straße 43
10999 Berlin
Germany


Saturday, 17 October 2015 from 19:00 to 23:00 (CEST)
Add to my calendar
Organiser
Berlin Film Society
Established during the Berlinale 2012, the Berlin Film Society is a monthly cinematic experience. Each month a specific theme, motif, director, or idea will be explored within the films that are screened. From Director Q&As and retrospectives, to themed culinary experiences and live music events, the Society aims to create a whole new approach to experiencing film. Previous events have included the German Premiere of the critically-acclaimed UK film, 'Dreams of a Life', with director Q&A, exclusive screenings of Alejandro Jodorowsky's controversial cult classics, 'The Holy Mountain' and 'El Topo', Chaplin's satirical masterpiece, 'The Great Dictator', and David Gelb's appetising documentary, 'Jiro Dreams of Sushi'.

Feel free to get in touch: info@berlinfilmsociety.com
'TANGERINE' – Exclusive Berlin Premiere + Director Q&A