Sales Have Ended
Ticket sales have ended
Thank you so much for choosing to participate in the Tao Tantric Arts for Women Online Symposium! We look forward to connecting live with you. Lots of love, Shashi and Minke
Sales Have Ended
Ticket sales have ended
Thank you so much for choosing to participate in the Tao Tantric Arts for Women Online Symposium! We look forward to connecting live with you. Lots of love, Shashi and Minke
Tao Tantric Arts is a system of healing and awakening for women based upon ancient Eastern traditions.
About this Event
Tao Tantric Arts is a system of healing and awakening for women based upon ancient Eastern traditions. Tantra and Tao both saw sexuality as something sacred, and understood the sexual energy to be rocket fuel for awakening, if used in the right way.
We have been running teacher trainings for women for nearly ten years, spreading this wisdom to be shared by women far and wide.
For the first time we will bring together teachers who have all graduated with Tao Tantric Arts to share this wisdom with you.
The Days will be themed as follows:
Day 1: Menstruation, Menopause and Sexual Health
Day 2: Orgasm and Tantric Sexuality
Day 3: Conscious Relating and Love-Making
We will include a mixture of talks, guided practices, meditations, tantric qigong and yoga, dance and rituals.
You will get to experience the teachings and practices from our worldwide teachers.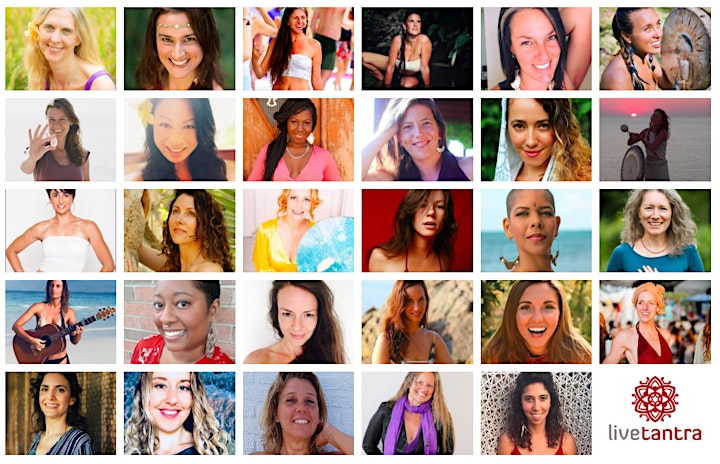 All of the teachers have completed the Tao Tantric Arts Teacher Training.
Tao Tantric Arts is an international school that has been running for a decade, training women in the healing practices of Tantra and the Taoist Sexual Arts. These arts teach us how to heal wounds with our sexuality, our bodies and our hearts and they also give us vehicles for expansion, awakening the energy body.
This path is about:
Reclaiming our sacred femininity (plus our healthy masculinity!)
Finding the way back to embodiment
Healing sexual pain, trauma and sickness
Finding sexual empowerment
Reclaiming our pleasure
Discovering the spiritual dimension of sex
Healing relationship dysfunction
Creating conscious relationships
All events that are live will also be uploaded so that participants can watch in their own time over the next two weeks. Any private sharing (participants sharing their experiences or questions) will be removed, to make it a safe space for everyone.

Day 1 - Sexual Healing & Embodiment
Our first step is to heal. Learning how to shift pain and trauma, and develop deeper self-love. What prevents us from feeling safe to be in this body? Tools for healing and embodiment.
Day 2 - Multi Orgasmic Woman
Once grounded, we are ready to fly! Learn the ancient tools of Tao Tantric Arts to become a multi-orgasmic woman. Discover how to circulate energy and become fully alive!
Day 3 - Relating and Love Making
We carry a deep longing to love and be loved...how can we do that without losing our sense of self and sovereignty? How can we have healthy relating and tantric love making?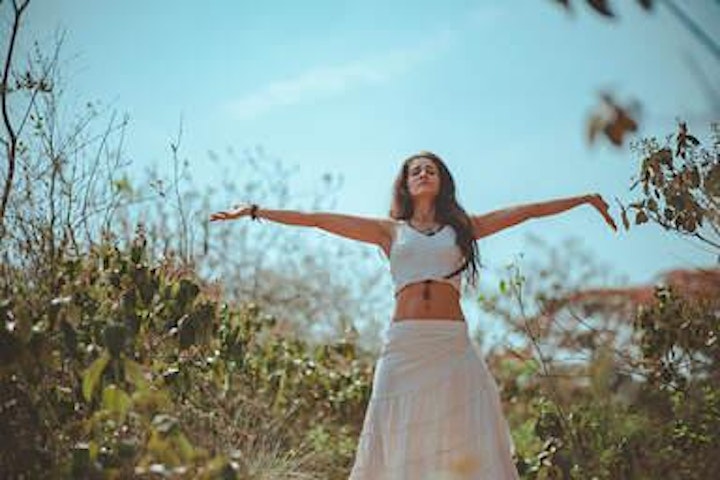 Classes you will find in this event
Tao Tantric Qigong
The foundational Practice is Qigong, which means "energy play" and is all about cultivating, moving, expelling and storing energy (Qi). In Tao Tantric Qigong, we focus on the sexual energy, raising it to the heart, circulating it around the "microcosmic orbit" and connecting back to Source energy with this energy. Using this Qigong we learn full body orgasm, energy orgasm and also how to start sharing energy with a lover.
Tao Tantric Breast Massage
This is a practice we use to awaken sexual energy (yes, the nipple massage starts to activate ur sexual hormones!), reclaim ur pleasure, open our hearts...there are so many types of breast massage! Get a bottle of natural oil ready for this Symposium as we are gonna do a lot of delicious breast massage!
Tao Tantric Jade Egg
It is recommended to purchase a jade egg before this symposium as we will be offering some classes in this practice. Women use this to reconnect the mind-muscle relationship to the sex so that they can feel more sensation during intimacy. There are techniques for healing trauma, some for dearmouring the yoni (clearing residual holding patterns), for moving energy, for reclaiming pleasure and of course not to mention strengthening the muscles (whilst retaining flexibility).
Inner Alchemy
This is the series of practices working with inner energies. When we merge polarized energies (yin and yang) then we create a fusion that feels like an inner love making, and it brings us back to a feeling of wholeness. We work with polarities such as fire and water, passion and love, shadow and light, inner masculine and inner feminine.
Energy Clearing
We have practices for clearing energies from the body. A whole series focuses on the womb, so that we can clear energy from past lovers and experiences that we might wish to release. Plus emotions that have become stuck. We also clear energies from different organs and meridians. This is seen as an important step before raising sexual energy.
Sacred Dance
Dance is a foundational practice for the feminine, and was practiced by the "devadasis" in tantric temples in India. In Tao Tantric Arts we use dance specifically to awaken different vibrations of sexual energy.
Find more about all classes here http://www.taotantricarts.com/symposium-classes.html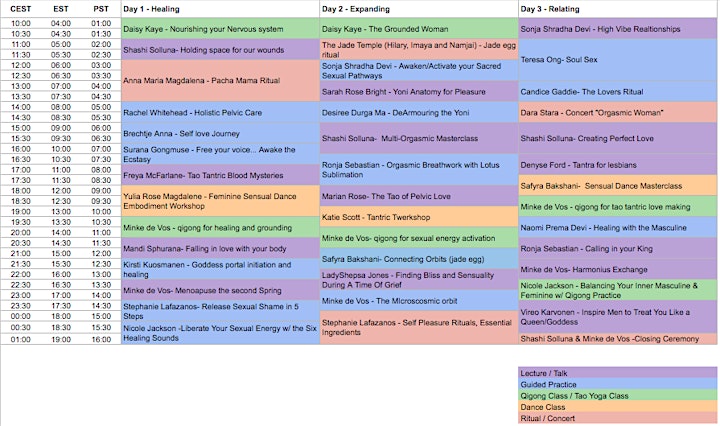 Schedule subject to changes. Recordings will be available for 2 weeks to watch on your own time.
We believe in giving back
Save Girls from Sex Trafficking
LiveTantra will be donating 10% of the proceeds of this event to help rescue girls from sex trafficking. May our self-healing work also be part of a bigger movement of change. Learn more about The Human Rescue Project.