Taraweeh Prayers Sale Leisure Centre
About this event
Taraweeh Prayers
Sale Leisure Centre
Ishah Jammaat Time 10.20 pm
Taraweeh prayers can be performed whilst strictly following social distancing and other precautionary measures. However, covid-19 poses a serious threat to health and life, with higher cases within BAME communities.
1. *2m social distance* will be adhered strictly
2. *Wear Face Mask* all the time during congregation
3. *Use Hand sanitiser* on entry
4. *Bring shoe bag*
5. *No socialising* inside or outside prayer hall
6. *Do Wadu* at home
7. If you in *vulnerable group please do not attend*
8. Age limit 12-70
9. Need to register your vehicle at entrance of premises.
10. *Prebook your visit on event bright*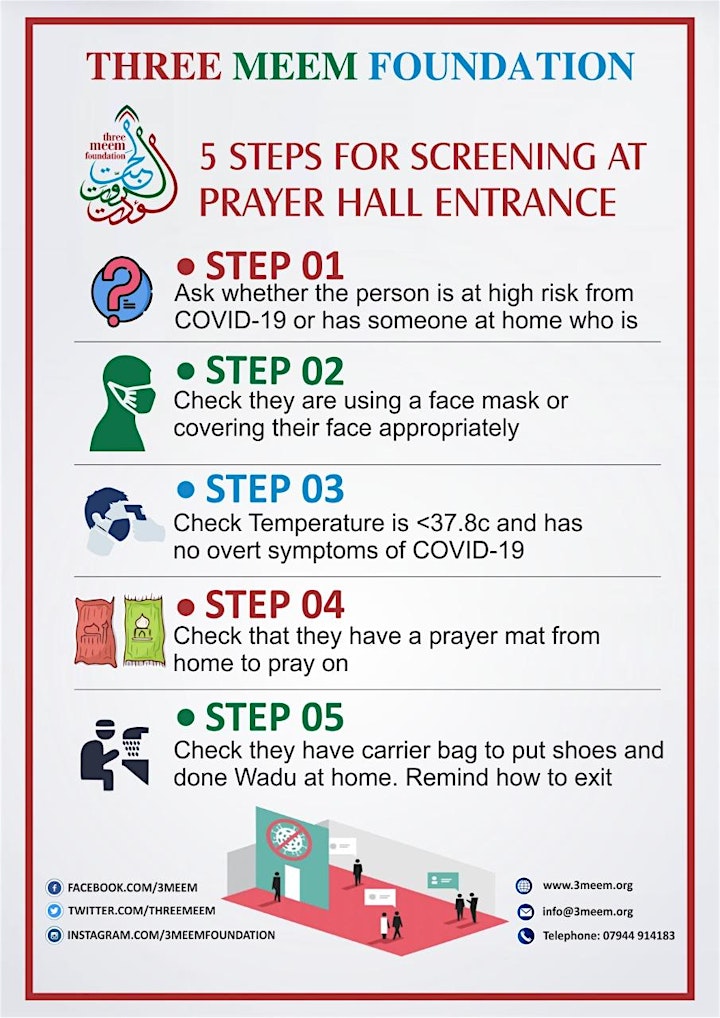 RISK ASSESSMENT TARAWEEH PRAYERS
Mandatory advice for all attendees and volunteers
1. Temperature will be checked before entering Hall
2. Wear Face Mask all the time (unless valid Exemption)
3. 2M social distancing at entering, leaving and in main hall.
4. Prayer mats on already designated markings
5. Bring your own prayer mat and shoe bag
6. Bring your water bottle and take home after use
7. Use hand sanitizer (Extra bottles will be placed in Main Hall as well)
8. No handshake and socialising inside or outside venue
9. Do not bring any food
10. Do wudu at home. No ablution facility available.
11. Age limit 12-70 for both males and females
12. Boking through Eventbrite
13. Reminding people on social media on Covid precautions
14. Please don't attend If unwell or any Covid symptoms
15. Don't attend if pr existing conditions which could lower your immunity
16. Wipe the chairs if any used
17. Volunteers will wear High Visibility Jackets and Masks all the time
18. Follow main protocol as on Friday Congregation at Sale West Community centre