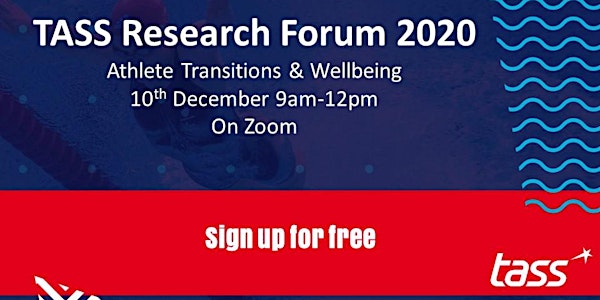 TASS Research Forum: Athlete Wellbeing & Transitions
The 3rd annual TASS Research Forum with a Focus on: Athlete Wellbeing & Transitions.
About this event
Interested in Dual Careers, Transitions, and Athlete Wellbeing? Join us at the Virtual TASS Research Forum
For the third year running, TASS will be hosting a research forum to showcase some recent pieces of work being completed by both TASS themselves and researchers across the UK & Ireland.
Join us on December 10th on Zoom – 9am-12pm – to listen to 7 presentations about dual careers, athlete wellbeing, and transitions.
Transitions are a key point within any athlete's career, when they may be faced with tough decisions around their future pathway. With the significant role change and new demands, challenges, and expectations that transitions can bring, support is integral to assist athletes through the process. The research forum will shine a light on the transition into the USA Collegiate system within two specific sports. The USA transition is increasing in popularity, with almost 2000 UK athletes making the transition in 2019. The forum will also focus on the transition from the academy to the senior level within The FA Women's Super League, a league that has significantly developed within the last few years.
Following the delay of the 2020 Olympic Games and challenging COVID period, athlete wellbeing has been an important topic of discussion recently. In the last week, UK Sport announced a 'shift' in their funding strategy based on the rising concerns over athlete welfare. The CEO of UK Sport said; "When it comes to the funding decisions that we take, things like an enhanced integrity system, more athlete support, better provision for mental health, those things will be the first names on the team sheet when it comes to our investments of funding." The research forum will explore recent developments in athlete wellbeing and how our knowledge in this area can be translated into practice, and the impact that COVID has had on elite athlete wellbeing.
Check out the full schedule below and follow us on Twitter @TalentedAthlete and @InsightTass for further announcements and sneak peeks.