Description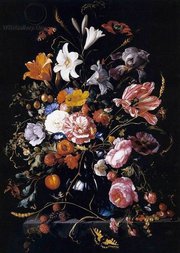 Sandra Ann Vita Minchin, a performance and installation artist, has elected to have the
painting Vase of Flowers (by Dutch artist, Jan Davidsz de Heem) tattooed on her back. It is part of her project entitled "Ars Longa, Vita Brevis"-"Art is Long, Life is Short" which is a direct response to her own and her father's cancer diagnoses and the answer to the recurring question "What have I left behind?" Sandra explores her own legacy using the medium of tattoo, and plans a posthumous removal and preservation of the piece.
Gemma Angel, a doctoral student at UCL History of Art Department, will discuss her work in collaboration with the Science Museum, London. She is currently researching the Wellcome Collection's preserved tattooed human skin collection, in her third year of study.Her research aims to explore all aspects of the 300 pieces; from the material properties of the skins as prepared specimens, to the iconography of the tattoos; to the social and historical contexts of their preservation and collection. This broad approach has lead her on some fascinating journeys through dissecting rooms, forensics labs, and private collections, as well as libraries, archives and museums in London, France, and beyond which she will discuss throughout this lecture.
Organiser of Tattoos: The New Memento Mori?
Pathology Museum WEBSITE
**Please bring ID to receive alcohol at events**
Refunds/exchanges for evening events may be offered at the discretion of the Pathology Museum only if requested 48 hours before ticket sales end. (This doesn't include cancelled events which are automatically refunded.) For Taxidermy and other weekend workshops it is ONE WEEK before.
Prior to the appointment of Carla Valentine as the current Technical Curator, the museum was in a state of disarray. As medical teaching changed, the need for the study of  anatomy and pathology pots declined. Without funding the pots and the infrastructure of the building suffered and it wasn't until a couple of years ago that a donation was secured to renovate the collection. New ways to ensure the survival of the collection were also trialled, including conferences and events.

The Pathology Museum, a part of Queen Mary University of London, is a medical-humanities hub and venue for public engagement and education. Our events showcase research and the arts from our own institution as well as other universities, independant researchers and other museums. Our activities are in accordance with Human Tissue Authority recommendtions on Public Display of medical collections, and the University Museums Group guidance, and are sensitive to the dignity of the collection. 
As it is part of Barts and the London School of Medicine and Dentistry, the museum is based within St Bartholomews which is a teaching hospital. Therefore, follow the signs for the Robin Brook Centre and go through the open entrance indicated below. You'll find the museum on the 3rd floor: