Location
Vivary Park
Upper High Street
Taunton
TA1 3SX
United Kingdom
For one day Vivary Park will be a feast of visual and performing arts, culture and inclusively with Taunton Live and Pride 2022.
About this event
Come and join our second Taunton Live and Pride event this year taking place in Vivary Park.
This free event will have multiple music stages, performers, dance, literary area, wellbeing area, children's area, creative workshops, crafts and awareness stalls, food and drink stalls.
Register for your free tickets now!
Ticket procedure on the day:
When you arrive at Vivary Park we will exchange your ticket for a wristband which will give you entry to the event. To comply with our licence we will be operating the Challenge 25 scheme on site so please make ensure you bring ID with you that will show your proof of age (this could be a passport or drivers licence). Without proof of age you will not be able to buy alcohol from our bars.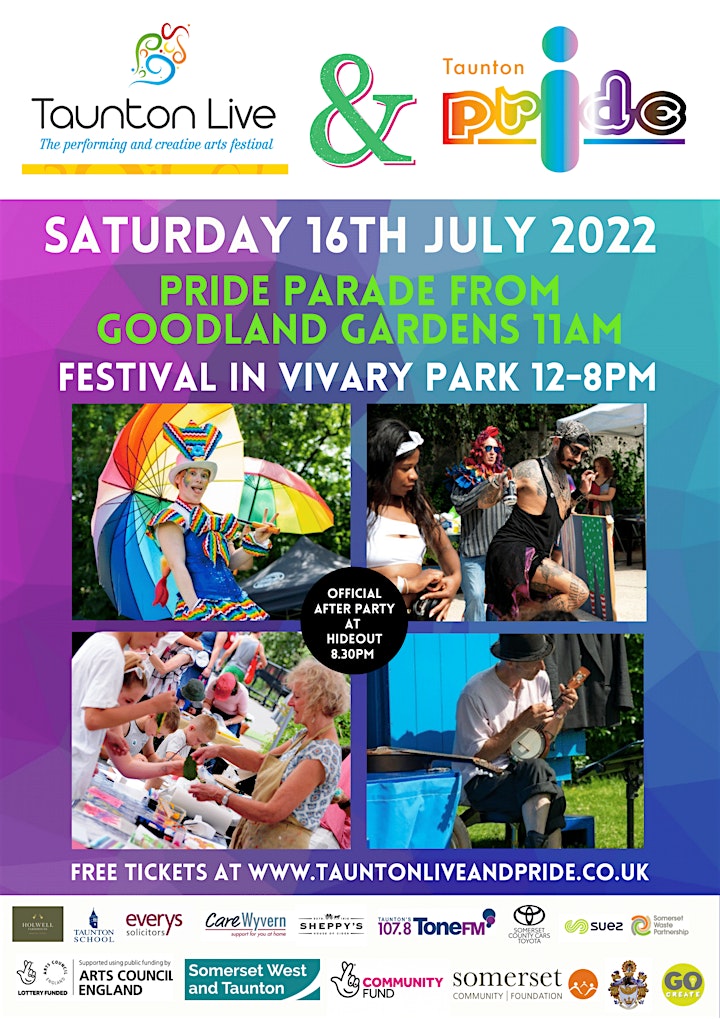 Behaviour:
It is crucial that we are creating a safe, inclusive, non-judgmental, welcoming space for all who attend. And for this reason we remind those who attend that we will be operating a zero-tolerance policy on hate, abuse, threatening behaviour and discrimination of any kind.
If you have any concerns on the day, our stewards will be positioned around the park to offer support.