Join our #RNLIRunners crew!
About this event
Event: TCS London Marathon 2022
Date: 2 October 2022
This application requires you to have already been allocated your own Ballot place in the London Marathon directly by the race organisers.
Congratulations on securing your own Ballot place at the TCS London Marathon 2022. The big race is coming and we need dedicated runners like you to help our courageous lifeboat crews and lifeguards save lives.
We'll give you all the support you need from sign up to the big day. 
Firstly you'll receive training and fundraising tips as well as a fundraising t-shirt. Closer to the event, we'll send you a runners kit with goodies - including a RNLI Runners vest to wear with pride and some cheer gear for your supporters. On race day you'll run past our dedicated cheer stations and after your epic challenge you can settle down with friends and family to relax at a venue close to the finish line. There, you can enjoy a relaxing post-race massage and a well-deserved buffet of delicious food and drink. 
How to register
1. Fill out the registration form by using the 'Register' button above. It is free to register with your ballot place. 
2. You must then forward a copy of your ballot proof confirmation from the race organisers and once we've received that, we'll send you an email to welcome you to the RNLI team. 
3. We'll support you through your training giving you all the tools you need to succeed! 
4. Meet other RNLI Runners by joining the Facebook group.
We're looking forward to having you on our RNLI Runners team.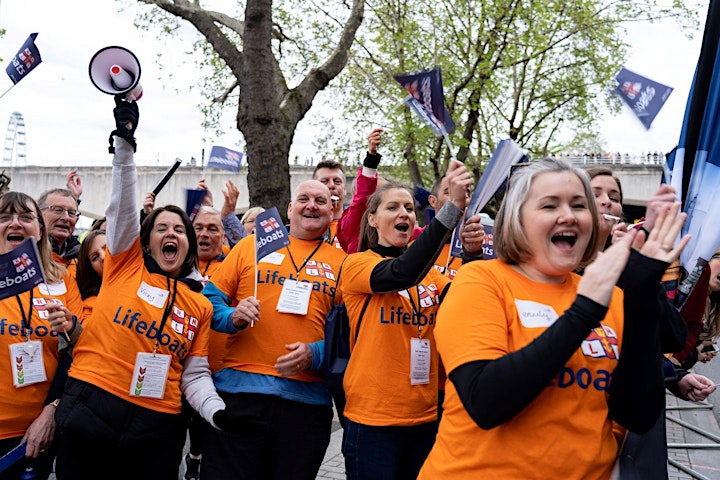 Privacy notice:
We will always store your personal details securely, and they will only be used by the RNLI, RNLI Shop and RNLI College. Your data may also be used for analysis purposes, to help us provide the best service possible. We will only allow your information to be used by suppliers working on our behalf and we'll only share it if required to do so by law.
For full details see our Privacy Policy at RNLI.org/PrivacyPolicy or contact our Supporter Experience Team on 0300 300 9918 (from the UK) or +44 1202 663234 (from outside the UK).
Keeping in touch:
If you have any questions about your London Marathon place or just want to let us know how your getting on with your training and fundraising you can email the team at events@rnli.org.uk (we love to hear from you!).
Your support saves lives, and we look forward to keeping in touch with you by post and phone, sharing our news, activities and appeals.
When using Eventbrite we will collect your personal details in order to register and communicate with you about this event only.
If you would you like to receive more information from the RNLI you can register RNLI.org/preferences.
Even if you have received our communications in the past, we'll make sure we honour the preferences you express here.
If you would rather not hear from us, or would like to change how we contact you, please get in touch. Just visit RNLI.org/preferences or call 0300 300 9918.