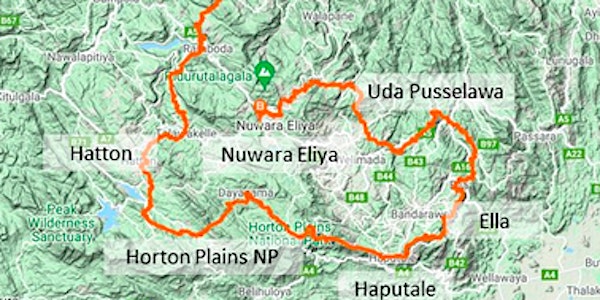 Sri Lanka's new hiking trail
About this event
Miguel Cunat is Spanish and has been living in Sri Lanka since 2003. He specialises in innovative travel and tourism and has won travel awards. In 2005, Miguel co-founded Sri Lanka's first luxury travel company, Sri Lanka In Style. More recently, Miguel founded Sustainable Sri Lanka - a consulting firm with a mission of helping the Sri Lankan tourism industry adopt and meet international sustainability standards.
From 2011 to 2021, Miguel designed The Tea Country Hiking Trail, securing EU / USAIDfunding for a 300km long-distance hiking trail through the stunning Sri Lankan Tea County. Hikers can choose more than 22 trails and will pass ancient trees, small shrines and experience views of misty mountains, ravines and of course the rich wildlife that inhabits the hill country from monkeys to brightly coloured tropical birds. Walks are usually in the morning and can be combined with afternoon experiences such as tea-tasting, painting, or jam-making.
This is an online event.