Description
Final conference
Trinity Laban Conservatoire of Music and Dance, Laban Building
Friday 10 July 2015, 9.30am-5.00pm
The Teach Through Music team welcomes you to join us from 5.00pm – 7.00pm for live music, drinks and canapés to mark the end of our London Schools Excellence Fund programme.
Join Trinity Laban Conservatoire of Music and Dance and our Teach Through Music Cultural Partners for the culmination of our year-long continued professional development (CPD) programme for London's KS3 Music Teachers. Teachers, head teachers, musicians and music organisations will be sharing learning from a year of networking, training and debate, seeking to overcome the isolation of secondary school music teachers and invest in a community of practice connected to London's unique cultural resources. The event is open to colleagues across and outside London, and we will be joining forces with Music Mark to reflect upon what can be learnt from the Music Excellence London initiative (including our sister programme Peer to Peer), as well as exploring ideas for the future.
Expect an intensive day of debate and case study presentations arising from our Inspire Events and Short Courses and, of course, music making. A packed schedule includes an inspirational kick off from François Matarasso, circlesinging with Guillermo Rozenthulerand an insight into the life and work of beatboxer Reeps One. There will be live music throughout the day, opportunities to access Trinity Laban's world class expertise in musicians' health and movement, as well as a chill out space to rest and reflect or network with others.
For further information, check out the Final Conference page on the Teach Through Music website. If you have any questions, please contact info@teachthroughmusic.org.uk and follow us on Twitter at @TTMLondon. Join the conversation on the day at #TTMFinalConference.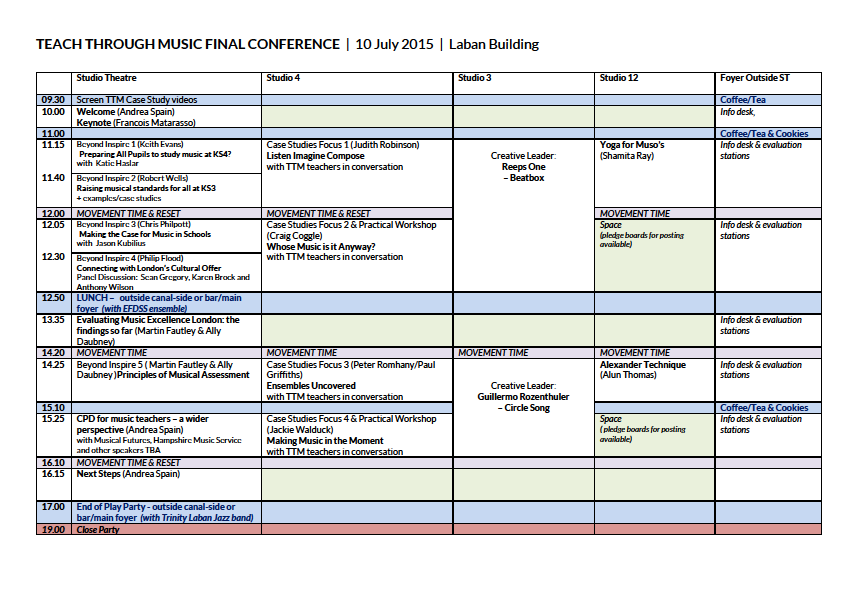 Organiser of Teach Through Music - Final conference
Teach Through Music is a year of fully subsidised professional development, support and inspiration for KS3 Music in London. Offered from summer 2014 to summer 2015, the programme sets out to create a 'Centre of Excellence' for KS3 music teaching in London. It draws upon the expertise of teachers, the Higher Education community and cultural organisations. 
Teach Through Music is designed to complement the busy lives of teachers. It offers choice and flexiblity, allowing teachers to select training which best meets their needs, and those of their school.
Teach Through Music is funded through the London Schools Excellence Fund and supported by the Department of Education and the Mayor of London. For more information, visit our website here and contact us at info@teachthroughmusic.org.uk.