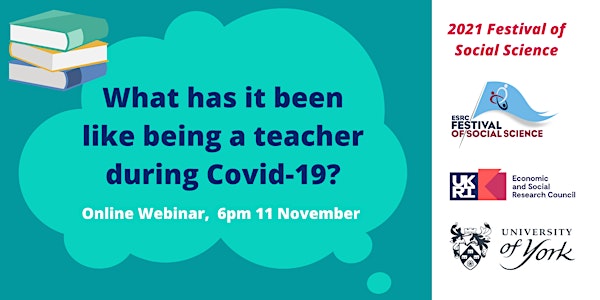 Teachers reflect: What has it been like being a teacher during COVID-19?
The goal of this webinar is to provide space for teachers to reflect on their experiences of COVID-19.
About this event
We welcome teachers to join and reflect with us on what it has been like to be a teacher during COVID-19. We also encourage the general public and students who are interested in learning about teachers' experiences to join.
Over the course of the hour, we will hear from Dr Lisa Kim, Dr Laura Oxley, and Professor Kathryn Asbury as they share stories collected from their longitudinal qualitative study "Being a teacher in England during COVID-19".
We will also be joined by primary and secondary school teachers who will help guide our discussion including the topics of mental health and well-being.
This webinar provides us with the fantastic opportunity to start and continue meaningful discussions - creating visibility for teachers and their experiences.
This event is part of the ESRC Festival of Social Science 2021 and was made possible thanks to funding from the Economic and Social Research Council (ESRC), which is part of UK Research and Innovation (UKRI).