Location
Autograph
Rivington Place
London
EC2A 3BA
United Kingdom
Are you a teacher or educator? Join us for an after-hours viewing of our exhibition The Island and an opportunity to upskill
About this event
Autograph's current exhibition The Island by Angolan-Portuguese artist Mónica de Miranda contemplates experiences of Afrodiasporic lives, relationships to the land and colonial pasts.
We warmly invite teachers and educators at all levels to join us for a workshop centred around the exhibition, exploring how to support pupils to engage with the exhibition's themes of utopia, ecology and identity. You will come away with activities and strategies to support your class or group on a gallery visit or in the classroom.
The evening will begin with a preview of The Island, followed by a discussion about strategies to lead a class in open conversation to develop visual thinking skills through dialogue. You'll have the opportunity to take part in practical, hands-on art activities that can be used with a class visit or in a school setting. We'll end with drinks and an opportunity network with fellow peers.
Find out more on Autograph's website
Have a question about the activities? Email learning@autograph-abp.co.uk in advance with 'Teachers' Workshop' in the subject line and we'll get back to you as soon as possible.
Mavreen Arhin
Mavreen Arhin is the Learning and Engagement Manager at Autograph Gallery, with a key focus on developing projects, workshops and events for adults and school audiences, facilitating a deeper engagement with artist-photographers/filmmakers. She has worked in arts education in a variety of roles to support a range of audiences within Dulwich Picture Galley, Tate Modern and Britain, Whitechapel Gallery and Freeform Arts and Regeneration Trust. She has previously worked as a freelance artist facilitator, devising and delivering workshops within schools and community settings on behalf of arts organisations and has around nine years of experience working within formal education with primary, secondary and college aged students, primarily providing extensive support within SEND school provisions.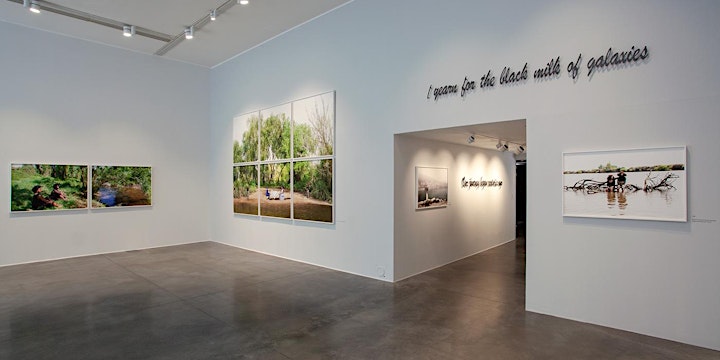 Everyone is welcome at Autograph. We care about our visitors, staff, artists and community, and have measures in place to help ensure a safe visit for everyone. Have a look at our Visit Us page, it has full information about Covid-19 safety and accessibility at Autograph.
While at Autograph, you can also visit our free exhibition Mónica de Miranda: The Island.
Autograph's events are popular, and often sell out. We recommend booking a ticket in advance. This event is free, and seating is on a first-come first-seated basis. You do not need to bring your paper ticket to the event.
Supported using public funding by Arts Council England.
Banner image: 1-2) Mónica de Miranda: The Island exhibition at Autograph. 24 June - 22 October 2022. Curated by Renée Mussai and Mark Sealy. Photograph by Kate Elliot.