Description
An inspirational day on mathematics to support, develop and celebrate the work of TAs in the East Midlands. Debbie Morgan will impart expert knowledge from the National Centre for Excellence in Teaching Mathematics in her keynote and workshop. TV legend and author Johnny Ball will help make maths accessible and fun with his keynote and workshop. A range of other interactive and practical workshops will also be available.
Cost: £180 per delegate. 2 Delegates for £350.
Schools will be invoiced following the event.

Debbie Morgan - NCETM Director for Primary Mathematics - Biography:
Debbie's career in Education spans over twenty years. She began as a Reception class teacher and has subsequently taught every age range in the primary phase and have had experience as a Headteacher. Very early in her teaching career she developed a passion for mathematics and sought to develop insight and understanding through CPD and study of mathematics at degree level. She was seconded to Northamptonshire Local Authority as an Advisory Teacher for Primary Mathematics and later appointed as a Numeracy Consultant.
In 2004 Debbie was appointed as a Senior Lecturer in Mathematics Education at the University of Northampton, involved in primary initial teacher education and practitioner professional development. She has also dipped into Secondary mathematics as Regional Director for HLTA Secondary Mathematics and Science and developed and delivered a mathematics subject knowledge course for teaching assistants. Her Master's degree with the Open University focused on mathematics education and included the use of representations to support conceptual understanding in mathematics.
Debbie is currently studying for a Doctorate with the Open University. The focus of her doctoral studies is The Mathematics Specialist Teacher Programme (MaST) and its Impact, with a particular emphasis on the nature and development of deep subject knowledge. She was Programme Director of MaST across a large area of England involving 19 LAs and 6 Universities and still maintain some involvement in the programme.
Johnny Ball - TV Legend and Author - Biography:
Johnny has been entertaining for 60 years, 12 in Stand Up, 51 in TV, 38 in education. He is best known for his award-winning TV shows, of which he wrote and presented 20 Series including Think of a Number, Think Again - BBC TV, Johnny Ball Reveals All - ITV which inspired a generation towards confidence in mathematics and science.
Johnny's latest book, "Wonders Beyond Numbers - A Brief History of all things Mathematical" was published on 5th October 2017, by Bloomsbury Press. The Paperback will be released on 21st February 2019. Eighteen 5* Amazon reviews (2 lesser reviews) It has sold to China, Russia, Japan, Spain plus English speaking countries - USA, Australia, Canada, etc.
Johnny wrote/produced and starred in 5 educational stage musicals between 1993 and 2003 playing to 160,000 annually. His Millenium Dome Mind Zone Live Show, "With Your Mind and Tomorrow's Engineering, Anything is Possible" - Sponsored by BAE Systems, Sold Out completely throughout 2000. He was the oldest ever Contestant on Strictly Come Dancing in 2012. He has produced and presented many award-winning videos, educational, promotional and motivational projects. His Dorling Kindersley Books, "Think of a Number" 2005 and "Mathmagicians" 2009 still sell worldwide.
Agenda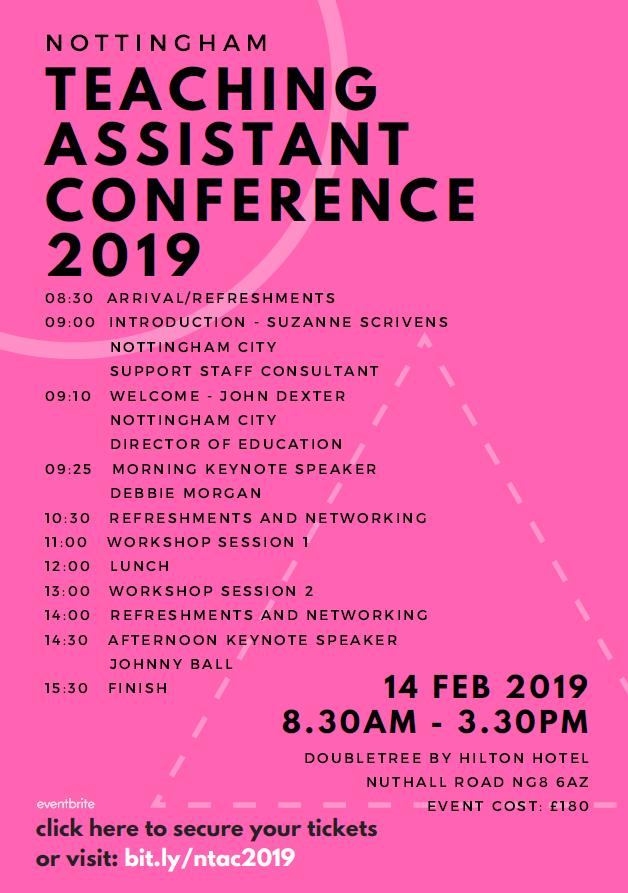 CANCELLATION POLICY
Cancellations will be refunded at the following rates:
>28 days' notice: 100% refund
22-28 days' notice: 75% refund
15-21 days' notice: 50% refund
8-14 days' notice: 25% refund
No notification - 7 days: 0% refund
Cancellation fees will be waived if the delegate's school receives a short notice Ofsted inspection visit on the day of any planned support. All cancellations should be made via Eventbrite and confirmed by email to
primary.team@nottingham city.gov.uk