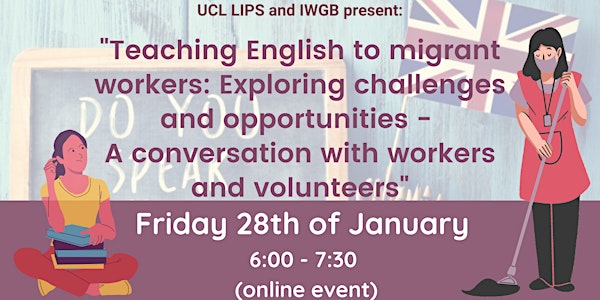 Teaching English to migrant workers: Exploring challenges and opportunities
Join us in this conversation with students, teachers, early career researchers and migrant workers.
About this event
The UCL Language, Inequality and Politics Society (LIPS) and the Independent Workers Union of Great Britain (IWGB) - Universities of London branch invite you to a conversation about the challenges and opportunities encountered by a group of volunteers (MA, PhD students and early career researchers) who participated as teachers of English for Latin-American migrants who work as cleaners at top universities in London and who are members of the IWGB. These challenges range from lack of appropriate teaching material to students' self-deprecation, and the consequences of framing classes as "voluntary work" for both volunteers and students. What is more, volunteers bring their own ideas of what "English '' means and how to teach it and, in many cases, these ideas clash with the workers' expectations of what they are supposed to learn. For this group of workers, English is, fundamentally, built upon specific ideas about language such as standard English, nativespeakerism, among others, and they heavily invest in the concept of the promise of normative standard form of English as a key tool for upward social mobility and social inclusion while for the volunteers, this teaching experience represent, in many cases, a chance to develop their personal and professional skills.
Some of the issues we would like to discuss are:
1. What does "knowing English" for volunteers and workers mean?
2. What are the challenges that volunteers and workers experienced in the programme?
3. What are the opportunities of social mobility for migrant workers through education and language?
4. What are the benefits for volunteers to participate in the programme?
5. What can we do to further explore the possibilities of equality and justice through education and language?
Guests speakers:
Workers:
- Mercedes Rodriguez
- Celmira Rodrigues de Oliveira
Volunteers:
- Milena Jakičević
- Gabriela Wale Soto
Moderators:
Maritza Castillo Calle - Vice-president of the IWGB
Rommy Anabalon Schaaf – PhD candidate and Education Officer of the IWGB
* TRANSLATION WILL BE PROVIDED
For information about UCL's privacy practices and how UCL uses your data, please see the UCL General Privacy Notice.
.................................................................................................
La Language, Inequality and Politics Society (LIPS) de UCL y el sindicato Independent Workers Union of Great Britain (IWGB) – rama Universidades de Londres te invitan a una conversación sobre los desafios y oportunidades con los que se encontraron un grupo de voluntarios (Estudiantes de maestrías y de doctorado, e investigadores que están comenzando su carrera académica) que participaron como profesores de inglés para trabadores latinos migrantes quienes trabajan como aseadores en universidades de prestigio en Londres y además son miembros del IWGB. Entre estos desafíos se cuentan la falta de material de enseñanza apropiado, la baja autoestima lingüística de los trabajadores, y las consecuencias que trae, tanto a voluntarios como trabajadores, el enmarcar las clases como "trabajo voluntario." Mas aun, los voluntarios traen sus propias ideas de lo que el "inglés" significa y como ensenarlo, y muchas veces, estas ideas discrepan con las expectativas de los trabajadores. Para este grupo de trabajadores, el inglés esta, fundamentalmente, construido en base a ideas especificas sobre la lengua tales como "inglés estándar", "nativohablantismo", entre otras, lo que hace que inviertan fuertemente en la promesa de forma estándar y normativa de inglés como herramienta para movilidad social e inclusión social. Para los voluntarios, por otra parte, esta experiencia representa, en muchos casos, una oportunidad para desarrollar habilidades personales y profesionales.
Algunos puntos que nos gustaría discutir son los siguientes:
1. ¿Qué significa "saber inglés" tanto para trabajadores como para voluntarios?
2. ¿Cuáles son los desafíos que experimentan los voluntarios en los cursos de inglés?
3. ¿Cuáles son las oportunidades de movilidad social para los trabajadores a las que se podría acceder a través de inglés y educación?
4. ¿Cuáles son los beneficios de participar en los cursos para los voluntarios?
5. ¿Qué otras formas se podrían explorar para avanzar hacia una sociedad más igualitaria y justa a través de la lengua y la educación?
Invitadas:
Trabajadoras:
- Mercedes Rodriguez- Celmira Rodrigues de Oliveira
Voluntarias:
- Milena Jakičević
- Gabriela Wale Soto
Moderan:
- Maritza Castillo Calle - Vice-presidenta del IWGB
- Rommy Anabalon Schaaf – Doctoranda en UCL y Oficial de Educacion del IWGB
* Se proveera traduccion.
Para información sobre las practicas de privacidad en UCL y como UCL utiliza su información, por favor leer UCL General Privacy Notice.