Description
Our aim is to bring together academic staff from across any discipline to share ideas about teaching statistics to undergraduate or postgraduate students from non-mathematical disciplines. This conference is supported by the Transform Statistics project, led by Dr Tom Reader in Nottingham and Dr Lindsey Leach in Birmingham, and jointly funded by the two universities.
In this project, we have developed a network of academics from the sciences, social sciences and arts across the two universities who face similar challenges in teaching statistics to students who often lack confidence or enthusiasm for the subject.
This one day conference will be an opportunity for academics to come together to discuss and share their experiences and ideas about best practice in teaching statistics to non-specialist students.

The agenda for the day is below, and a draft of the conference programme is available on the conference homepage. There will be two external keynote speakers as well as presentations from colleagues at Nottingham and Birmingham, with plenty of opportunities for questions and discussion. Refreshments and lunch will be provided to delegates.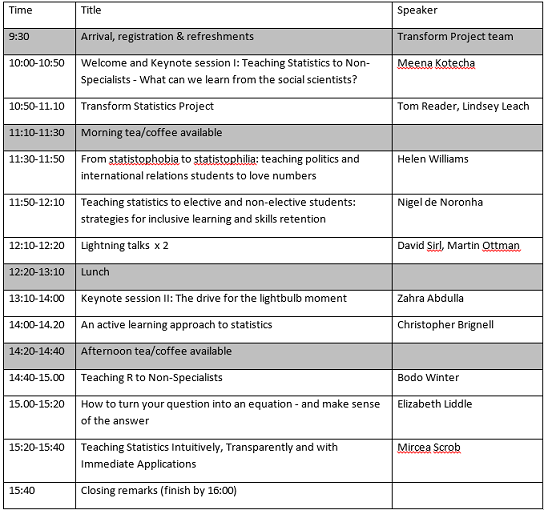 Organiser of Teaching Statistics to Non-Specialists
Tom Reader is the project's academic lead at Nottingham University. His is a lecturer in the School of Life Sciences.
Lindsey Leach is the project's academic lead at Birmingham University.  She is a lecturer in the School of Biosciences.
Sarah Pierce (Nottingham) and Adrian Bromage (Birmingham) are research fellows on the project.