Team GBR Badminton Course Walks 2014

Thursday, 8 May 2014 from 13:30 to 16:30 (BST)
Event Details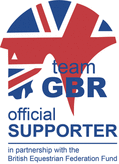 Support Equestrian Team GBR and join us for an exclusive Badminton Course Walk on Thursday 8th May with:-
Zara Phillips (London 2012 Olympic Silver Medallist, 2006 World Champion)
Richard Waygood (4* eventing rider, international coach, World Class Programme Manager for Dressage, former Riding Master Household Cavalry Mounted Regiment) 
Philip Surl (4* eventing rider, Assistant Eventing Performance Manager and Eventing Nations Cup Team Manager). 
Course walk ticket price does not include admission to the event, which must be purchased separately from the Badminton ticket office www.badminton-horse.co.uk
The course walk will start at 1.30pm from Fence 2 - For registration purposes, please arrive in good time and bring your paper ticket with you.
Your contribution will go straight to support our international equestrian teams, Equestrian Team GBR.

Terms & Conditions
CANCELLATION or ABANDONMENT
If Badminton Horse Trials is cancelled, Team GBR Course Walk tickets will be refunded in full in respect of the day that is cancelled before the start of that day's competition.
REFUNDS
Full refunds will be issued, if the ticket (s) can be re-issued from the wait list pertaining to the original ticket (s) purchased, within 48 hours before the start of that particular Team GBR Course Walk.
No refunds can be made in respect of any lost, forgotten, unused or surplus Team GBR Course Walk tickets for either day.

DISCLAIMER OF LIABILITY & RESERVATION OF RIGHT
Save for death or personal injury caused by the negligence of the Organisers or anyone for whom they are in law responsible, neither the Organisers, Badminton Horse Trials Ltd., the British Equestrian Federation, British Eventing, The Trustees of the Somerset Trust, The Duke of Beaufort and his Estates, Swangrove Estates Ltd. nor any agent, employee or representative of these bodies accepts any liability for any accident, loss, damage, injury, illness to horses, owners, riders, grooms, spectators, dogs, exhibitors, land, cars, their contents and accessories, or any other person or property whatsoever, whether caused by their negligence, breach of contract or in any other way whatsoever.
The Organisers reserve the right to refuse admission to Badminton Horse Trials to any persons or to withdraw permission at any time to remain in the Park and shall not be required to give any reason for such action.
These Terms and Conditions are subject to change from time to time without notice, at the discretion of the British Equestrian Federation
When & Where

Badminton Horse Trials
Badminton
GL9 1DF
United Kingdom


Thursday, 8 May 2014 from 13:30 to 16:30 (BST)
Add to my calendar
Organiser
The British Equestrian Federation is the recognised governing body of horse sports in the UK. Through its nineteen members the BEF represents and works to promote the interests of the 4.2 million riders and carriage drivers in Britain.