Location
DOUBLETREE by HILTON (LONDON WEST END)
92 Southampton Row
London
WC1B 4BH
United Kingdom
Sales Have Ended
Ticket sales have ended
Oh dear. Sadly you've missed the deadline this time. Check out www.team-me.biz for future events.
Description
Take a Look at Your Life and Ask Yourself Seriously
Is Now the Time to Step Up?
This One-day Workshop will give you 5 Simple Steps to:
Discover Your Unique Identity
Access Your Hidden Resources
Experience a Quantum Shift in your Business, Relationships, and Personal Fulfillment
Hi, I'm Pad - professional Success Coach and the author of the ground-breaking book, TEAM ME.
I want to invite you to explore this unique opportunity and learn how to make significant shifts in the entire way you do life in just one day.
I will present you with a unique model that will give you practical understanding of your unique identity *and* demonstrate with numerous attendees (one of whom could be YOU) just how significantly things can change as a shift occurs at this core level.
The Team Me approach will enable you to truly understand who you are and help you rapidly assess your strengths and weaknesses. It will provide you the tools to bring about change at both your conscious and unconscious thinking.
"So, Take a Look at Your Life and Ask Yourself Seriously
Is Now the Time to Step Up?"
Thankfully, it's not about drumming up will power, repeating endless mantras or 'faking it til you're making it.' Instead, this approach shows you exactly how to access a whole team of powerful resources that already exist inside you; a TEAM that is ready to take action and get the results you long for.
Many people have settled for a life far below their potential; little seems to change and the 'same old' is the order of the day.
Yet there are others who, though they started with very ordinary, bland lives, caught a vision of something better and made a decision to step up to massively change their situation - forever. This 'self-engineered promotion' is not for a select few – it's for whoever will.
So, join me and my other guest speakers for this remarkable, one-day workshop:
Watch the live demonstrations right before your eyes and see the exact steps that will enable you to overcome significant life challenges
Listen to ground-breaking approaches that will equip you for countless life situations
Feel the palpable transformation as you apply these truths to your own situation and experience the life-altering shifts that result
Engage with the practical exercises and with others who share the same desire to learn, grow, develop and achieve so much more in life.
INTRODUCING YOUR POWER TEAM
Majoring on the power of 'Archetypes' (made famous by psychoanalyst Carl Jung), I will explain some profound, life-transforming truths in remarkably simple ways.
Archetypes are simply those unique characters inside each one of us who have different ways of 'doing life'. Characters like the Warrior, the Lover, the Sovereign (King or Queen), and others, whose specific attributes hold the key to your success in countless situations. But do you know how to access their energies?
A change at this CORE level will affect every level of your life!
You will discover:
Why Archetypes work for every person on earth; regardless of race, colour, language or creed

How to identify your dominant Archetypes

How your personal Archetype profile determines your 'ceiling' in life.

The 3 things that will bring you immediate and practical change

How Archetypes help you overcome significant life challenges
YOUR SPEAKERS
In the coaching community I'm simply known as Pad. I'm a certified Master Practitioner & Trainer of NLP and a professional Success Coach who has been helping people gain break-through achievements for many years (I could truthfully say a couple decades, but that would make me feel old).
SPECIAL GUESTS
Pad is joined by a remarkable guest speaker James Lawson, who is eminently qualified to lead you through specific exercises that will help you ground your experience and activate your learnings from the day.
James Lawson, Performance Coach NLP MPrac.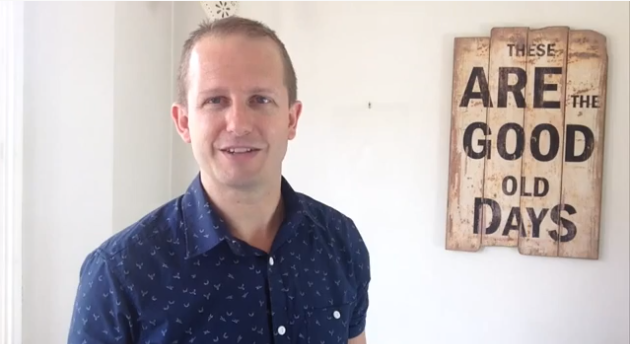 James spent 12 successful years writing & producing music, headlining tents at some of the largest music festivals globally. He released over 100 records, has been featured on over 50 compilation albums and has hit the Top 40 twice. Towards the end of this run of success, he found that keeping his creative edge became a challenge. This is something that he overcame by self-applying Neuro-Linguistic Programming (NLP). Having discovered this wonderful technology, a passion for coaching gradually took over.
James' career path changed dramatically as he began helping other people to achieve more than they previously thought possible. 5 years on, James works as a performance coach with a wide variety of clients from musicians, to stock brokers, to parents and children. James treats the mind and body as one system, believing that helping people make the appropriate arrangements with their unconscious is the quickest way for a person to achieve what they desire.
Choose a Platinum Ticket and you'll have a guaranteed opportunity to talk with the speakers as you join them for lunch in a private room the DoubleTree/Hilton's own LEVEL restaurant.
WHO'S COMING? – ATTENDEES LIKE YOU!
This event is definitely for you, if you:
Are not completely content with your progress in life

Are stuck with a personal or professional issue you'd love to resolve - but don't know where to begin

Have ever felt you're *not enough* (we'll blow that out of the water in Session 4)

Are involved in coaching, mentoring or counselling and therapy work – seeking to get the best out of others (did you see ICF Master Coaches' feedback on the videos?)

Are managing teams within business organisations

Sometimes feel distinctly 'out of your depth' (Session 6 will eradicate this )

Are not able to effortlessly step up to any challenge that comes your way
And I must add that time and again I've found the connections you make in events like this prove to be beneficial for years to come - as it brings together people who are committed to stepping up in life - and you need people like that around you.
(And remember that Gold Access tickets holders get a copy of the paperback book for free.)
SO TELL ME - ARE YOU REALLY WHERE YOU WANT TO BE?
How do you feel when you think of the things you've failed to achieve in life?
If you haven't received a promotion recently, there's a reason for that ...and it's not because of your boss, your colleagues or your peers.
Clearly something is missing. But the real solution is not what you think (or you would have found it by now).
Of course, you could choose to justify your current situation and claim it's just how it is.
OR
You can make a quality decision to RAISE YOUR STANDARD and commit to finding a way to achieve what you've always desired.
So, I'm actually rather curious. Are you 'overcoming' – or merely living "a life of quiet desperation"? - as Henry Thoreau so aptly described it. If there's even a hint of that going on with you, NOW is the time to secure your place and commit to stepping up into something a whole lot more meaningful.
"What if you discovered you had
a highly capable TEAM inside you
just waiting to be called to the pitch!"
Schools are back, the summer may be over and all eyes are on the closing months of the year but YOU can make a decision now that will ensure the best is yet to come!
So book your place immediately.
Are you one of those people who is all too willing and commit to investing in your home, your work, your projects or even your family, but haven't realised what would happen if you INVESTED IN YOURSELF?
SEMINAR AGENDA
09:00
Registration
09:30
Introduction
Welcome & Summary of Sessions (Why this is so very important. What it will mean for you + everyone you know.)
09:45
Session 1
Introducing the power and potential of Archetypes
10:15
Session 2
Your Personal Archetype Profile (+ what this means about how you do life.) with a live demonstration
11:00
Mini Break
11:15
Session 3
Your Professional Archetype Profile (finding your fit & addressing areas of conflict) - with another live demonstration
12:00
Session 4
Eliminating barriers: Core Beliefs and the Undeniable Affirmation.
12:45
Lunch Break
(Platinum Ticket Holders to join Pad and other speakers for their VIP Lunch)
13:45
Session 5A
How to ANCHOR your Emotional State - James Lawson
14:15
Session 5B
The Superhero Button: Archetype Activation & Anchoring.
15:15
Mini Break
15:30
Session 6
Shadow Archetypes and the big YES exercise.
16:15
Session 7
Super Secret Session
16:45
Summary
Roundup - Equipped for the Game of Life
17:00
Q&A
Time for open question and answers
17:30
Close
18:00
Platinum Gathering
Exclusive, two hour, post-event cocktail bar meet up for Platinum ticket holders.
But there's more:
FREE PRE-SESSION PDF and MP3 DOWNLOADS

MULTIPLE TICKET OPTIONS
CHANCE TO WIN A PAPERBACK COPY OF 'TEAM ME'

CHANCE TO WIN ARCHETYPE ACTIVATION AUDIOS
TAKE THE NEXT STEP
If you apply these lessons to your life, you will experience what psychologists call a 'generative change' – a tangible shift in your perception that affects multiple areas of your life at the same time and helps you:
Grow in confidence and gain greater peace of mind
Advance your position by create new opportunities
Achieve greater recognition or even promotion at work (as Jen for proof of this)
Improve personal and professional relationships
Accelerate your performance
Increase your influence both professionally and socially
Obliterate procrastination – by providing motivation for more direct action
So, I really have to ask…
"When will your life become important enough
to invest in?"
My personal coaching programmes currently start at £2,000 for 7, one hour sessions - that's about £285 per hour. My clients have been happily paying this amount because the results that they achieve far exceed their investment.
The brilliant thing is that this one day course you will give you at least 6 hours of direct instruction, demonstration and personal discovery under my guidance – so you're paying about six times less in cash and gaining 6 times more of time.
So the question is, would you prefer to simply get entry to the event, or seize the opportunity to gain direct access to Pad and the other event speakers by joining them all for a quality lunch.
So commit to taking action now – book your place immediately - because it's only in the action that the learning and the growth, both for yourself and for others, is received.
This is very valuable information for anyone wanting to improve their performance, who is leading a team, raising children, or simply wanting to improve a relationship.
Join me on April 5th to discover how your uniqueness holds the key to your success and achievement.
I look forward to meeting you there.
PS. Check out the various ticket options so you can decide if you want the extra bonuses