Description
Ticket includes food on arrival, the ability to donate your NICEST clothes you would like to swap. Prize on the night for the most donated clothes on clothes hangars. DJ Ian Simpson kindly providing the free entertainment of disco and dancing from 9pm.
We have 2 pairs of Louboutins to auction and MANY MANY amazing local raffle prizes. Please get in touch if you would like to donate also.
Clothes can be dropped off at Vale of Lune Rugby upto 3 days before the event or the organisers houses Rachel Holme, Karen Burrows or Jasmin Hall. Please email simpsster@gmail.com if you would like to do this as it will enable us to organise the rails better for your enjoyment on the night.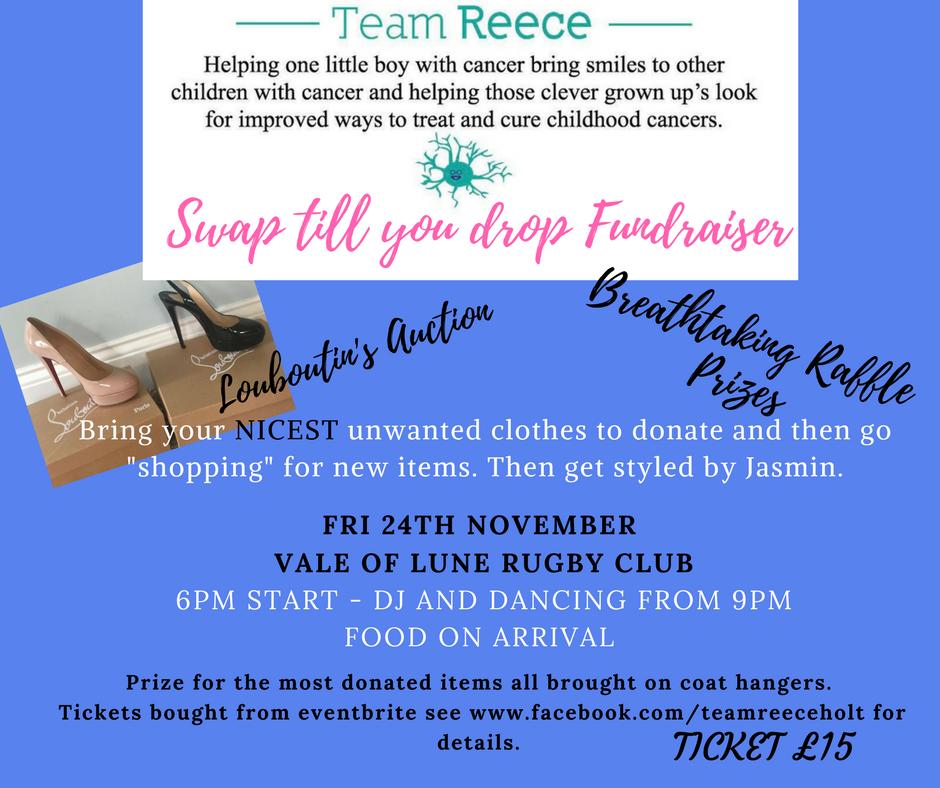 ---
On the 5th May 2016 Reece collapsed at home without warning, he was rushed to the local A&E where an urgent CT scan showed a bleed on his brain by which time he was no longer able to breathe for himself and was intubated and was transferred to Alder Hey intensive care a few hours later on full life support, the pressure from the bleed became critical and Reece was taken into emergency surgery where it was discovered he had an Anaplastic Astrocytoma, an extremely rare malignant tumour that affects only about 10 children a year. They removed part of the tumour and stemmed the bleed, two days later he was brought round and taken off life support and transferred to the neuro ward, a few days later he was home awaiting a follow up but sadly the tumour was still growing and on the second day home Reece collapsed again and had to be flown back by air ambulance to alder hey where he placed in High dependency and five days later he underwent an 8 hour surgery to remove the rest of the tumour and to place chemo wafers directly into the cavity in his brain, Reece has overcome the paralysis in his left leg but he has still got some paralysis in his left arm, hand and face but refuses to let this stop him and after six weeks was discharged and began radiotherapy and a second chemo course on the 15th June at Clatterbridge Cancer Centre for a further six weeks. In Aug Reece began a longer journey and began the first of 12 chemotherapy cycles which he will undergo once a month for the next year. We also discovered in sept after Reece collapsed and had to be transferred again to Alder Hey via resus at Lancaster infirmary that he suffers from seizures as a result of the trauma to his brain, not to be deterred by any of this Reece has still done some truly amazing things.
Reece has raised over £9500 for Alder Hey Childrens Hospital and £750 for Clatterbridge Cancer Centre to return some of the support, care and help they have given him so far on his journey.
Not happy with just raising money for Alder Hey & Clatterbridge Reece has decided he wants to go one step further and Team Reece is now a non profit and in the process of registering as a charity because Reece wants to raise money to buy a static caravan for other children with cancer and their families to use to have some golden time and longer term to fund research and clinical trials into better treatment options for children's cancers.
Reece has also fought back against the odds and passed his 11+ in sept and has been offered a place at Lancaster Royal Grammar School, something he has wanted since he was selected for their gifted and talented programme three years ago.
Reece has won several awards for his determination to achieve his goals and fundraising , The Regional Education award Nov 16 and more recently The sunshine young Achiever award and The science award for the seniors at school.
In June Reece took the stage and delivered a speech to over 300 people at the Henley Royal Regatta as a guest of Avis UK about why he's raising money and in a single day he managed to raise over £10,000, not bad for an 11yr boy with a Brain Tumour!
Follow and support him at https://www.facebook.com/teamreeceholt