Description
[22.1.20 - a few spare places due to cancellations - last chance]


A joint conference arranged by the Technology and Construction Bar Association (TECBAR) and the Technology and Construction Court (TCC) which is part of the Business and Property Courts of England and Wales.
Delegates will hear from a Specialist Judge of the TCC, a solicitor from EDF Energy working in the Hinkley Point C and Sizewell C New Nuclear business, a quantum expert from Base Quantum involved in national and international dispute resolution and a Barrister who is also a construction industry Adjudicator, Arbitrator and Mediator.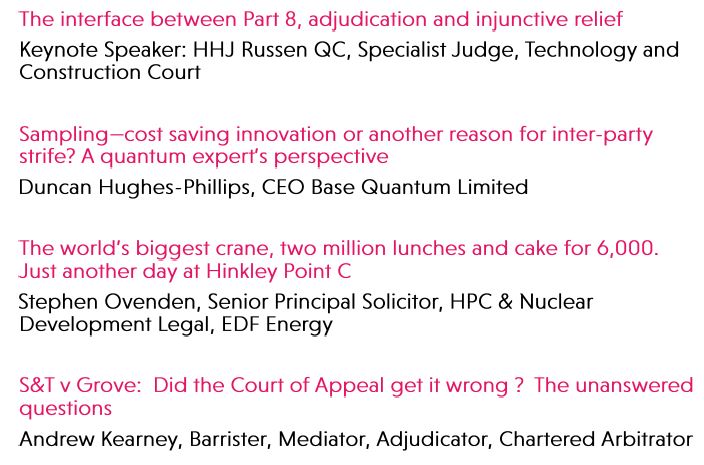 FAQs
Do I need to be a member of TECBAR to attend ?
No, the Conference is organised and funded by TECBAR but is open to all with an interest in construction law and the topics to be covered.
Do I have to bring my printed ticket to the event?
It would be helpful and make registration faster on arrival if you bring your ticket on paper or on screen. The attendance list will be created from the ticket orders, and any intending attendees must Register as we need to know and limit numbers for catering and room capacity purposes.
Are places limited ?
Yes. We are now near to capacity and only registered attendees can attend. There are no free tickets left, but some paid tickets are still available at a modest cost to cover the additional catering and attendance costs beyond the available (c.100 attendee) budget so that we can allow as many people as possible to attend. We cannot make any further tickets available once they have gone.
What if I cannot attend ?
If you wish to pass your ticket to a colleague that is fine - but please contact us (there is a "Contact" link below) so that we know to to expect. If not, please cancel your ticket if you are able to via Eventbrite, and if not then please let us know (use the "Contact" link) so that we can free up your place for someone else.