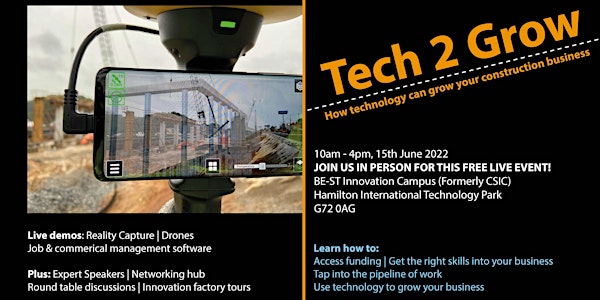 Tech 2 Grow - How to use technology to grow your construction business
Location
Built Environment Smarter Transformation (formerly Construction Scotland Innovation Centre)
3 Watt Place
#Unit 3B
Blantyre
G72 0AH
United Kingdom
Scotland's construction industry's most useful and interactive business support event of the year!
About this event
All the support service providers in one place on one day!
Come along and find out about:
• The help and support available to trades and SME construction companies (not just for technology, but for business growth, and improvement, funding, decrbonisation, and other support)
• How digital tools are being used in construction companies like yours - Case studies & practical demonstrations
• How to get started with technology
This event is ideal for:
Senior decision -makers and influencers
Procurement managers
Commerical Managers
Operations Managers
Business Development/Business Improvement Managers
This event is also a huge opportunity for the following to gain CPD and expand their knowledge:
Engineers
Quantity Surveyors
Site Managers
Activities
• Speakers
• Practical demonstrations
• Chat with experts
• Workshops
• Networking hub
• Round table sessions
• Tours of the innovation factory
Topics
• How to get into the supply chain
• Sources of funding, tax relief ,and finance
• How to get involved in construction networks and communities
• How to tap into the pipeline of new work
• How to choose and implement the technologies which could help your business fly
• How to get the right skills in your business
• How to future proof your construction business
Demos on Reality Capture, Job Management software, drones, time & attendance software, and more!
The full running order for the event can be accessed here (cut and paste the link into your browser)
https://mcusercontent.com/e77ee8042357124c27929d7bd/files/b771e83e-a68b-a23f-1737-08cba85911a7/Tech_2_Grow_running_order