Location
Plymouth College of Art
Plymouth College of Art
Tavistock Place
Plymouth
PL4 8AT
United Kingdom
Sales Have Ended
Registrations are closed
Sign up to our waitlist to be the first to hear about last-minute spaces or fill out the following form to register your interest for our next Tech and Business Bootcamp which will be taking place in June (dates TBC): https://forms.gle/NGNUDsGynYyhViuB6. Check out all our other free events on our website: https://www.fablabplymouth.org/events/
Develop your technology and business skills and kickstart your ideas with the support of industry experts in this free 5-day Bootcamp.
About this event
Key Information
Dates & Times: 5 days, 4-8 April 2022, 9:30am-4:30pm. By registering for this course you agree to attend all 5 days.
Venue: In-person bootcamp held at Plymouth College of Art, Tavistock Place, Plymouth, UK, PL4 8AT.
Skill Level: Anyone who has an idea for a business, venture or product is welcome.
Cost: This Bootcamp is free but because places are limited we do require a £30 refundable deposit. The deposit will be fully returned following attendance at the Bootcamp. A reduced rate for students, unwaged, and low income households is available. More details below.
Accreditation: Digital Badges (Accredited by Badge Nation and issued through Credly)
About the Bootcamp
Make your business dreams a reality through the Smart Citizens' Tech & Business Bootcamp. Over 5 days of workshops and mentoring delivered by industry experts, you'll learn key technology, prototyping, and enterprise skills to kickstart your business ideas.
Ideal for aspiring entrepreneurs, existing businesses and startups, freelancers, and anyone with a budding idea. This hands-on Bootcamp will equip you with practical skills to create your business and prepare your products or ideas for market. By the end of the Bootcamp, you'll have developed a good understanding of business modelling, and new or revised product designs, prototypes and ideas.
We also welcome multiple participants per business/venture.
Confirming your place
This free eventbrite ticket acknowledges your request for a place on the Bootcamp. When booking please provide details about your business stage and ideas (e.g. if you have an idea for a business or are an early-stage startup). Your place is only confirmed once we have contacted you and you have paid the deposit.
Cost
Due to the high cost of running this Bootcamp, we kindly ask that you pay a £30 deposit to secure your place; this will be fully refunded after you have attended at least 8 out of 10 workshops of the Bootcamp. Further information on how to pay your deposit to Plymouth College of Art, and secure your place, will be provided after booking.
A reduced rate deposit of £10 for students, unwaged, and low income households is available, and a £5 deposit for Plymouth College of Art pre-degree students. Please let us know when booking if you would like to discuss another rate deposit based on your individual circumstances.
Accreditation
As you move through the Bootcamp modules you will gain Smart Citizens Digital Badges that evidence your accomplishment in each area; these accreditations can be added to your CV, email signature, or LinkedIn profile to highlight your new business and tech skills.
Digital badges are accredited through Badge Nation (led by Real Ideas and Future Creators) and issued through the Credly platform.
Other dates
Can't make this date? We'll be running this Bootcamp again later in the year (dates TBC). To state your interest please complete this form.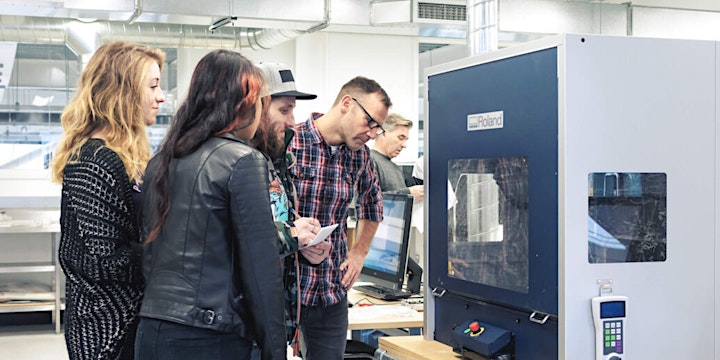 Bootcamp Overview
This Bootcamp will support you to gain key technology and business skills over 10 workshops and mentoring sessions in 5 days (each day from 9:30am-4:30pm). See below for workshop overviews:
Business Model Generation and Strategy Development
Value Proposition Design and Product Diversification
Creating Your Brand and Developing Key Messages
Customer Insight and Customer Empathy Mapping
Marketing in the Digital World
Business Planning, Legal Structures, Governance, and Financial Management
Copyright and Intellectual Property
Sustainable Design and CAD Applied to Prototyping
Programming: Smart Things*
Website and App Development *
*workshop topic subject to change
Who is this Bootcamp for?
This training is open to everyone aged 16 or over from Plymouth and the surrounding region. It is perfect for anyone looking to develop their technology and business skills; from existing businesses and startups, sole traders, freelancers, aspiring entrepreneurs, and those who are interested in beginning their own business but don't know where to start.
COVID-19 - Lateral Flow Test Requirements
Plymouth College of Art is following Government guidance to help safeguard all members of our community. To attend this in-person training at Fab Lab Plymouth, it is strongly advised that you take one rapid Lateral Flow test before attending each session.
Registration alternative
If you prefer to register for this event via an alternative registration format or require any assistance with your application, please contact Sophie by email sheaddon@pca.ac.uk
Everyone welcome
We are committed to making our events and opportunities accessible to everyone. If there are any access requirements that would assist your participation in this programme, please let us know when completing the registration form and our team will endeavour to accommodate these where practicable for us to do so.
Questions?
Get in touch with Sophie at sheaddon@pca.ac.uk for more information about this training.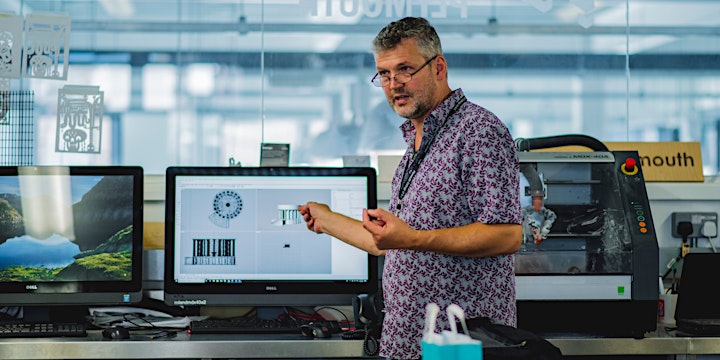 About the Smart Citizens Programme
Smart Citizens is a programme of free events, workshops and training in digital design and fabrication based at Fab Lab Plymouth. Connecting citizens and enterprises with digital technologies skills, the programme empowers a community of citizen makers and champions innovative design solutions to create a more sustainable Plymouth.
Want to hear about future events and opportunities? Register your interest for our 2022 events here, sign up to the Smart Citizens Newsletter and visit our website.
The Smart Citizens Programme is part of the iMayflower project and has been supported by The Department for Digital, Culture, Media and Sport, who fund the Cultural Development Fund, which is administered by Arts Council England.