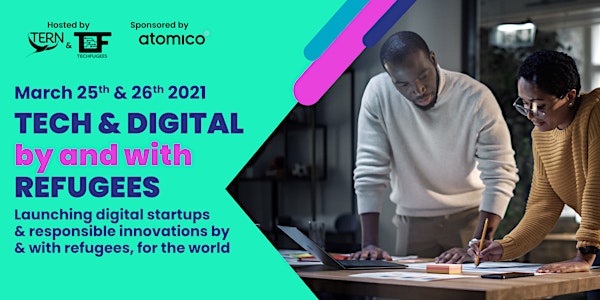 Tech & Digital with and by refugees - an event by TERN & Techfugees
Launching digital startups & responsible innovations by & with refugees, for the world
About this event
Get your tickets and come and join us at our exciting 2-day virtual fair, hosted in partnership by TERN & Techfugees, launching 💡👩🏽‍💻💡 👨🏽‍💻 📱 digital startups and 🌍🌏🌎🌳🎓☮️ responsible innovations with & by refugees, for the world.
𝗦𝗽𝗼𝗻𝘀𝗼𝗿𝗲𝗱 𝗯𝘆
💡👩🏽‍💻💡 👨🏽‍💻 📱 Day 1: Launching tech & digital startups by refugee founders Thu, March 25th (3:00-5:00pm GMT)
Meet & greet the next generation of founders freshly incubated by TERN and discover over a dozen exciting new startups and solutions in:
Green & Sustainable Innovation
Digital Learning
Digital Empowerment
eCommerce
Digital Services & Business Solutions
Featuring an inspiring 🎤 keynote by Marta Krupinska, Head of Google for Startups UK. Co-Founder Earnd & Azimo.
🌍🌏🌎🌳🎓☮️ Day 2: Responsible innovations empowering digital inclusion Fri, March 26th (3:00-5:00pm GMT)
Meet & greet digital innovators from Techfugees global community to discover responsible, frugal solutions curated with displaced communities to empower their digital inclusion and:
enabling access to information, education, health, work and inclusion
embracing ethical & human centric design principle
strengthening civil society through digital inclusion
Welcome address by Mike Butcher, Editor At Large at TechCrunch and Raj Burman, CEO Techfugees
Featuring a 🎤 keynote by Ahmad Sufian Bayram, Techstars Regional Manager EMEA & award-winning social entrepreneur, and author (see his work here) focused on supporting vulnerable communities, people in conflict, and forced displacement to access entrepreneurship.
Two exciting panels🎤 🎤 🎤
👨🏽‍🔬 👩🏽‍🎨 👨🏾‍🏭 👨🏾‍🚀 👩🏾‍⚖‍ Education & Work Panel
⚕️💡Health innovation panel: