Event Information
Location
Chamber of Commerce and Industry
89 Rua das Portas de Santo Antão
1169-022 Lisboa
Portugal
About this event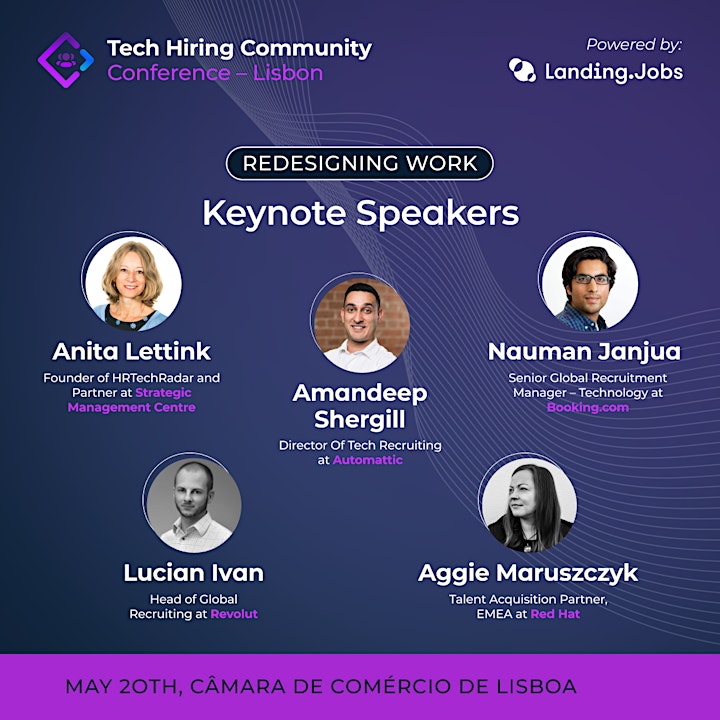 About the THC Conference
Companies are losing employees at a higher velocity than ever and talent is aware that mobility is an option.
Remote work is not so much of a trend anymore, which allows for a more diverse, cross-cultural and inclusive workplace.
There's no more borders when it comes to hiring. And this is why work needs to be re-designed. For 2022 and for the future.
That will be the main priority at this year's edition of the Tech Hiring Community Conference.
It will bring together Lisbon's top community of HR, recruiting and talent acquisition professionals, hiring managers, CTOs, COOs and CEOs working relentlessly to unlock the future of work.
On May 20th, at Lisbon's Chamber of Commerce, we're getting back to the real deal to share learnings face to face, on topics such as:
fresh new data on tech salaries in Portugal
never before shared statistics on "The Great Resignation",
global recruitment frameworks for distributed teams,
candidate experience while working remotely,
ethos behind hiring distributed teams,
tips for identifying and blocking biases,
and much more.
Join us for an afternoon where we'll all get back to face to face conversations, have the chance to meet others in the community in one place, and share our thoughts and knowledge with each other.
Agenda
The Great Resignation as a Myth
Anita Lettink | Founder of HRTechRadar and Partner at Strategic Management Centre
Distributed Work at Automattic: How We Hire, Work, and Build Culture
Amandeep Shergill | Director of Tech Recruiting @ Automattic
Candidate Experience in the Age of Remote
Zoom into the larger concept of candidate experience, how covid has impacted this and what this means for the way we recruit going forward.
Nauman Janjua | Senior Global Recruitment Manager - Technology @ Booking.com
Is Unconscious Bias Affecting Your Hiring?
How to identify and block bias to attract and hire diverse talent and support building inclusive teams.
Aggie Maruszczyk | Talent Acquisition Partner EMEA @ Red Hat
How do you ensure you're recruiting for the right roles in your business?
Lucian Ivan | Head of Global Recruiting @ Revolut
Organiser
About the organiser
Landing.Jobs is your one-stop-shop partner to hire, manage and pay your global workforce, all in one single place. Have access to a community of 190k+ tech professionals through our recruitment platform and be able to manage and pay your employees anywhere without any hassles.
Main Sponsor Nutrium
Founded in 2015, Nutrium is a Portuguese startup that offers one of the most complete and fastest-growing professional nutrition software available worldwide, currently supporting more than 200.000 nutrition professionals and 1 Million patients in more than 40 countries.
Networking Sponsor Coverflex
Coverflex is the flexible compensation solution which allows companies to reduce costs and maximise their people's earning potential.
Date and time
Location
Chamber of Commerce and Industry
89 Rua das Portas de Santo Antão
1169-022 Lisboa
Portugal