Event Information
Refund Policy
Refunds up to 7 days before event
Eventbrite's fee is nonrefundable.
How can technology lead to a sustainable future? Why is NOW the time to get on board? Join us for this interactive online lunchtime event!
About this Event
We are keeping a close eye on all updates in relation to COVID-19. Our February events have been confirmed as interactive online events.
How can technology help fight climate change? What innovations are supporting a sustainable future, and how can businesses get involved?
It is essential that technology innovations are accompanied by societal behaviour change if we wish to achieve our worldwide carbon neutrality targets. We are rebuilding our economies in response to Covid19, and it is paramount that we use this time of dramatic change to shift our behaviour for a Green Recovery. How can technology help us?
The Future Economy Network are welcoming Network members Digital Detox, Spherics Technology and UK Behavioural Economics to speak at this event.
More information to be announced.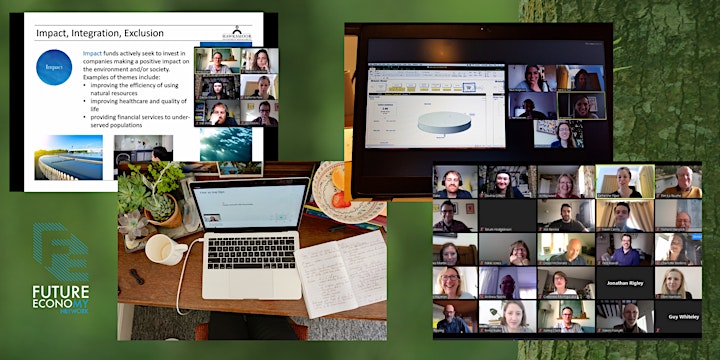 Liam Snelling, Co-Founder and MD at Digital Detox will be speaking on "The Decade of Action - building a carbon data engine to help the fight against climate change".
The need to rebuild our economies may see climate concerns pushed to one side so now, more than ever, we need to focus on reducing our impact on the world around us and build back better where we can.
Liam will talk about building a Carbon Data Engine (WINSSOME) in partnership with the human behaviour experts at LAB Group, that automatically monitors travel data and converts it to supply near real-time carbon visibility for companies, while also providing targeted behavioural interventions that promote CO2 reduction.
This project will also contribute significantly to the 'Green Recovery' - nudging organisations and employees to continue with practices that reduce Scope 3 emissions and help the UK achieve Net Zero by 2050.
The talk will delve deeper into how organisations will be able to demonstrate in a transparent and measurable way, actions minimising their carbon footprint. Partnerships in this space are a way forward and we want to inspire you to do more of that, whilst also using technology as a vehicle to better the planet and make an impact.
Yolanda Berry, Principal consultant for UK Behavioural Economics and Director of Earth Sentinel joins to us to talk about her most recent and most exciting project, Earth Sentinel.
Using groundbreaking AI algorithms and low earth satellite images, we can identify small changes in environmentally sensitive areas, and mobiles teams to go and address the threat, before the damage is too great. This includes threats to both land based assets (rainforests) and water based (Blue Carbon). Earth Sentinel can also be instrumental in supplying verification of supply chain providence for both land based and water based crops. Earth Sentinel is also honing the ability to identify water based threats, like plastics in the oceans, to both determine where they came from and where they are going, to aid in cleaning up the oceans.
This is a very exciting time for technology to help change behaviour, and show how each effort makes a big difference in the big (global) picture.
Agenda
12:00 - 12:05 Registration
12:05 - 12:20 Facilitated Networking
12:20 - 12:30 - Introduction from The Future Economy Network
12:30 - 12:45 – Liam Snelling, Digital Detox
12:45 - 12:55 - Questions for Liam
12:55 - 13:10 - George Sandilands, Spherics Technology
13:10 - 13:20 - Questions for George
13:20 - 13:35 – Yolanda Berry, UK Behavioural Economics
13:35 - 13:45 - Questions for Yolanda
13:45 - 13:55 - Group Q&A if needed
13:55 - 14:00 - 60 Second Pitches
14:00 - 14:05 - Close
14:05 - 14:15 - Optional Facilitated Networking Group 1
14:15 - 14:25 - Optional Facilitated Networking Group 2
Meet The Speakers!
Liam Snelling, Co-Founder and MD, Digital Detox
Liam is Co-Founder and MD at Digital Detox, a humanity-led digital product agency, specialising in design, full stack development, startup tech partnerships and digital transformation.
With over 15 years of experience helping organisations achieve their business goals in both the public and private sector, he is now leading on reducing the carbon footprint of digital through awareness, training and recommendations to the industry.
Yolanda Berry, Principal Consultant, UK Behavioural Economics
Yolanda Berry is a practicing behavioural economist with a focus on sustainability. She has spent her career applying modern behavioural science to help address myriad business and environmental issues. In Silicon Valley during the .com boom, Yolanda led the escalation team for Wind River Systems; during the Mars Pathfinder mission in 1997, she had the honor of becoming the first person to take a support call from another planet. Since coming to the UK, clients have included technology startups, sustainability ventures, and local governments. She was recently featured in FiresideX with her article: Behaviour and Technology got us into this mess; Behaviour and Technology will get us out.
If you would like to join the Network please get in touch via: info@TheFutureEconomyGroup.co.uk
Follow us on Facebook, Twitter & Instagram
Sign up to our newsletter HERE
Event videos will be available on demand here, however these will not include live opportunities or networking.
We will share your Name, Job Title & Company with the other delegates & speakers to this event only. If you don't want this information to be shared please let us know when you have purchased your ticket.
We take photos at our events for marketing purposes, if you don't want your picture taken please let us know in advance.
We record our events for marketing purposes, if you do not want to be in the recording please let us know in advance.
We have included a mandatory £1 carbon offsetting fee to all event tickets in our commitment to being carbon neutral in our operations. You can find out about our chosen charity here.
If you require a complimentary carers/assistant ticket, please email events@thefutureeconomygroup.co.uk at least one week in advance and we will be happy to support you.
#wegrowthhub #business #seminar #sustainable #sme #bristol #warmerclimate #businesswithpurpose #climateemergency #adapting #betterbusiness #climatechange #businessresilience #technology #innovation #sustainablefuture #techinnovations #cleantech #greentech #ai #carboncalculator #carbonneutral #carbonreduction
Date and Time
Location
Refund Policy
Refunds up to 7 days before event
Eventbrite's fee is nonrefundable.