Description
Tech NYC Intro Tour: Connect with New York's Technology Scene

New to New York tech? Looking for someone to show you the way? Join the Tech Connect NYC Tour, the new, walking/underground tour that gives you a deep dive into NYC's startup ecosystem while guiding you through some of NYC's hottest co-working and accelerator spaces.
In just three short hours, we will visit a series of different coworking/accelerator locations, allowing guests to view the spaces, speak with community managers, ask questions, and even hear from some of NYC's savviest and most successful startups. This monthly event is designed for those who are new to the New York startup world. Our aim is to help you find your bearings and set you on your way feeling empowered and motivated to make the most of New York City's vibrant startup community.
________________________________________________________
So….where is Silicon Alley anyway?*
July's event will focus on the Flatiron and Union Square areas.
Schedule:
3:00 pm - Arrive at Rise New York

Located in Flatiron, the hub of New York's startup scene, Rise is perfectly situated among the City's top entrepreneurs and high-profile Fortune 500 companies. Arrive early for a pre-event refreshment and a look around.
3:15pm - Tech Connect Intro + History of NYC tech
Get a quick overview of Tech Connect followed by a rundown of all the important events starting in the early 90s until 2018 that made "Silicon Alley" what it is today.
3:30 pm - Tour of Rise New York
Rise is the premier FinTech startup ecosystem in New York City. With unique relationships with both Barclays and Techstars, Rise offers first-class facilities that will help you to get your ideas heard.
4:15pm - Spark Labs tour
Headquartered in New York City, local mentoring, education, networking, access to capital, legal and operational support including a network of 200+ spaces across the world.
4:30 pm - Meet the startup
Hear from the founder of one of our startup partners, learning about their journey from inception, raising money from angel investors and VCs, their vision for the future and their solution.
5:00pm - Tour of Techspace
Center your business in the heart of Silicon Alley with a coworking space at TechSpace Union Square. Our unique spatial, modern office design features a dramatic three-floor interior staircase, windowed offices, and gorgeous wood floors - the perfect office environment to both inspire and recharge you.
5:30pm - Meet the startup
Hear from another startup and understand what it's like being at the heart of NYC's tech scene.
6:00pm - Wrap up and networking drinks
Ask us any questions & join us for a post-tour drink to keep the conversation going!
*Trick question - It was mostly a marketing term....mostly.
_________________________________________________________
Friendly reminders:
So much to see, so little time! As this is a carefully timed tour, we do ask that you arrive on-time as to make sure you get the most out of each stop.

You can never predict the weather...especially in New York! We will be walking outside for portions of our tour, so we advise that you be prepared for all types of weather. Sunscreen, sunglasses, umbrella, light jacket, and comfortable walking shoes are all advised.

Remember your Metro Card! Portions of the tour could involve travel on the subway, so please bring your Metro Card as we will not be providing them.

HYDRATION, HYDRATION, HYDRATION! In the summer, New York can be incredibly hot and humid and as we will be outside, a water bottle is highly recommended. Safety is the new sexy.
---
PREVIOUS ATTENDEES SAY...
"Tech City Intro did a great job of introducing us to the major players and landmarks of the Tech City startup community."
Ally Basak Russell - Head of International Marketing, oDesk
"The speaker selection and information provided was excellent and a real eye-opener for anyone looking to find out about how the Tech City community operates and the challenges (and successes) that startups in the area face."
Anupam Sharma - Head of Business Development, Divino
"I've heard so much about Tech City but never really knew where to start exploring. The tour gave me an insight into what goes on 'behind closed doors' in what turns out to be a very open startup community!"
Dan Taylor - Director, The Giving Card
"I thought it was an excellent presentation and very engaging. Our team learned a lot and we booked a workshop for another team at JLL as soon as we had finished our first session.''
Tom Brammeld - Associate Director, Central London Office Agency, JLL
---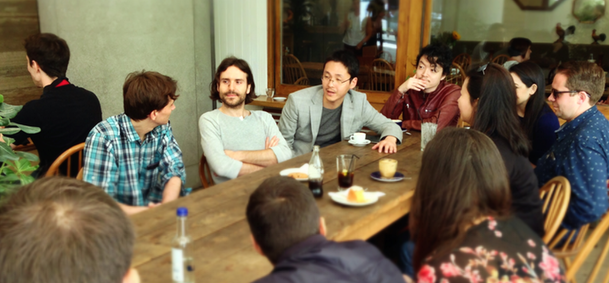 FREQUENTLY ASKED QUESTIONS
Is tea/coffee included? Absolutely - we want to make sure you're replenished and energised for your session.
Will you refund my ticket if I can't make it? We refund tickets when notified up to 48 hours of the event. If you notify us after that time we'll offer to exchange your tickets for a future tour date.
Can I book for a private group? We can cater for private groups of all sizes. For more information please visit our website.