Tech Startup School 2012 - Overview

Monday, May 14, 2012 at 5:55 PM (BST)
Event Details
TECH STARTUP SCHOOL 2012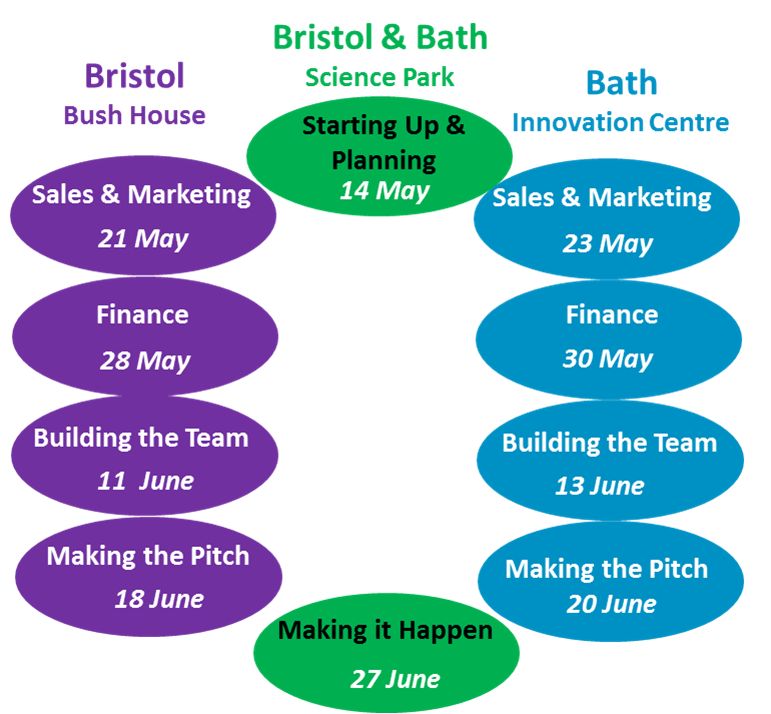 Tech Startup School 2012 - Complete Series and Overview
Do you have a good idea that could become a high-growth technology business? Are you starting out on the commercialisation of a science-based product? Are you still in employment, or contracting, and want to make the leap to growing your own business? Are you making progress, but feel you need a bit of help and advice to get you up to the next level? Then come along to the 2012 Tech School Startup (TSS) series of seminars. These events are designed to impart knowledge, inspire entrepreneurs and expand your base of useful contacts.
Tech Startup School 2012 is a structured series of 10 events that will help aspiring and current entrepreneurs start or grow their own businesses. It is also for anyone else who wants to learn more about the business of innovation.
This year's TSS events take place in both Bristol and Bath.  The first and last events are joint ones at the Bath & Bristol Science Park in Emerson's Green, Bristol, and are for all attendees. The other four pairs of events run in both Bristol at UWE Ventures on a Monday and in Bath at the Innovation Centre on a Wednesday, and attendees can choose the venue that suits them best.  
Each event has an expert speaker, an entrepreneur case study, an interactive workshop and networking with food and drink.
TSS 2012 will give you an opportunity to discuss your business ideas and challenges within a supportive peer group, and learn about relevant local support organisations and resources.
All events are open to everyone - not just BEN members.
The events
Links to the individual pages of the 10 events will appear below.  These give further details of each event, including speakers, and tickets for individual events can be purchased on those pages (but first read the 'Tickets' section below). Each event runs from 18:00 to 21:00 and is on a Monday in Bush House Bristol or a Wednesday in  the Innovation Centre in Bath.  The final event is at the Bristol and Bath Science Park.
Tickets
You will get the greatest benefit if you attend 5 or more events, but you are free to come to any event that interests you. Although we are running parallel events on Sales & Marketing, Finance, Building the Team & Making the Pitch in Bristol and Bath the speakers will be different at each. You may therefore benefit from different perspectives by attending the events in both Bath and Bristol.
If you come to 5 or more events you will save money by buying a discounted ticket for the whole TSS series (at the top of this page).
However, if you come to 3 or less events the cost will be lower if you purchase separate tickets for each event (on the event web pages listed above).
All ticket prices include VAT at 20% and you will receive an email to act as a VAT invoice for your records. 
[NB Ticket sales payments are administered by Science City Bristol Limited, the company of which BEN is an activity. Science City Bristol Limited's VAT registration number is 101 4494 54
Entrepreneur or not?
We want to encourage as many entrepreneurs and technical staff as possible to come to these events, so they can buy tickets at reduced prices (just select the 'Entrepreneur' ticket when booking).  
You are eligible for an 'Entrepreneur' ticket if you have started, or aspire to start, your own business, or if you work mainly in a technical role.
Tickets are also available at full-price for 'non-entrepreneurs', such as solicitors, accountants, IP and HR professionals, and other service providers that work with early stage technology businesses.
TSS 2012 events are run by BEN in collaboration with:
Tech Startup School 2012 - Overview