About this Event
Our fifth WILDLABS Tech Tutors are Laure Joanny, Rob Appleby, and Alistair Stewart, who will team up to tackle the question: How do I repair my camera traps? This episode will stream at 11 AM ET/ 4 PM BST on Thursday, July 23.
Register to receive a link to join the livestream tutorial.
About the Series
Introducing the WILDLABS Tech Tutors, our new series that focuses on answering the "how do I do that?" questions of conservation tech. Launched with the support of Microsoft AI for Earth, this series will give you the bite-sized, easy-to-understand building blocks you'll need to try new conservation technology, enhance your research, or DIY a project for the first time.
Taking place every Thursday, each Tech Tutor will present a 20 minute tutorial guiding you through an aspect of conservation tech, followed by a 10 minute live Q&A session with the audience.
Can't make it? You can find every tutorial after it airs on our Youtube channel.
Meet Your Tutors: Laure Joanny, Rob Appleby, and Alistair Stewart
Laure Joanny
Laure Joanny is a doctoral researcher at the University of Sheffield and a member of the Biodiversity and Security project funded by the European Research Council. She has been researching and writing on the use of digital technology for conservation since 2016. Her current research considers the advantages and challenges posed by monitoring technologies in the day to day work of conservation professionals. Hearing about and seeing large numbers of out of order devices in the course of her research sparked her interest in the sustainability of tech for wildlife.
Rob Appleby
Rob is the co-director of Wild Spy, an Australian based wildlife technology company, and he is currently completing a PhD examining human-dingo conflict on Fraser Island, Queensland. Rob has a strong interest in leveraging the power of technology to help answer tough questions about animal behaviour and to help bring solutions to what can sometimes seem like intractable conflict situations. Rob is keen to explore ways to improve the accessibility and cost-effectiveness of cutting edge technological advances to researchers and conservationists striving to reduce human-wildlife conflict and advance wildlife conservation.
Alistair Stewart
Alistair Stewart works with the Department of Environment and Natural Resources, Northern Territory, Australia. As a camera trap expert, Al looks forward to sharing his knowledge about identifying the faulty part of your camera trap system whilst in the field with the WILDLABS community.
Find your Tech Tutors on Twitter (Laure, Rob, and Alistair) and in the WILDLABS community (Laure, Rob, and Alistair).
We asked Laure, Rob, and Alistair...
What will I learn in this episode?
Laure: Where to find tools and support for electronic repairs and how to support others in the tech for wildlife community with faulty camera traps.
Rob: You'll learn about basic multimeter functions, and what tools you should have in your troubleshooting kit.
Alistair: How to trace down a faulty part in the camera trap - the switch.
How can I learn more about this subject?
Laure: Look up your closest makerspace or repair café and pay them a visit. Many are listed here. Visit the Open Repair Alliance, Restart Project, and Repair Café websites.
Rob: Check out these repair and troubleshooting links here, here, and here. You can also find general camera trap information from WWF here and here, and read about camera trap users' experiences repairing gear in the field in this article.
Alistair: Electronics circuits can be complicated, but there are often simple things that we can test first and components that we can single out. There are kits of components you can buy and put together, or small computers like the Raspberry Pi that you can program to interact with electronics and circuits.
If I want to take the next step using this technology, where should I start?
Laure: Organise your own repair event. Keep a log and share details of the repairs you have done or are struggling with on WILDLABS' forum. This could help others with their market research for new camera traps or to undertake repairs on the cameras they already own.
Rob: You can check out starter multimeters and related tools here, here, and here, and view their corresponding video resources here and here.
Alistair: Get yourself a multimeter and start testing things. Get a Raspberry Pi and follow their educational project builds. Go to a meetup, makerspace or hackerspace to meet others with skills and knowledge to share.
What advice do you have for a complete beginner in this subject?
Laure: Take stock of your camera trapping equipment. How many devices do you have at your disposal? Are all devices fully functioning? Can those which you would not use in the field anymore be repaired?
Rob: Putting together a field repair kit is a great place to start. We'll be sharing resources on what to pack into your kit in this tutorial.
Alistair: Ask other people how they have broken their camera traps - and don't do what they did ;-)
Learn more about our Tech Tutors
Visit WILDLABS to learn more about the WILDLABS Tech Tutors series and other events.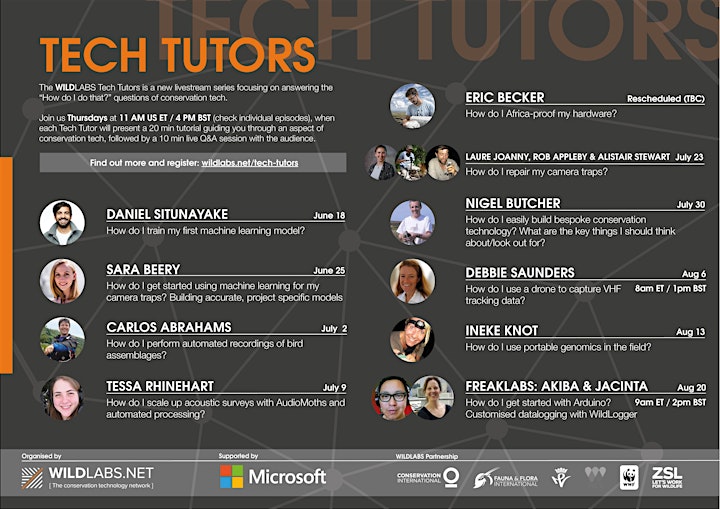 Take the 2020 WILDLABS Conservation Tech Survey
We're running our third annual survey in partnership with researchers at Colorado State University as part of a larger assessment of the State of Conservation Technology. The aim of the project is to advance efforts by capturing recent progress, key constraints, and critical opportunities for growth in leveraging technology for conservation.
In this survey, we'll be asking for your thoughts on the technologies you work with, as well as broader questions on challenges facing the conservation tech ecosystem and opportunities for addressing them.
As always, this survey is also your opportunity to tell us about your experiences engaging with the WILDLABS community. We want to know what aspects of our platform and programming you find valuable, how they contribute to your work, and what you would like to see us prioritize for the future.
Please take the time to complete our survey by following this link.