Our fourth episode, featuring Tessa Rhinehart, will stream at 11 AM ET/ 4 PM BST on Thursday, July 9.
About this event
Our fourth WILDLABS Tech Tutor is Tessa Rhinehart, who will be tackling the question: How do I scale up acoustic surveys with Audiomoths and automated processing? This episode will stream at 11 AM ET/ 4 PM BST on Thursday, July 9.
Register to receive a link to join the livestream tutorial.
About the Series
Introducing the WILDLABS Tech Tutors, our new series that focuses on answering the "how do I do that?" questions of conservation tech. Launched with the support of Microsoft AI for Earth, this series will give you the bite-sized, easy-to-understand building blocks you'll need to try new conservation technology, enhance your research, or DIY a project for the first time.
Taking place every Thursday, each Tech Tutor will present a 20 minute tutorial guiding you through an aspect of conservation tech, followed by a 10 minute live Q&A session with the audience.
Can't make it? You can find every tutorial after it airs on our Youtube channel.
Meet Your Tutor: Tessa Rhinehart, Kitzes Lab at the University of Pittsburgh
Tessa Rhinehart works with the Kitzes Lab at the University of Pittsburgh to develop methods to survey animals on landscape scales. As a Research Programmer, she creates machine learning models to automatically classify animal vocalizations. She also develops statistical models that can use these machine learning outputs for ecology and conservation applications. Additionally, between her lab and their collaborators, she's helped to manage over 2,000 AudioMoth autonomous recorders and the data that they generate. You can read more about her lab's work in this recent article written for Birding magazine.
Lab website: kitzeslab.org
In the WILDLABS Community: Tessa's profile
Social media: @tessarhinehart on Twitter
We asked Tessa...
What will I learn in this episode?
This tutorial will discuss workflows for deploying autonomous recorders at any scale, especially focused on AudioMoth acoustic recorders. We will go over essential practices to keep in mind as you scale up data collection using autonomous recorders, whether your recorder fleet is 1 or 1,000 strong. Topics covered will include how to:
Weigh pros and cons of methods to extend battery life and storage
Test the quality of acoustic recorders before or after deployment
Create an inexpensive housing for an AudioMoth recorder
Upload, store, and manage large amounts of data
Evaluate options for analyzing your data
How can I learn more about this subject?
If I want to take the next step using this technology, where should I start?
For practical discussions and troubleshooting of autonomous acoustic recording, visit the WILDLABS forums.
For AudioMoth users: check out the Open Acoustic Devices resources page and support forum.
I wrote my own AudioMoth guide to help me keep track of what I've learned about AudioMoths. It describes many of the concepts I will highlight in this tutorial.
What advice do you have for a complete beginner in this subject?
Write everything down! Create one or more "living" documents which you modify and add to as you learn the particular needs of your autonomous recording methods. This document can become a protocol which lists every step needed to manage your acoustic recorders and data. It can include notes, step-by-step instructions, printable field data sheets, directions for filling out electronic databases, packing checklists for field deployment trips, and whatever else is useful to you!
Learn more about our Tech Tutors
Visit WILDLABS to learn more about the WILDLABS Tech Tutors series and other events.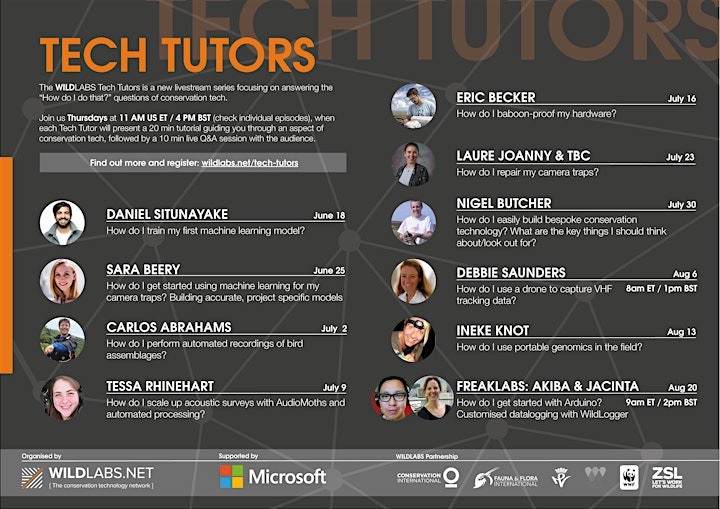 Organiser of Tech Tutors: How do I scale up acoustic surveys with Audiomoths...
WILDLABS is the first global, open online community dedicated to conservation technology. How are you using #Tech4Wildlife?