Join us on August 5th at 11 AM ET / 4 PM BST, where our panel will answer the question, "How do I use conservation tech ethically?"
About this event
We're back with an even bigger third season of WILDLABS Tech Tutors, the virtual series that answers the "how do I do that?" questions of conservation tech. 
Join us for a special Tech Tutors event on August 5th at 11 AM ET / 4 PM BST*, where Chris Sandbrook, Laure Joanny, Trishant Simlai, and Koustubh Sharma will discuss the question, "How do I use conservation tech ethically?"
Register now for your free ticket.
*Please note that this episode will be half an hour longer than our standard one-hour Tech Tutors format.
In this special panel episode of Tech Tutors, our presenters will answer the following questions:
Chris Sandbrook: How do I use conservation tech ethically?
Laure Joanny: How do I build on existing tools and procedures to use conservation tech ethically?
Trishant Simlai: How does conservation tech cause harm?
Koustubh Sharma: How do I manage ethical issues in the field?
Dr. Chris Sandbrook was inspired to organize this Tech Tutors episode based on his recently released research paper, Principles for the socially responsible use of conservation monitoring technology and data. Chris is a Senior Lecturer and Director of the Masters in Conservation Leadership in the Department of Geography at University of Cambridge, and an Official Fellow at Darwin College in Cambridge as well.
We asked Chris Sandbrook...
What will I learn in this episode?
You will learn about how conservation monitoring technology can have positive and negative effects on people, and some tips on how to use your tech in a socially responsible way.
How can I learn more about this subject?
Come to the webinar! Or failing that, take a look at open access papers on this subject by Sandbrook et al. and Sharma et al.
If I want to take the next step in being conscious of ethical considerations in my conservation tech work, what is the first thing I should keep in mind?
The first step is to recognise that conservation technology can have impacts on people, even if this is not your intention. Once you are aware that this is an issue to consider, you can then work through a set of simple principles to make sure you avoid problems as far as possible.
What advice do you have for someone just getting started in conservation tech when it comes to ethics?
Thinking about the ethics of how we use technology is not just about avoiding harm to people - it is also about achieving conservation success. This is because conservation projects are much more challenging when there is conflict with local residents. If the way you are using technology is upsetting people, it could undermine conservation goals and make damage / theft of your kit more likely. So you should think about the ethics of conservation tech right from the start!
Ready to learn with all four of these Tech Tutors? Join us by registering for this special episode now.
Learn more about our Tech Tutors
Welcome to the third season of WILDLABS Tech Tutors, our series focused on answering the "how do I do that?" questions of conservation tech! Launched with the support of Microsoft AI for Earth, Tech Tutors is made for conservation tech beginners of all knowledge levels (and yes, even experts can still be beginners when it comes to tackling a new aspect of conservation tech or starting a new project!). Our Tech Tutors will give you the bite-sized, easy-to-understand building blocks you'll need to try new conservation technology, enhance your research, DIY a project for the first time, or simply explore the possibilities!
Taking place every Thursday, each Tech Tutor will present a 30 minute tutorial guiding you through an aspect of conservation tech, followed by a 30 minute live Q&A session with the audience.
Can't make it to an episode this season? Don't worry! You can find every tutorial after it airs on our Youtube channel, and you can collaborate and ask questions in each episode's thread on the WILDLABS Tech Tutors forum.
Visit WILDLABS to learn more about the WILDLABS Tech Tutors series and other events.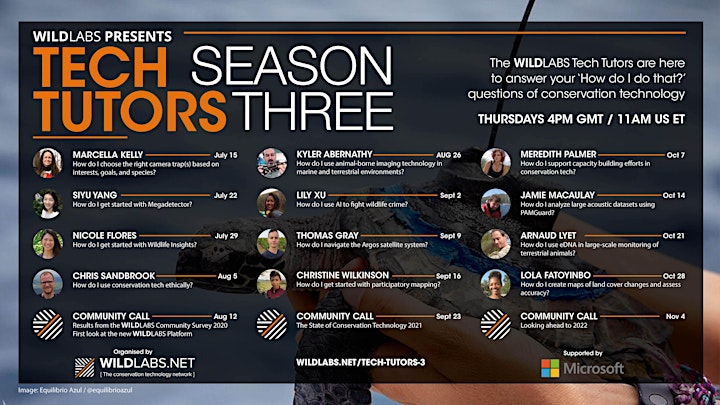 Organiser of Tech Tutors: How do I use conservation tech ethically?
WILDLABS is the first global, open online community dedicated to conservation technology. How are you using #Tech4Wildlife?