About this Event
Our eighth WILDLABS Tech Tutor is Ineke Knot, who will tackle the question: How do I use portable genomics in the field? This episode will stream at 11 AM ET/ 4 PM BST on Thursday, August 13.
Register to receive a link to join the livestream tutorial.
About the Series
Introducing the WILDLABS Tech Tutors, our new series that focuses on answering the "how do I do that?" questions of conservation tech. Launched with the support of Microsoft AI for Earth, this series will give you the bite-sized, easy-to-understand building blocks you'll need to try new conservation technology, enhance your research, or DIY a project for the first time.
Taking place every Thursday, each Tech Tutor will present a 20 minute tutorial guiding you through an aspect of conservation tech, followed by a 10 minute live Q&A session with the audience.
Can't make it? You can find every tutorial after it airs on our Youtube channel.
Ineke says, "My research focuses on the use of portable genomics tools for wildlife conservation, and I'm currently finishing up my PhD at the University of Amsterdam, in collaboration with Liverpool John Moores University. There are a variety of ways in which genomics can be useful in wildlife conservation, but in my PhD I focused on the potential of portable genomics tools for molecular epidemiology. Parasites (in the broad definition of the term) can significantly threaten already endangered animals, and being able to get in depth molecular information to identify parasites and investigate transmission patterns can be critical for their long-term conservation and survival. 
In the last ~5 years, a miniaturisation of genomics equipment has taken place, which means we can now perform this research on remote field sites and for less money. Not only can this aid wildlife conservation, but this can also help to decentralise scientific research. However, during my PhD I realised there are a lot of hurdles to overcome for people new to sequencing (or maybe even new to molecular biology!). That's why I started documenting the knowledge I gained during my PhD, so that I can share it with others. As the tools I use are transferable to any type of genomics research, I believe these tools should become a part of every biological research station. Hopefully this tutorial will be a first step in the right direction for people who are interested in doing genomics on remote or non-traditional locations."
Engage with Ineke through WILDLABS, Twitter, and on her website. 
We asked Ineke...
What will I learn to do in this tutorial?
I'll be talking about portable genomics tools, which will allow people to do molecular biology on atypical locations, like remote field sites. Traditional molecular biology labs require big and costly machines like thermocyclers, centrifuges, DNA sequencing machines, etc. However, thanks to a recent miniaturisation of tools the costs have significantly decreased, and the same tools now fit into a suitcase. This makes genomics more accessible for researchers who do science on smaller budgets and also presents the opportunity for a geographic decentralisation of genomics research. I want to introduce some of the tools that can now be used for genomics research, and highlight some examples of research areas for which these tools can be used. My hope is that at the end of the tutorials, viewers feel empowered to explore how they can integrate these tools in their own research.
How can I learn more about this subject?
I'm working to summarise everything I learned during my PhD on a website: portablegenomics.org.  The website will be live the day of the tutorial (13 August), as I'm still working hard on it leading up to the tutorial. In the early days of the website it will focus heavily on my PhD research, as those are the resources I currently have and am able to share right now. My hope is that people will ask me questions (so that's another way to learn: please don't hesitate to contact me), so that I can use that input to expand the website's resources to fit the needs of researchers interested in using portable genomics. Aside from that, I would recommend Khan Academy if people want to learn more about the basics of molecular biology, and Coursera or other MOOC websites for more in depth training on eg. bioinformatics. All these resources are free, so also ideal for people on a limited budget.
If I want to take the next step using this technology, where should I start?
Start by assessing what your end goal is. Eg, do you want to do species identification, or microbiome research, or…? Then make an overview (eg. by making a mind map) of all the parts you need to achieve that. There will be an example on the website portablegenomics.org of possible steps you have to take into consideration. Then see where you currently are: do you already have some molecular tools, or do you need to buy them? Do you first need to get more training on a certain aspect, eg pipetting or bioinformatics? Make a step-by-step plan and follow it, and you'll get there eventually! 
What advice do you have for a complete beginner in this subject?
Take it easy, don't rush and don't be afraid to make mistakes. Actually, that's three pieces of advice for the price of one. Molecular biology takes quite a while to understand and, especially, master if you're completely new to it. Simply practice, have patience and learn from your experiences.
Learn more about our Tech Tutors
Visit WILDLABS to learn more about the WILDLABS Tech Tutors series and other events.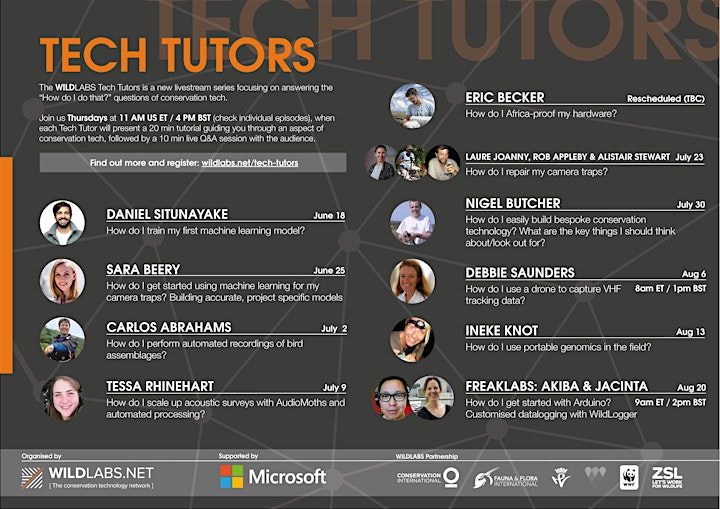 Take the 2020 WILDLABS Conservation Tech Survey
We're running our third annual survey in partnership with researchers at Colorado State University as part of a larger assessment of the State of Conservation Technology. The aim of the project is to advance efforts by capturing recent progress, key constraints, and critical opportunities for growth in leveraging technology for conservation.
In this survey, we'll be asking for your thoughts on the technologies you work with, as well as broader questions on challenges facing the conservation tech ecosystem and opportunities for addressing them.
As always, this survey is also your opportunity to tell us about your experiences engaging with the WILDLABS community. We want to know what aspects of our platform and programming you find valuable, how they contribute to your work, and what you would like to see us prioritize for the future.
Please take the time to complete our survey by following this link.