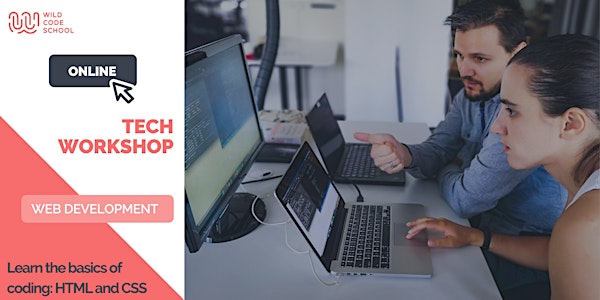 Tech Workshop - Learn the basics of coding: HTML & CSS
Are you interested in coding? Do you want to learn how to code? Practice for the first time by learning HTML and CSS ✨
About this event
HTML and CSS are essential for those who want to become web developer!
🔎 Agenda
Live demonstration by an instructor:
Learn key concepts: HTML, CSS, JS, Front-end/Back-end
Create your first elements with HTML & CSS: HTML page structure, table, form and CSS for the design.
Exercises are available at the end of the workshop to continue practicing by yourself.
⚠️ Pre-requisites
This workshop is for beginners! No programming knowledge is required.
Registration is mandatory to access our online event.
👨‍💻 Access to the Live Video Session
Join the Live video session by:
Registering, we will send you an e-mail that will allow you to access it on the D-day!
Using headphones & a microphone
Our event will be hosted online on Livestorm, our video conferencing platform. After you register on Eventbrite, the login link will be shared with you via email close to the event. If you don't receive the link, feel free to register RIGHT HERE.
📅 Next session
Want to try to code by yourself before the workshop?Join for free our prep course right here.
Don't hesitate to apply for our Web development course.
🚀 Let's meet at 5pm CEST 🚀
Looking forward to meet you!
Wild Code School Team