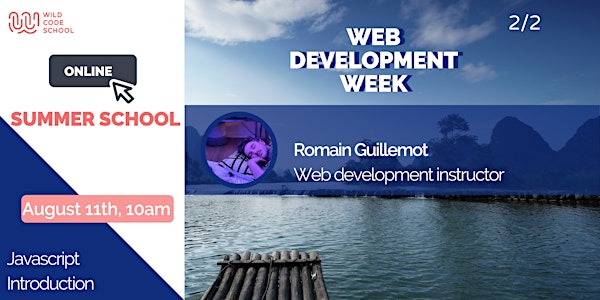 Tech Workshop-Vote to eliminate someone to preserve food with Javascript
Let's learn how to code to be a real Tech adventurer! Practice for the first time by learning HTML and CSS ✨
About this event
Of course, Web development will help you even when stranded on a desert island 🏝️
🔎 On the agenda
In this first workshop, To conserve resources and be sure to complete the crossing, eliminate one person each day in Javascript.
Workshop will end with exercises that you can do on your own to continue practicing. Don't forget that the best way to become the best Tech adventurer is to practice. 🏋️‍♂️
⚠️ Prerequisites
Registration HERE on livestorm is required to access our online event.
👨‍💻 Access to the live demo
To join, you just have to:
Register for free RIGHT HERE
Equip yourself with headphones
📅 Next training session
On September 12, 2022
These events are organized as part of the Summer School. Here is the link if you want to register. You can also participate without registering 😉
Want to try to code by yourself before the workshop? Join for free our prep course right here.
🚀 Let's meet at 10am CEST 🚀
We look forward to seeing you online!
Wild Code School Team