Location
Syntrend (12th Floor)
No. 2, Section 3, Civic Blvd
Zhongzheng District
Taipei 10058
Taiwan R.O.C.
Description
歡迎大家參加在 4/20 (星期六) 上午 9 點~下午 6 點舉辦的 TECH(K)NOW Day, 這次的活動將會有超過 400 位在科技業的女性或是女性創業家的參與. TECH(K)NOW Day 於 2017 年首次在倫敦舉辦,之後每兩年都會舉行,這次
我們很榮幸能夠在台北舉辦。

JOIN over 400+ WOMEN in TECH and WOMEN-LED STARTUPS in Taipei on Saturday, April 20, from 9 am to 6 pm for the very 1st TECH(K)NOW Day in Taipei.

TECH(K)NOW Day started in London back in early 2017 and happens there twice a year. We are very happy to organize one here in Taipei!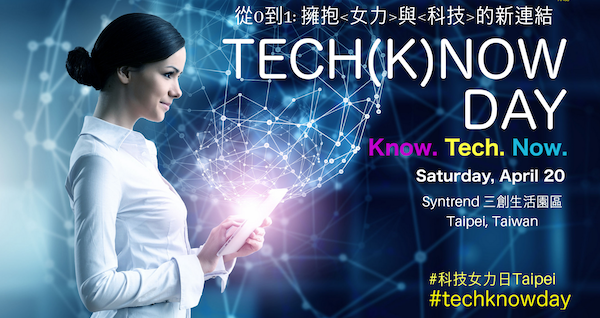 TECH(K)NOW Day 不僅提供學習且具有冒險的環境,我們還非常歡迎任何有學習新技術熱忱的女性一起參與,此外 TECH(K)NOW Day 一直以來也響應國際婦女節的主題活動,像是 #大膽迎接改變 與#前進的動力,以及#更好的平衡

當天早上 8 點~9 點的早餐時間將提供茶、咖啡、餅乾,同時也會在午餐及下午茶提供相同點心。

TECH(K)NOW Day has been organized to provide a place and venue for anyone who identifies as a woman to go and learn new tech skills (see details below). We were also keeping with the past few years' International Women's Day themes, like #BeBoldforChange; #PressforProgress; #BalanceforBetter

Morning Tea and biscuits, Lunch and Afternoon tea and pastries will also be available.


UPDATE - FINAL SCHEDULE is BELOW!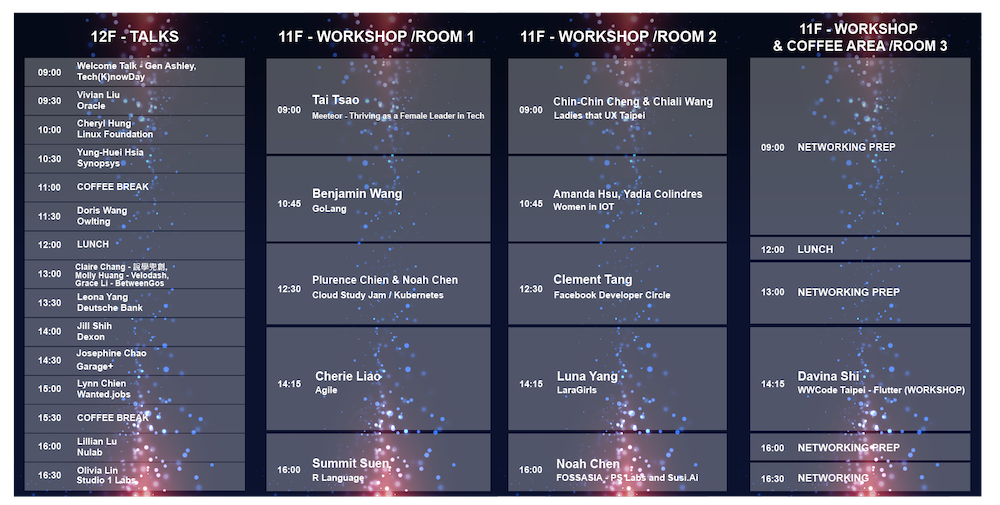 TECH(K)NOW Day 在倫敦進行的情況如何呢?
How was it the last few yeas in LONDON?

以下是由 2017 年 3 月參加者提供的回饋,我們非常喜歡她精簡完美的總 TECH(K)NOW Day,相信你也會非常喜歡我們的活動!

Below is a feedback from one of the attendees at the March 2017 event. We love the way she perfectly summarized what happened on the day! Make sure you don't miss out!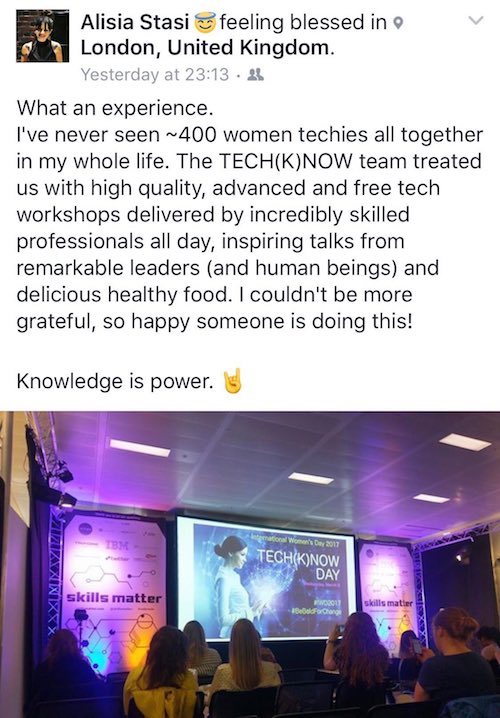 #TECH(K)NOW Day 當天會有什麼內容呢?
What's IN STORE?

#手把手工作坊
在一整天的活動中,我們會提供許多有趣的工作坊主題,不管妳是還在摸索程式是不是適合自己的科技新手,或者妳已經是有經驗的開發者,還想去更深入學習那些新的框與程式語言,像是機器學習、人工智慧、圖式非關連式資料庫(Graph Database)、 AngularJS, Messaging Bots ...等等。

*** Note : 想要第一時間掌握任何關於工作坊主題與相關時間,方便安排行程的妳,#請記得一定要買門票噢!(我們的門票很快會售完噢!)

HANDS-ON Workshops
Throughout the day, there will be a whole range of hands-on workshops available for both -
- Completely beginners (for you to explore what's out there that you could be learning and find out for yourself if coding is for you)
- Experienced developers (for you to explore other technologies/languages you might currently not be familiar with, for example - Machine
Learning (ML), Artificial Intelligence (AI), Graph Databases, AngularJS,
Messaging Bots and a whole range of other topics)

***Note: In order to receive information on the workshops (topics, details, schedule, prerequisites), you need to have A Valid Conference Ticket! They will go quite fast!




SPEAKERS + WORKSHOP LEADS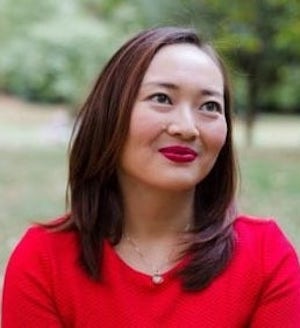 CHERYL HUNG
Cheryl Hung is the Director of Ecosystem at the Cloud Native Computing Foundation (part of Linux Foundation). Her mission is to increase the adoption of Kubernetes and cloud native by growing the community and advocating for end users.
Previously, Cheryl spent five years at Google as a C++ engineer on Google Maps, before moving to a storage startup to lead Product, DevOps and DevRel. She founded and runs the Cloud Native London meetup. Cheryl holds a Masters in Computer Science from the University of Cambridge.

Cheryl Hung是Cloud Native Computing Foundation的生態系總監。她的使命是通過發展社群和倡議來增加Kubernetes和原生雲端的使用者。 在擔任這項職務之前

Cheryl在Google的地圖部門擔任C ++工程師五年,然後轉到一家雲端儲存新創公司領導產品,DevOps和DevRel。她創立並運營了Cloud Native London社群。 Cheryl是劍橋大學電腦科學的碩士。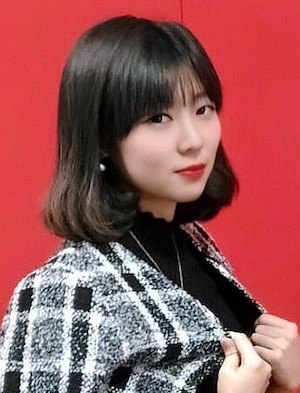 LEONA YANG


Leona is currently based at Deutsche Bank, accountable for cash management service, also as marketing intern at Microsoft in 2017. Currently focusing on fintech / internet area, e.g. e-banking, systematic and program trading, data-driven marketing, Leona is dedicated to surmounting obstacles in more industries while transformation through promoting coding.

2017 年為台灣微軟營運暨行銷部實習生,現任於台北德意志銀行全球交易業務部,協助現金管理服務。目前投入在金融科技與網際網路領域,如電子銀行、系統化與程序交易、數據驅動行銷。致力推廣程式應用以助於更多產業轉型上的突圍。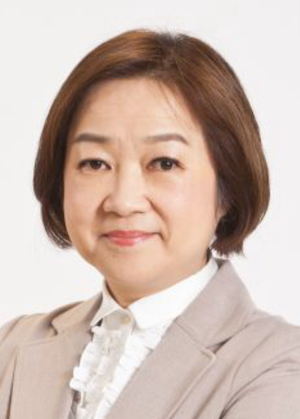 YUNG-HUEI HSIA


Sr Mgr, Human Resources, Synopsys
夏永惠
人力資源資深經理


Mini biography
More than 20 years of HR professional experiences in Hi-Tech industries in both local and multinational companies
- Currently Sr. HR Manager at Synopsys, Taiwan, supporting the staffing and Talent/leadership development programs in Asia-Pac with strong partnership with senior executives and HRBP
現職台灣新思資深人資經理,協助高階經理人發展亞太區人才招募與培育策略
- Specialized in Compensation and Talent development initiatives
- Always interested in new ways of thinking and doing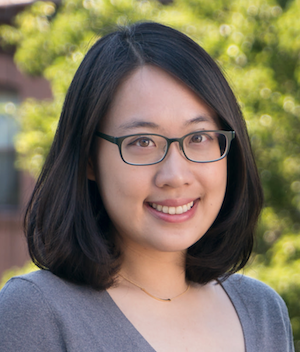 TAI TSAO
Tai Tsao is Change Management Lead at Meeteor, a global consulting firm that helps individuals and teams thrive at work. Tai is driven to help individuals, teams, and organizations unlock their potential, transform the way they work, and make a greater impact. Tai brings the lens of learning, behavioral science, and organizational change to help teams be more successful integrating new ways of working and strengthening culture.
Tai Tsao is coauthor of Momentum: Creating Effective, Engaging and Enjoyable Meetings, an Amazon Bestseller in 2017. As a team coach, facilitator and writer, Tai has helped thousands of people around the globe improve their meetings and how they collaborate. She also speaks and facilitates workshops at conferences such as Culture First, New York OpCon and has been a guest on numerous podcast, including Team Coaching Zone.
Prior to joining Meeteor, Tai worked as a organizational development consultant with a diverse array of organizations. In 2008, she founded i-Talent Learning Community, an organization that provides career development and mentoring programs for college students in Taiwan. Tai holds a master's degree in Social-Organizational Psychology from Columbia University and a Bachelor of Science in Banking from National ChengChi University.

曹代 Tai Tsao,美國紐約哥倫比亞大學組織心理學碩士,專攻變革領導和組織文化顧問與學習設計,是Meeteor管理顧問公司亞洲區負責人,同時負責變革管理與客戶專案規劃與導入,她是一位團隊教練、學習引導師與創變者。Tai 與Meeteor 執行長Mamie Kanfer Stewart共同著有

Momentum: Creating Effective, Engaging, and Enjoyable Meetings

一書,於2017年發行後即成為美國亞馬遜書城暢銷書籍。
Tai 致力於人才發展、提升團隊協作能力、領導組織變革與轉型以建立正面組織文化,提升整體績效。Tai 運用她組織心理學、行為科學及人才發展的專業,開發Meeteor 會議文化測評工具、Thriving Teams 高績效團隊測評工具與團隊教練計畫、實體與線上課程等,曾於美國紐約「文化優先(Culture First)」、「組織經營博覽會(OpCon)」等大型會議帶領互動工作坊,也擔任企業高階主管團隊教練,內部顧問等。
經歷:
紐約交通局總裁專案辦公室變革管理與主管培育

紐約哥倫比亞大學團隊流程顧問

紐約Retensa顧問公司組織發展與人資數據分析產品開發

台灣艾偲睿企管顧問公司客戶專案規劃與課程設計

i Talent人才培育社群創辦人

Systemic Team Coaching認證團隊教練、MBTI及Hogan人才測評認證講師
``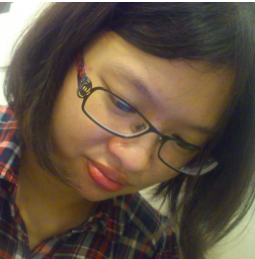 DAVINA YENRU SHI

Davina graduated from Dept. of Information Management and Learning Technology, enjoyed programming and research. Currently being a system analyst and project manager.

She is a >>

Mobile Project Manager

Coach and Lead - WWC Taipei 2018-2019 Flutter codelabs study group

(Former) Android developer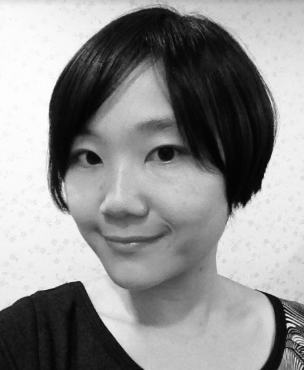 CHICHIN CHENG
Chichin Cheng is a product design Lead in a global remote team currently whom has a design master degree from Central Saint Martins, University of the Arts London (UAL). She has experiences on critical thinkings, facilitations, and product service design/managements. She is passionate on learnings and contributions.


現為資深產品設計師,任職於國際遠端合作團隊,從事企業級雲端產品設計,畢業於倫敦藝術大學-聖馬汀藝術與設計學院之工業設計碩士。她有相關經驗於批判式設計思考、引導與產品設計服務與管理。她也熱愛學習與貢獻。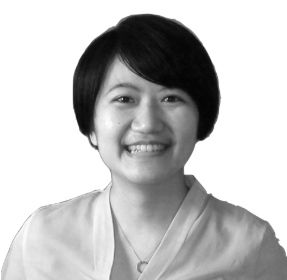 CHIALI WANG
ChiaLi Wang is a User experience researcher in a Taiwan design consultancy whom had graduated from engineering faculty and transited into user experience field. While facing the challenge from various industries, she keeps discovering the similarity and difference between different kind of products or services to learn from users and try to provide better product to fit the user needs. She is the observator whom has passion about observing life, people and discovering the unknown.


現為使用者經驗研究員,任職於當地設計顧問公司。從工程背景的思維轉換到使用者經驗的領域,在跨產業、面對各種多元產品的挑戰中不斷尋找使用者需求的異與同,也持續從使用者身上虛心暸解數位產品如何更好地協助人們的需求。是個熱愛觀察生活、人群以及探索未知的觀察者。
更多優秀講者資訊,持續新增中!!!
MORE TO BE ADDED SOON!


過去我們的活動曾經提供的工作坊有:
Past workshops on offer were -

All/ Beginners Level
• Beginner HTML/CSS
• iOS/ Swift 101
• Introduction to Javascript
• Kotlin Basics: Build a Simple Standalone Sudoku Game App
• Intro to Pair Programming and Test-Driven Development
• Learn Ruby Through Music
• Wordpress Development for Beginners
• Introduction to Python
• Android 101

For more experienced developers
• Dealing with Legacy Code (Understanding the code-, Writing a Golden
Master, Writing Unit Tests and Refactoring, Introducing new Features)
• Learn GraphQL
• Microsoft Bot Framework Workshop
• Learn how to use Java Streams
• Introduction to Functional Programming in Scala
• Getting Started with WebVR - An Introduction to A-Frame
• State Management with Redux
• Deep Learning with Python
• Machine Learning on iOS
• Learn React
• Learn ReactJS
• Learn WebRTC
• Learn WebGL
• Building a Recommendation System in R
• Building AI applications using Microsoft Cognitive Services
• Building a Conversational App with the Google Assistant
• Image Classification using Deep Learning
• Kubernetes Engineering & Operator Workshop


#個人自我成長主題與事業成長主題
• 利用肢體語言的力量創造有影響力的演講
• 如何發展自己的點子呢?
• 如何籌資呢?

Personal Development
• More Impactful Presentations with the Power of Body Language
Business Development
• How to launch your idea?
• How to Raise Funding?

***再次提醒您 : 為了不錯過工作坊的任何訊息(包括:主題、議程細節、日程表、必要須知),您需要有效的討論會票據!

***Again NOTE: In order to receive information on the workshops (topics, details, schedule, prerequisites), you need to have a valid conference ticket!!!


#主題討論會議
我們會有不同的討論主題,如果您除了對上面的工作坊有興趣之外,您也可以參與以下主題:
• 技術討論會
• 個人發展
• 職涯發展
• 多元性/包容性/沒注意到的偏見

TALKS
There will also be a separate track for talks, so if you are also interested in other topics, except one of the workshops above, you can also listen to interesting talks and speakers about:
• Tech topics (current and emerging)
• Personal Development
• Career Development
• Diversity / Inclusivity / Unconscious Bias


#職涯加值站
我們特別想要強調在職涯發展上的分享(千萬別錯過!),以下是這次活動您會聽到的主題
• 女性如何爭取自己的薪水( 包含新的法規討論 : 同酬薪水 )
• 自信地投履歷,但可能有興趣的職位需要的工作技能還沒完全掌握
• 某個您想培養技能的領域
• 在面試中精彩的呈現自己
• 如何跟面試官培養良好的關係,兩人都可彼此受益
• 休息一段時間後在投入職場中
• 讓您的 CV 出類拔萃

Career Play Station
We particularly want to highlight the talk on Career Development
(Don't miss it!); where you'll learn about:
• Salary negotiation for women (including talks about new regulations
coming up on equal pay)
• Confidently applying for a job you don't have ALL the skills for (yet)
• Areas you should consider developing skills in
• Presenting yourself well in interview
• How to get the most out of your relationship with your recruiter
• Re entering the workforce after a break
• Making your CV stand out


#職涯充電站與職涯專家諮詢

CAREER HUB / CAREER FAIR
There will be a career hub where experts will be on hand to help you - if you want to have one-to-one conversations about the above career development-related topics.


現在就請訂購研討會的票吧!

這樣我們才能夠把 4/20 (六) 當天的工作坊等詳細的資料寄給妳喔!: ")

Sign up for a ticket! So we can send you more detailed information along with the schedule of the hands-on workshops, talks and other activities happening on Saturday, April 20!

TECH(K)NOW Day 將是妳和許多科技業女性和女創業家相遇最棒的活動,而我們也非常期待能夠遇見妳甚至是有機會幫助妳!

It will be a wonderful day out for women in tech and women-led startups! We look forward to meet you and even have an opportunity to help you!