Event Information
Refund policy
Contact the organiser to request a refund.
Eventbrite's fee is nonrefundable.
How can technologies like blockchain work with, rather than against, the planet? Tega Brain, Kyle McDonald, Xiaowei Wang & Lucy Rose Sollitt
About this event
As interest in NFTs soared over the last year, so did the controversy over the excessive carbon footprint of blockchains such as Ethereum, the main blockchain being used to mint and sell art NFTs.
But the environmental (and social) impact of NFTs goes further than blockchain - the vast amounts of electricity and water consumed by the data centers that power the internet, the mining of rare metals contained in short-lived processing hardware and so on. Ethereum emissions is one part of a much bigger network of entanglements.
Join artists Kyle McDonald and Tega Brain along with author Xiaowei Wang, to discuss how they have each approached realigning the "virtual" with the complexities of its earthly - human and planetary - consequences.
In a conversation chaired by Tokenomics: A New Economy of Art curator, Lucy Rose Sollitt, we will explore how through their individual practices each panelists offers an alternative perspective to the dominant climate change discourse of green capitalism. We will ask whether approaching technology as intimately embedded within ecologies can inspire new imaginative approaches and solutions which move beyond the 'business as usual' tactics of that dominate green capitalism.
We will also look at the pervasive idea that the experience of technology is globally homogenous. Yet, differences between resources, interests, sovereignties and cosmologies tell otherwise. And examine whether working with this plurality could galavanise the development of more careful and useful technology.
Might such approaches result in technological tools and infrastructure emerge which work with, rather than against, life on this planet?
Curated by Lucy Rose Sollitt
ABOUT THE SPEAKERS
Kyle McDonald - Artist working with code to create interactive and immersive audiovisual installations, performances, and new tools for creative exploration. Picking up where artist Memo Akten left off, Kyle's recent research includes quantifying the emissions of technologies such as blockchain.
Tega Brain - Artist and environmental engineer, whose work examines issues of ecology, data systems and infrastructure. Tega's works include creating wireless networks that are coupled to natural phenomena and systems for obfuscating personal data.
Xiaowei Wang - Author of "Blockchain Chicken Farm: And Other Stories of Tech in China's Countryside", Xiaowei's work centers community empowerment, technology and ecology and delights in capturing technology in all its contradictions and innovation.
Lucy Rose Sollitt – philosopher, curator, writer and artist mentor whose work focuses on the intersection of art and technology and emerging economies of art. Lucy's practice is informed by a belief in art as felt knowledge, equitable art ecosystems and an exploration of meaning amid the complexities of the present.
ABOUT THE SERIES
Blockchain is changing how art is made, sold and financed, where it circulates and who its custodians are. But can it really increase the creative and economic agency of artists?
The explosion in popularity of NFTs over the past year marks a moment of radical transformation within the art market.
For better or worse, blockchain technology is ushering in new imaginaries and is rapidly evolving alternative sales, funding and ownership mechanisms which could rewrite the rules of the traditional art world.
What are the implications of blockchain tokenomics for how art is created, sold and financed, where art circulates and who its custodians are? Will the next generation of NFT's and DAO's increase creative and economic agency? And if so, how can this be shared more equitably between individual creators, their collaborators and supporters?
Curated by Lucy Rose Sollitt, Tokenomics: A New Economy of Art, brings together pioneering artists and technologists, to discuss the concerns and to highlight and support thoughtful approaches which use the full potential of the technology to imagine fairer ecosystems of art making.
The series will address the defining questions of this new era with the aim of helping artists and those working across the art market to navigate the opportunities and complexities that lie ahead.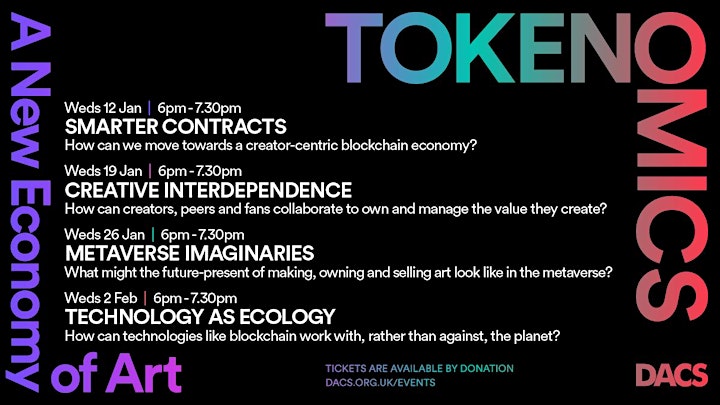 Date and time
Location
Refund policy
Contact the organiser to request a refund.
Eventbrite's fee is nonrefundable.