Event Information
Location
Balls Brothers Conference Centre
Mincing Lane
London
EC3R 7PP
United Kingdom
Description
The 63rd Technology Leadership Forum will take place on Wednesday 6th November 2019 at the conference centre at Balls's Brothers, Minster Court.
This edition will be our annual all day summit, and has been organised in three tracks;
Track 1. Individual and Team Performance
Track 2. Technology
Track 3. Wellbeing in the workplace (PM Only)
We would like to thanks our sponsors, IBM for supporting this event
Programme Chair: Mike Jarred
Programme and Timings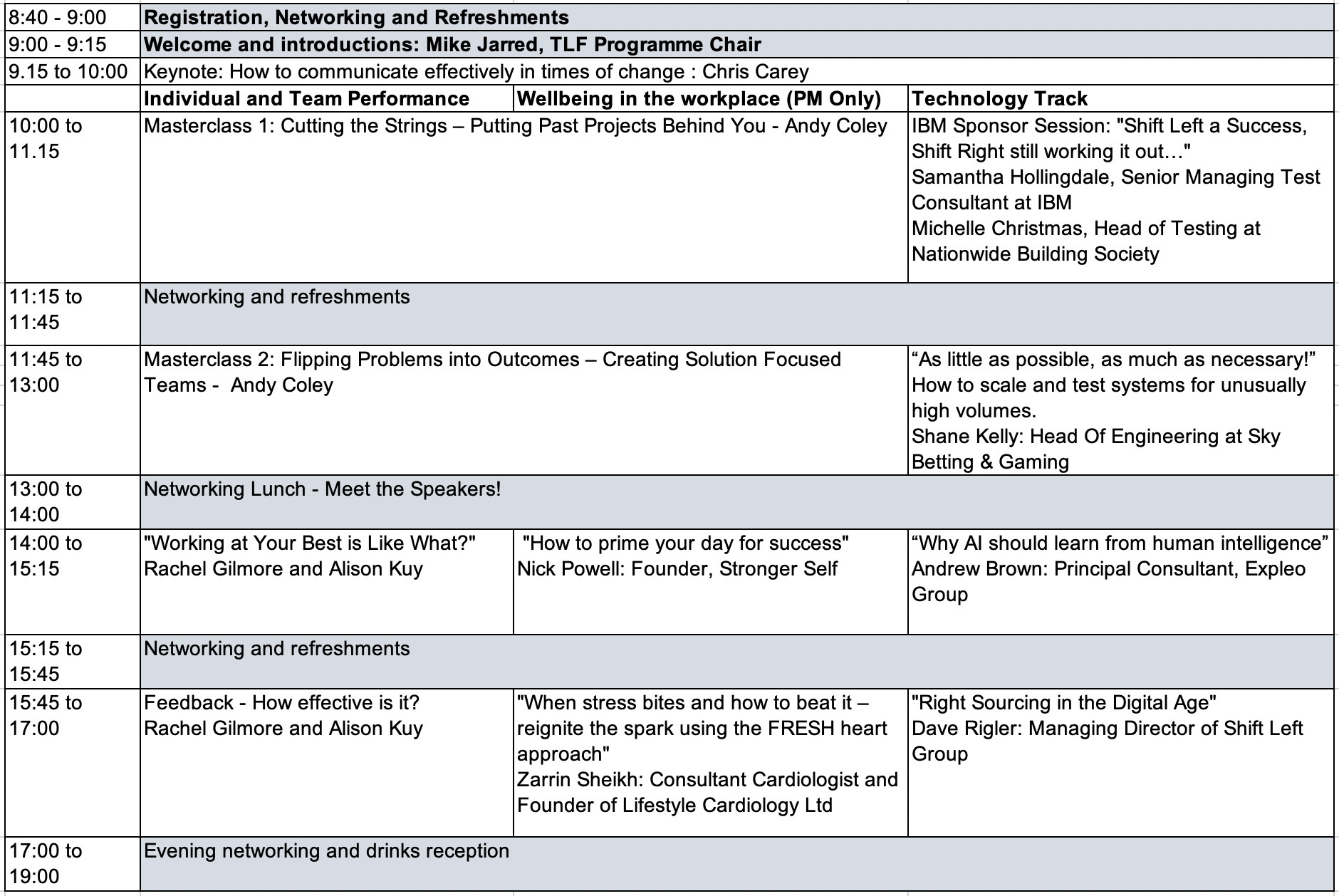 ABSTRACTS & BIOS
KEYNOTE - Chris Carey
How to communicate effectively in times of change

This interactive keynote will leave you with an enhanced ability to deliver better results when introducing, catalysing or reinforcing change What we cover: In a highly interactive, practical and pragmatic session, we will explore…
- The triggers for change
- The inconvenient truth of why change programmes do not achieve their full potential
- Common responses to change and how to deal with them
- Understanding Kotter's 8 steps
- Increasing urgency as the first step in successfully delivering change
- Techniques to get the change communication ball rolling via case studies
Bio: Chris has over 33 years of experience in employee communications and people development, including 23 years as managing director of award-winning employee engagement specialists, Axiom.
Chris has successfully led a large number of global employee engagement campaigns with some of the world's leading companies in a wide-variety of business sectors. His experience and track-record, allied to his detailed knowledge of best practice, means he is frequently asked to personally coach senior people in client organisations, including Anglo American, AstraZeneca and Virgin.
Chris specialises in helping leaders to deliver clear, concise and compelling communications in all sorts of business settings from one-to-one communication through to presentations to large groups of people, often through storytelling or narrative techniques. An accomplished and respected conference facilitator, his advice on how to create and deliver highly interactive events and impactful presentations is much sought after and forms part of a popular book he has written and published called 'How to be a better communicator' which is now in its second edition.
Over the years, Chris has designed and delivered over 30 different workshops to help enhance the communication and engagement skills of leaders, the carefully selected content of which often underpins his public speaking engagements.
TRACK 1 - INDIVIDUAL & TEAM PERFORMANCE
Masterclass 1 - Cutting the Strings – Putting Past Projects Behind You - Andy Coley

Projects can be plain sailing, right? Everything goes perfectly, the project schedule never needs to change, management and team members communicate effectively, the technology works, and everything gets delivered on time and to budget. It all happens without a hitch.
But when projects don't go like that, what happens next?
As you move from project to project, from one team to the next, or from one organisation to another you may hold on to some of your perceived project failures. You may regret or find it hard to 'let go' of some of those previous decisions, conversations, choices, and actions.
"The only things that hold us back are the invisible strings we attach to ourselves"
In this interactive and thought-provoking workshop, Andy will show you
How the fields of Psychology, Sociology and Neuro-Science have some fantastic insights into how you shape your version of events from the past
How our unconscious mind can work both with us and seemingly against us
How to let go of what went before, both logically and energetically
How we can learn from the thinking style of Walt Disney to get some perspective and the opportunity to practice the Walt Disney Creative Strategy live in the room
Masterclass 2 - Flipping Problems into Outcomes – Creating Solution Focused Teams - Andy Coley

Andy was recently invited to work with Groupon to implement a coaching-led approach within their Goods Business.
Groupon is one of the fastest growing companies of recent times, and like many start-up companies that rapid growth brought about a unique set of challenges when it came to the motivation and leadership of their teams. As the company expanded the initial solution seeking and entrepreneurial drive of the smaller organisation became diluted and over time the culture had become predominantly problem-focussed.
Solution focused teams require a different maturity of leadership, and in this workshop, Andy will demonstrate the techniques he introduced to Groupon Goods, talk about the difference that it made, and show you how flipping problems into outcomes creates high performing teams.
In this interactive workshop you will discover
How to influence people to take ownership of their problems and to step away from what's happening to find new options
How to re-programme your 'Inner Google' to bring back more useful search results
Why telling people what you

don't want

is useless for achieving goals and targets
5 killer questions to stop you banging your head against a brick wall so that you can help people to find their own solutions, and the opportunity to try these questions out with each other live in the room
Bio: Andy started his working life programming computers. He did his degree with IBM UK 25 years ago, graduated and spent a year at Goldman Sachs supporting city traders on the Tibco platform, then left to setup an e-commerce business back in 1999 when the industry was in its infancy.
In 2012 Andy completely changed careers. He stopped programming computers and for the last seven years he has been helping people to (re)program themselves. Andy now runs a successful Training business, providing high-quality, ethical and transformational training at NLP Diploma, Practitioner and Master Practitioner levels.
Earlier this year Andy won the 'NLP in Healthcare' award for his exceptional work in the NHS supporting staff to be able to communicate more effectively, creating a long-term impact on clinical outcomes. Andy has most recently been collaborating with the IGD (a research and training charity that sits at the heart of the food and grocery industry) where he has been delivering a series of masterclass sessions on Confident Conversations at the headquarters of Sainsburys, Mars, and the Co-Op.

Workshop 1 : Working at Your Best is Like What?
Rachel Gilmore and Alison Kuy

How do you know when you are working at your best? What does it feel like? What does it look like? What does it sound like? In this session Rachel and Alison will introduce you to a cutting-edge new coaching and communication technique called Clean Language.
We can guarantee that in this session you will learn something new, and that you will leave the session with a different way of looking at how to create the conditions for your own best performance and by sharing that knowledge with others be better equipped to build more effective teams. Imagine being able to significantly raise the bar on performance just by asking yourself and your work colleagues a handful of simple but very specific questions.
In this session you will: - learn the Clean Questions - get curious about yourself and others and the impact of the Clean Questions - find out what it is like for you to be working at your best - find out what it is like for you when you aren't working at your best. - practice the questions, live in the room - reflect on how you can use these questions with impact, in your own workplace This is a highly participative workshop where you will come away wanting to know more about what Clean Language can do for you.
Bio: Alison Kuy As a business transformation professional Alison has introduced people, process, and technology change capabilities into project teams in a wide range of industries. With a keen interest in continuous improvement and always on the look-out for the latest innovations in team building and communication models Alison was excited to discover Clean Language techniques whilst on an NLP Training Course in 2015. Alison is currently pursuing her interest in Clean techniques and is collaborating with Clean Language Practitioner Rachel Gilmore to further develop the application of Clean Language tools in the business world. This fascinating TED talk by Caitlin Walker at Liverpool John Moore's University gives a great introduction to the topic. https://youtu.be/aVvcU5gG4KU
Bio: Rachel Gilmore With a background in Learning and Development and over 12 years coaching experience working in the Tech and Creative industries, Rachel has an impressive client list including Google, the BBC, Comic Relief, The Met, Imperial War Museum, ITN, Topshop and Tower Hamlets Borough Council. An experienced Clean Language Practitioner Rachel skilfully works with her clients to make their patterns and beliefs conscious, to uncover how they work at their best and to then apply that knowledge back into the workplace. Over the last two years Rachel has been introducing Clean Language tools to new audiences in the commercial world and has helped them to discover how these incredibly flexible techniques can be tailored to the requirements of different businesses and organisations. Feedback from leaders adopting and practising these different ways of working has been consistent in its praise for the effectiveness of the techniques, citing significant improvements in problem solving, productivity and agility.
Workshop 2 : Feedback - How effective is it?
Rachel Gilmore and Alison Kuy

We all know the power of giving feedback. That sense of achievement when it goes well and leads to positive changes in behaviour. And that sinking feeling when it goes wrong. How often have you been in situations where you have:
- given feedback and nothing has changed?
- avoided giving feedback because you are not sure how it will be received?
- been given feedback yourself and ended up feeling resentful or confused?
Frequently it is not the feedback we are given that is the issue, there is usually a useful message in there, but it is how we are given it that makes the difference. During this session Rachel and Alison we will demonstrate to you the components of the Clean Feedback Model. We will show you how to decode your thinking and to artfully separate out and sort the messages you receive from others.
We will then give you an opportunity to use it live in the room, to experience how structuring feedback in this way creates a shared understanding of behaviour and how it can lead to buy-in of what needs to change. This new feedback tool will make a huge difference to the way that you think and when introduced into the workplace has been proven to have a dramatic impact on the quality of relationships and the performance of teams.
TRACK 2 - TECHNOLOGY
IBM Sponsor Session: Shift Left a Success, Shift Right still working it out……
We would like to discuss the importance of recognising change is achieved through investing in people and creating a cultural of learning and opportunities. Reskilling our entire community through career development and enablement allowing us to run leaner and faster.
At Nationwide we have transformed from a team of overworked, underappreciated manual testers to a high performing Test Engineering community driving change to improve quality, effectiveness and productivity not only within test but the entire lifecycle – Shift Left.
What are the next phases of Transformation? We believe it is by improving test coverage through monitoring and learning from production - Shift Right. We will be facilitating a discussion looking at the opportunities to Shift Right and the value it could bring to organisations.
In our pursuit of agility, we recognise we need to continually reinvent ourselves and our delivery organisation. One dilemma we are currently working through is how we approach a federated verses centralised test service and whether the focus will shift from offering testing services to quality assurance. We would like to hear your thoughts on this subject.
Through listening to each other's experiences and ideas, we're hoping we will all learn from each other about the future of testing.
Bio: Samantha Hollingdale
For 10 years now, Sam has been working with IBM clients and delivery teams world-wide to develop and implement digital test strategies, automation solutions and productivity initiatives. Over the last 9 months, she has been leading testing at Nationwide in the Digital and Mortgages squad, transforming the team from one that relied largely on manual test procedures to a high-performing Test Engineering community driving change to improve quality, effectiveness and productivity not only within test but the entire delivery life cycle. In 2018, Sam was short-listed as a finalist for Young Leader of the Year in the Women in IT Awards, and in 2019 her team were shortlisted as finalists in Team of the Year at the European Software Testing Awards.
Bio: Michelle Christmas
Working as Head of Test Engineering at Nationwide Building Society, with many years' experience in Test/QA, Michelle has led multiple teams across various industries, a leader who owns and drives transformational change working collaboratively to achieve efficiency, quality and consistency. Successfully created a culture and mindset through inspirational leadership focusing on people and relationships where Business Outcomes are at the heart of everything undertaken in test.
As little as possible, as much as necessary! How to scale and test systems for unusually high volumes - Shane Kelly
Hitting up to 1.3m page loads per minute and 500 bets per second Sky Bet and Gaming needs to be able to plan well for what we like to call 'super scaling'. Our infrastructure needs to scale both horizontally and vertically and our teams need to be able to adapt to such crazy volume changes. We need to be able to fully load test our systems to understand how they behave at such levels and iron out any kinks, before the main event and avoid any degradation for our customers. Shane will discuss some of the problems we faced at SBG and how we've overcome many of them and to listen to other people's ingenious solutions on how they test and scale at speed. Using tools like JMeter to generate load we face many challenges to try to emulate actual user behaviour, that stresses our systems in all the right places. We need to be mindful that testing in a live environment can have an effect that we need to manage well and ensure there are no adverse issues for our customers. Shane would love to hear how others solve their problems of testing and scaling for any size and hopefully we'll all learn something from each other by the end of the session.
Bio: Working as Head of Engineering for Sky Betting and Gaming, with many years' experience in the tech industry, Shane has worked on many different large software systems. He has been heavily involved in building solutions that need to be scalable both vertically and horizontally and has gained a few battle scars along the way, on how it can be done well and how it can go horribly wrong. Building and testing software across such large systems has come with a myriad of problems, where architectural decisions can have a large impact on the solutions chosen. Keeping a strong focus on the non-functional requirements has helped Shane to define the direction and guidance given to the teams working in these areas.
What AI should learn from human intelligence - Andrew Brown
Many people working in AI have a limited and shallow understanding of human intelligence. Some are dismissive of solutions that the human brain has developed. Others are intimidated by the challenge of unravelling the mysteries of the brain, so they treat the problem as a black box. However, both these approaches are an abrogation of responsibilities and lead to a failure to develop genuine artificial intelligence. Before we can hope to construct artificial intelligence, we must first understand what intelligence is, and we can only do this through understanding human intelligence.
In this talk, Andrew Brown will use human memory to demonstrate why it is important that any attempt to develop AI must include an understanding of human intelligence. He will examine several different types of memory failure and demonstrate two things: Firstly, these apparent failings are better understood as effective adaptations to the data environment that our ancestors lived within and secondly, these apparent failings point to important problems that may not have been fully considered by many people attempting to build AI systems. After having attended this talk, you'll see how your brain forgets and distorts your memories without you ever being aware of it, why having a perfect memory would make you considerably less intelligent, and why understanding your own memory failures is so important to developing and testing AI systems.
Bio: Dr Andrew Brown is a principal consultant at Expleo. Recently, he has developed an independent line of research into understanding why we humans make the mistakes that lead to software defects. He has spoken at several conferences on this subject and was winner of the EuroSTAR 2017 best paper award for a tutorial on cognitive biases in testing. He has 25 years' experience in the software industry. Previous roles include Heading up QA at HMV, Head of QA at a financial software house and a test manager in Japan. He holds a degree in Physics and Maths, an MBA from Warwick Business School and a doctorate from Imperial College.
Right Sourcing in the Digital Age - Dave Rigler

All businesses are subject to the challenges presented by the digital era. These include the constant need to streamline business processes and, at the same time, produce feature rich, customer focused and innovative propositions at ever increasing speeds. This session looks at the ways in which companies can leverage their IT sourcing strategy to enable success across the digital landscape. The risks associated with wholesale outsourcing in a world that is moving towards Agile and DevOps are explored. The response of insourcing is discussed, which is followed by an enrichment of the outsourcing decision matrix that leads to the identification of mid-sourcing as the missing part of a right-sourcing strategy.
Bio: Dave Rigler is the Managing Director of Shift Left Group, which he co-founded with Alan Upton in 2015. He is passionate about IT quality and has worked within or placed teams on a huge variety of projects across most business verticals. Dave balances his time between working directly with clients and business development activities for Shift Left Group. Prior to Shift Left, Dave has worked as a business unit lead for a large testing organisation, a test manager, a performance tester and a developer specialising in technical, real-time, embedded software. Dave lives in Cheshire with his family: 1 wife, 2 children, 2 dogs, 2 guinea pigs and 2 horses. When he is not picking up poo, he likes to watch rugby.
TRACK 3 - WELLBEING IN THE WORKPLACE

How to prime your day for success - Nick Powell

Do you often wake up, shower, get dressed and run out of the front door each morning or do you find yourself waking up and losing yourself in email news or social media? Do you never seem to have the time for a daily journal, a meditation practice, exercise or reading? Having a morning routine that primes your day for success is one of the most powerful things that you can to put yourself in the best possible place mentally, physically and emotionally. Author Tom Corley studied self-made millionaires over a 10-year period and one of the major common denominators was a consistent morning routine. When it comes to establishing a morning routine, some people have success but many struggle to implement it as a regular habit. As part of our discussion, we will explore why this habit is so difficult to implement, the obstacles and how to overcome them. As part of this session Nick will walk you through a tried and tested exercise to build your own morning routine, so that you leave with a morning routine that you can start the very next day.
Bio: Nick is a peak performance coach, business consultant and charity trustee, and has been transforming organisations and individuals for the past 20 years. Nick is a certified coach by one of the world's leading human performance organisations, Bulletproof 360.
When stress bites and how to beat it – reignite the spark using the FRESH heart approach - Zarin Sheikh

According to the WHO, stress is the epidemic of the 21st century. Nearly 600,000 workers suffer work related stress in the UK and 15.4 million work days were lost due to this very cause in 2017/18. As a Cardiologist, I see many young individuals suffer heart disease with no other risk factors other than intense stress. Heart disease is the biggest worldwide killer and morbidity from cardiovascular issues is increasing. We are good at treating the acute consequences of it, however little is done to address the root causes. Stress is a key root cause. In this session we will discuss the scale of the problem and create a roadmap for addressing the key lifestyle issues that can not only beat stress but prevent, treat and reverse heart disease.
Bio: Dr Zarrin Shaikh is a Consultant Cardiologist and a passionate advocate of the power of lifestyle medicine to prevent cardiovascular disease. She qualified from the University of Nottingham in 2001 and has spent over 18 years working in the NHS. In 2008, she successfully obtained a grant from the British Heart Foundation that enabled her to study the role of intracardiac shunting of blood in obstructive sleep apnoea. She was subsequently awarded a PhD from Imperial College London in 2012. Her PhD research sparked her interest in the relationship of sleep with cardiac health.
Following on from her PhD, she underwent comprehensive training in all aspects of Cardiology with a focus on cardiac imaging, specifically echocardiography and cardiac MRI. Over the 18 years of her clinical work she has witnessed her patients getting younger and sicker. She strongly believes that our busy, modern, stressful and sleep-deprived lifestyles are to blame and that through addressing these factors, we can not only prevent but reverse cardiac disease. She recently spoke about her journey into Lifestyle Medicine on "The Doctor's Kitchen" podcast https://thedoctorskitchen.com/podcasts/episode-33-the-fresh-heart-project. She is committed to tackling the root causes of cardiac disease and has developed the Fresh Heart Project which aims to empower us all to lead longer, happier and healthier lives.
Date and time
Location
Balls Brothers Conference Centre
Mincing Lane
London
EC3R 7PP
United Kingdom