TechPitch 4.5 (13 February 2018)

Tuesday, 13 February 2018 from 18:30 to 22:00 (GMT)
Event Details
Next TechPitch 4.5 event:
13 February 2018

The Auditorium, Pinsent Masons, 30 Crown Place, London, EC2A 4ES   Map
The evening will feature a keynote presentation followed by eight tech startups will present their business ideas and revenue models during a three-minute pitch followed by a five minute Q&A by a panel of judges. A winner will be scored by the judges, and there will be a general vote to pick the audience favourite.


18.30 - Registration and networking
19.00 - Introduction followed by keynote presentation
Angela Yin of Satalia - a company that provides artificial intelligence (AI) inspired solutions to solve industries' hardest problems - will be sharing the issues and learnings she's acquired as a result of driving growth in a tech-driven company.
Equally important, she will be explaining how she has tread the delicate balance between data and machine-learning while maintaining a human focus.

19.20 - Introduction of the judging panel
- Chris Binsley, Corporate Marketing Director, Ultra Electronics
- Paul Canty, Founder, Forever Project
- Marcus Maclean, Investment Manager, Arowana
- Tim Morgan, angel investor and Managing Director, Keefe Bruyette Woods
- Angela Yin, Psychology & Organisational Development Director, Satalia

The judging panel is chaired by Danvers Baillieu, COO, InfoSum       @DanversBaillieu

19.25 - 3 minute Pitches
Clikd - a creative dating app, which uses photography to bring people together       @ClikdApp

Hiver - an intelligent event technology that manages your face-to-face networking efforts by connecting and organising all those you meet into an intuitive digital timeline       @hivertech

I AM POP - a simple-to-use self-serve platform that allows customers to build and launch a Messenger bot in as little as ten minutes       @iampopin

Patcher - a pay as you go car breakdown and repair app that connects users to local, quality, vetted mechanics within a 10-15 mile radius of the incident       #Patcher

Trackener - a device and app that aims at revolutionising equine care with data and technology       @trackener

Whiise - a platform connecting askers with experts in the creative industries       @whiise

Wine Picker - an e-sommelier application providing advice on wines in restaurants and pairing at home       @winepicker

wOndary - a platform for people to save, organize and share everything Travel       @wondaryapp

20.45 - Networking drinks & pizza
22.00 - End of event
What is TechPitch 4.5?
TechPitch 4.5 is a platform for tech startups and entrepreneurs to show-case their business idea to a wider audience, including investors, journalists, potential partners and peers.

It takes the form of an evening pitch competition which brings together tech startups, investors, entrepreneurs, as well as business and technology experts, to see the latest tech business ideas receive productive feedback on their proposition and pitch from a panel of judges with mixed business, technology, marketing, investment and financial expertise. .

TechPitch 4.5 provides an opportunity for potential investors to observe and learn about the latest tech startups, as well as new technology business trends. Some of the startups presenting at TechPitch 4.5 will have profited from the 2Pears pitch-training workshops organised with the support from UK Trade & Investment, UKTI. .

For entrepreneurs and tech startups, TechPitch 4.5 has proven fertile ground for networking and making useful connections with potential investors, business experts and advisors, journalists, as well as peers, potential partners and users. .

TechPitch 4.5 and the pitch-training workshops, which to date have trained over 750 tech startups to pitch, are established and well-respected fixtures on the London tech startup scene. The winning companies most often go on to big and bright things, including funding, incubation, and successful growth, following the spotlight being shone on them at TechPitch 4.5 .

The inaugural TechPitch 4.5 event was held on 10 February, 2011, and ever since TechPitch 4.5 has been held every couple of months in London drawing a high-calibre crowd and generating a lot of interest.
Apply to pitch at TechPitch 4.5:
DEADLINE to apply at the next event taking place on 13 February is 12 January 2018

By getting up on stage and pitching your business idea and model, in this case to the panel of experts we have put together for TechPitch 4.5, you will gain exposure and interest from both potential users and potential funders, as well as from media in general. And you get to practise and receive immediate feedback on your pitch.

The pitch session is not about achieving funding immediately, but gaining interest, making connections, and hopefully starting relevant discussions, so if you like the idea of pitching you will be good!

Pitches at 2Pears events are free-of-charge for the pitching companies, which means that the person pitching receives a complimentary ticket for the event. All other company members and interested parties will be required to purchase tickets at best available rate, to attend the event.

What we need from you in order to confirm you are eligible to pitch and to make a fair selection of companies for TechPitch 4.5 is for you to complete the application form submitting it by 12 January 2018.  CLICK HERE to apply to pitch.



PARTNERS: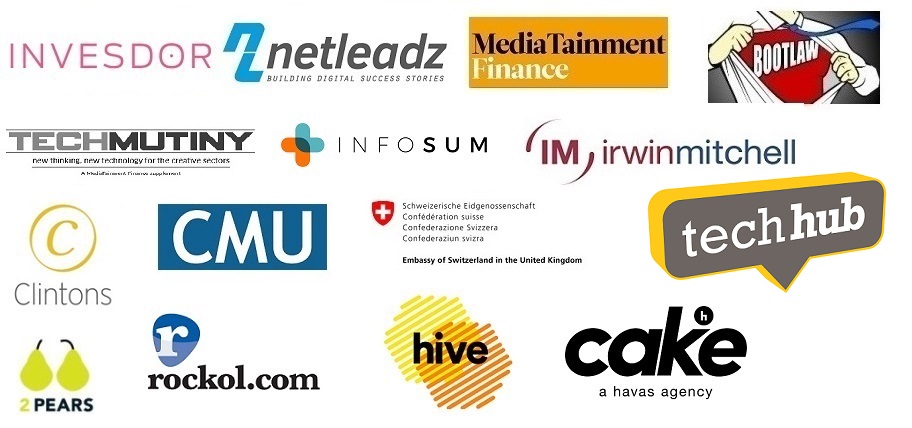 Do you have questions about TechPitch 4.5 (13 February 2018)?
Contact 2Pears
When & Where

Pinsent Masons (auditorium)
30 Crown Place
EC2A 4EB London
United Kingdom


Tuesday, 13 February 2018 from 18:30 to 22:00 (GMT)
Add to my calendar
Organiser
2Pears the team creating opportunities and events to inform, educate and connect entrepreneurs, startups and investors in music, media and technology.
2Pears facilitate peer2peer networking and collaboration, new thinking and new connections, through seminars, workshops, events, information-sharing and meetups. We work predominantly within the digital technology and media industries - bringing them together in a multitude of ways.