TechPitch 4.5 - Music, Media & Entertainment (6 March 2018)

Tuesday, 6 March 2018 from 18:30 to 22:00 (GMT)
Event Details
Next TechPitch 4.5 Music, Media & Entertainment event:
6 March 2018

TechPitch 4.5 Music, Media & Entertainment is a platform to enable startups specifically within the music/media/entertainment-tech industry from all across Europe to showcase their business proposition to a relevant wider audience, including VCs, music industry professionals and experts, journalists, as well as other aspiring and successful music and tech entrepreneurs. This pitching event is a unique opportunity to build more awareness, receive productive feedback from an expert panel, and network with key music and tech industry players.
The evening will feature a keynote presentation followed by eight music tech startups will present their business ideas and revenue models during a three-minute pitch followed by a five minute Q&A by a panel of judges. A winner will be scored by the judges, and there will be a general vote to pick the audience favourite.
18.30 - Registration and networking
19.00 - Introduction by 2Pears
19.05 - Introduction of the judging panel and fireside chat
James Allen, Investment Principal, Channel 4 Growth Fund
Jie-Ming Chung, co-founder, WantTheFilm
Tom Frederikse, Partner, Clintons
Hanna Grzeszczyk, founder & director, Media IP Rights
Sam Potts, Head of Radio Promotions, Columbia Records UK, Sony Music Entertainment
Niall Santamaria, Investment Manager, Edge Investments
Chaired by Ashley Elsdon, Creative Digital Media     


19.25 - 3 minute Pitches
Mbryonic presenting Amplify VR - takes regular music videos and presents them in an evolving 360 environment that reacts dynamically to the music and video content, creating a new type of immersive interactive experiences       @tombryonic

Brandsnap - a self-service music brand partnership marketplace which connects emerging music artists and brands for social media campaigns       @Brandsnaphq

Clickamix - a music licensing platform catering for sports mixes       @Clickamix_

Gigride - a platform which connects artists and DJs with venues and promoters in an easy-to-use, online marketplace       @gigride_live

HyperLive - forecasts future performance - and thus earning potential - of new songs with an algorithm that captures fundamental drivers of musical engagement       #HyperLive

Hypertribe - a platform that provides personalised music experiences for fanatic fans       @Hyper_Tribe

MXX Music - an AI platform that can atomize and re-construct existing music, allowing dynamic editing for any piece of original music       @MXX_Music

Wonder - a mobile and SaaS solution helping users with no expertise in video production to create, render, publish and share a professional looking video       @WonderMobileApp


20.45 - Networking over drinks & pizza
22.00 - End of event
PARTNERS: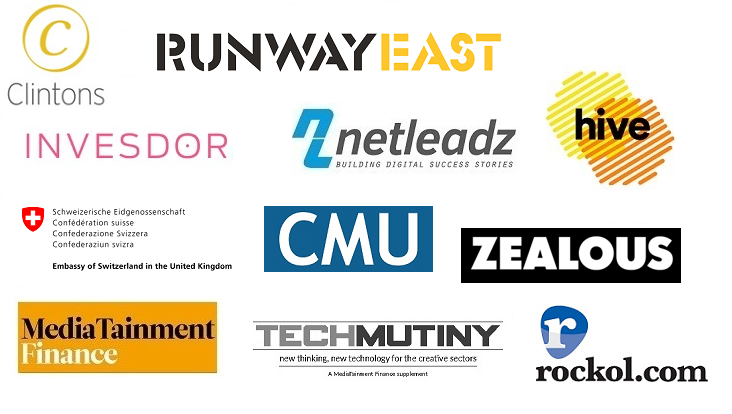 Venue partner: Runway East
Runway East's flexible coworking, private offices and events connect over 100 London startups and 1000 startup workers in three prime locations in Old Street & The City. Learn more.
What is TechPitch 4.5?
TechPitch 4.5 is a platform for tech startups and entrepreneurs to show-case their business idea to a wider audience, including investors, journalists, potential partners and peers.

It takes the form of an evening pitch competition which brings together tech startups, investors, entrepreneurs, as well as business and technology experts, to see the latest tech business ideas receive productive feedback on their proposition and pitch from a panel of judges with mixed business, technology, marketing, investment and financial expertise. .

TechPitch 4.5 provides an opportunity for potential investors to observe and learn about the latest tech startups, as well as new technology business trends. Some of the startups presenting at TechPitch 4.5 will have profited from the 2Pears pitch-training workshops organised with the support from UK Trade & Investment, UKTI. .

For entrepreneurs and tech startups, TechPitch 4.5 has proven fertile ground for networking and making useful connections with potential investors, business experts and advisors, journalists, as well as peers, potential partners and users. .

TechPitch 4.5 and the pitch-training workshops, which to date have trained over 1000 tech startups to pitch, are established and well-respected fixtures on the London tech startup scene. The winning companies most often go on to big and bright things, including funding, incubation, and successful growth, following the spotlight being shone on them at TechPitch 4.5 .


TechPitch 4.5 also comes in the following verticals:
-Music, Media & Entertainment
-Fashion, Luxe & Retail
-Sports & Health
Apply to pitch at TechPitch 4.5 Music, Media & Entertainment:
DEADLINE to apply at the next event taking place on 6 March 2018 is 2 February 2018.

By getting up on stage and pitching your business idea and model, in this case to the panel of experts we have put together for TechPitch 4.5, you will gain exposure and interest from both potential users and potential funders, as well as from media in general. And you get to practise and receive immediate feedback on your pitch.

The pitch session is not about achieving funding immediately, but gaining interest, making connections, and hopefully starting relevant discussions, so if you like the idea of pitching you will be good!

Pitches at 2Pears events are free-of-charge for the pitching companies, which means that the person pitching receives a complimentary ticket for the event. All other company members and interested parties will be required to purchase tickets at best available rate, to attend the event.

What we need from you in order to confirm you are eligible to pitch and to make a fair selection of companies for TechPitch 4.5 is for you to complete the application and submitting it by 2 February 2018.



Do you have questions about TechPitch 4.5 - Music, Media & Entertainment (6 March 2018)?
Contact 2Pears
When & Where

The Engine Room, Runway East Moorgate
10 Finsbury Square
EC2A 1AF London
United Kingdom


Tuesday, 6 March 2018 from 18:30 to 22:00 (GMT)
Add to my calendar
Organiser
2Pears the team creating opportunities and events to inform, educate and connect entrepreneurs, startups and investors in music, media and technology.
2Pears facilitate peer2peer networking and collaboration, new thinking and new connections, through seminars, workshops, events, information-sharing and meetups. We work predominantly within the digital technology and media industries - bringing them together in a multitude of ways.