Description
In this Info Session, you'll learn:
-1-
The Major Mindset Shift
that you must make in order to take control over your future
-2-
Why Social Media is an EXCELLENT Place to Start
when wanting to go back to work, become more valuable in your current role or start a business you've been dreaming of for years
-3-
We'll Explore the 3 Different Approaches to How you can Take Control of your Future by Leveraging Social Media
and share success stories from real women who were exactly in your shoes and have now taking control of their future!
-4-
I'll tell you why you are luckier than me!
and spare you the pain I went through by walking you through a proven roadmap that I've developed that gets results!
It is truly possible to boost your confidence and reignite your earning power by leveraging Social Media
Whether you've taken a career break or you want to upskill within your current role or dream of setting up your own business, learning social media coupled with amazing life coaching tools is BY FAR ONE OF THE BEST WAYS to start making your hopes and dreams a reality.
If you've been out of the workplace for a while or even in the same job for a long time, so much has changed and there's A HUGE OPPORTUNITY for you to take control of your future with a new mindset and digital skillset.
Join me to get fully updated on what it takes to boost your confidence, reignite your earning power and find fulfilling and stimulating work.
This Info Session is a
MUST ATTEND

if…

⭐ You want up your game when it comes to your tech skills and boost your confidence.

⭐ You want financial independence or contributing to the household bottom line is a priority for you.

⭐ You are keen to do learn a new skillset that will lead to an exciting and engaging future.

⭐ You want to know more about our courses which launch in May.
A Personal Invitation From Joy Foster, Founder of TechPixies…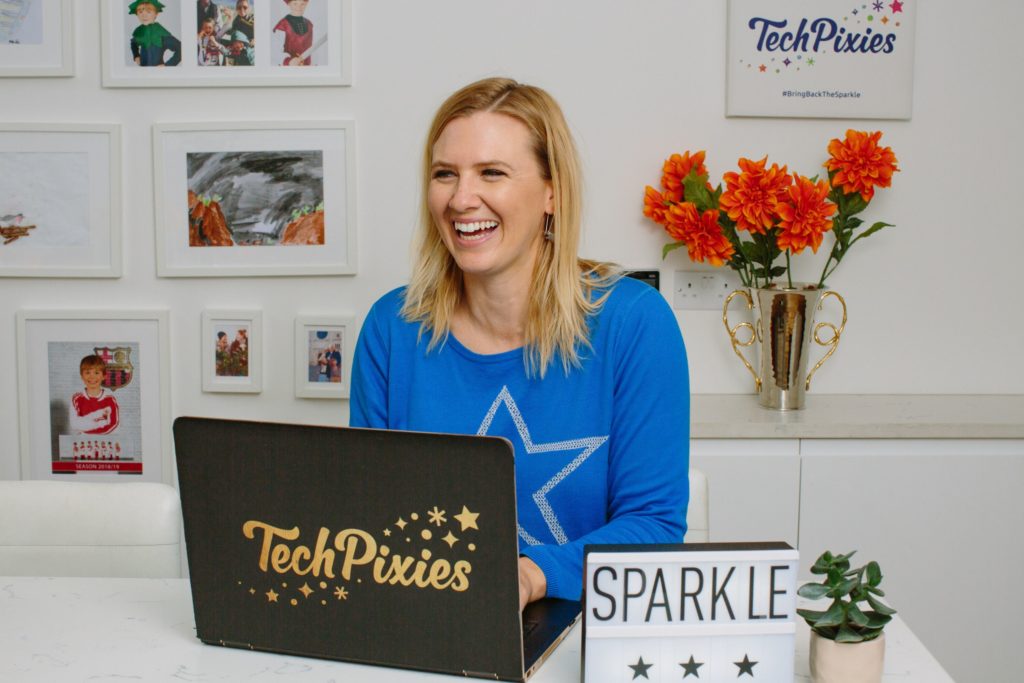 I've been working in technology for nearly 2 decades and have been teaching others how to use it since 2013.
15 cohorts and nearly 200 students later, our team has been delivering life-changing courses since 2015. We know the exact ingredients that differentiate real transformation from one that only gives knowledge but not a mindset shift.
This upcoming Online Info Session is a culmination of what I've learned in helping women like yourself return to work, become more valuable to their employers or start a business.
If you are committed to making 2019 the year that you finally take control of your future, I can't wait to curb that learning curve and help you get their faster and in a way that suits your lifestyle.
Here's what women have to say about the TechPixies courses:
Life changing! So much to learn from Joy's energy and innovation, access to the latest thinking, supportive coaching, real-life client experience and a group of like-minded women. Over a year later I'm still learning from this programme and the network it has given me. Best of all - I've been able to combine pre-kids career with new skills to take on a flexible role in a job I love. - Anna Meachin (cohort 1)
3 words. Just do it. Never have I met a person with so much drive as Joy, the founder of TechPixies. She and her team put their heart and soul into this training course and you leave not just with a whole load of new relevant and marketable skills but also with a new found dose of confidence and self belief. Joy and the TechPixies team have your back all the way through the course and beyond. Most importantly of all, Joy makes you realise that investing in yourself is actually an investment in your whole family. I'll say it again. Just do it. - Cathy Ricketts (cohort 6)
I have found the TechPixies digital marketing course to be a wonderful experience. I have learnt a new set of skills that I initially doubted I would be able to master. But with the support of the TechPixie team, the other women on the course and the great tutoring, my confidence improved. I ended the course with a whole new skillset very relevant in today's workplace, a huge sense of achievement and a renewed belief in my abilities. I would happily recommend the TechPixies course to any ladies that have been out of work for a while and whose confidence has taken a dive. - Natalie Arif (cohort 4)
As with many of the TechPixies, my career took a back seat because my husband's job was inflexible, however as a freelancer, I could 'work around the children'. As the family grew my time for work became squeezed and I was not able to maintain my client base - their needs became more demanding and technology moved faster than I could keep up. I soon felt isolated from the 'professional world' and faced a huge learning curve. I am now gaining valuable experience and the skills to either re-build my career… or, try something completely different - that feels good! - Mandy Miller (cohort 3)