Description
TechWalk is an initiative designed to encourage tech workers to take some exercise and surround themselves with some nature. Join us on a beautiful walk through the countryside once a month and talk tech!
This month meet us at Brighton Station (by the piano!) for a trip out to Glynde and a lovely flat valley walk along Underhill lane towards Berwick. Trains between Brighton, Glynde and Berwick are fairly regular so transport both ways is simple.
Sunday's Meetup is kindly sponsored by Mediatonic! Mediatonic is a growing games company with studios in Brighton, London and Madrid. Their Brighton office is a bit of a "programming hub" building tech for games like 'Fall Guys', 'Gears POP!' and some unannounced things. They're hiring server and client engineers and are sponsoring a round of drinks - come and enjoy a drink on them!
Start point: Meet us at 12:45pm at Brighton Station (by the piano), with a return train ticket to Berwick (Sussex).
End point: ~7:20pm back at Brighton Station.
We aim to be inclusive with these walks - if you'd like to bring your partner, children, dogs, we're very happy to see more faces. We would ask that dogs are kept under appropriate control, especially around livestock, and that younger walkers are able to maintain a decent pace in order that we cover the route in the allotted time - rural stations have limited train services, so we need to ensure we remain on schedule in order that people are able to hit their evening commitments!
Please Note: This walk involves crossing a busy road, so please bring your best road crossing skills!
---
This month's route: https://www.plotaroute.com/route/845849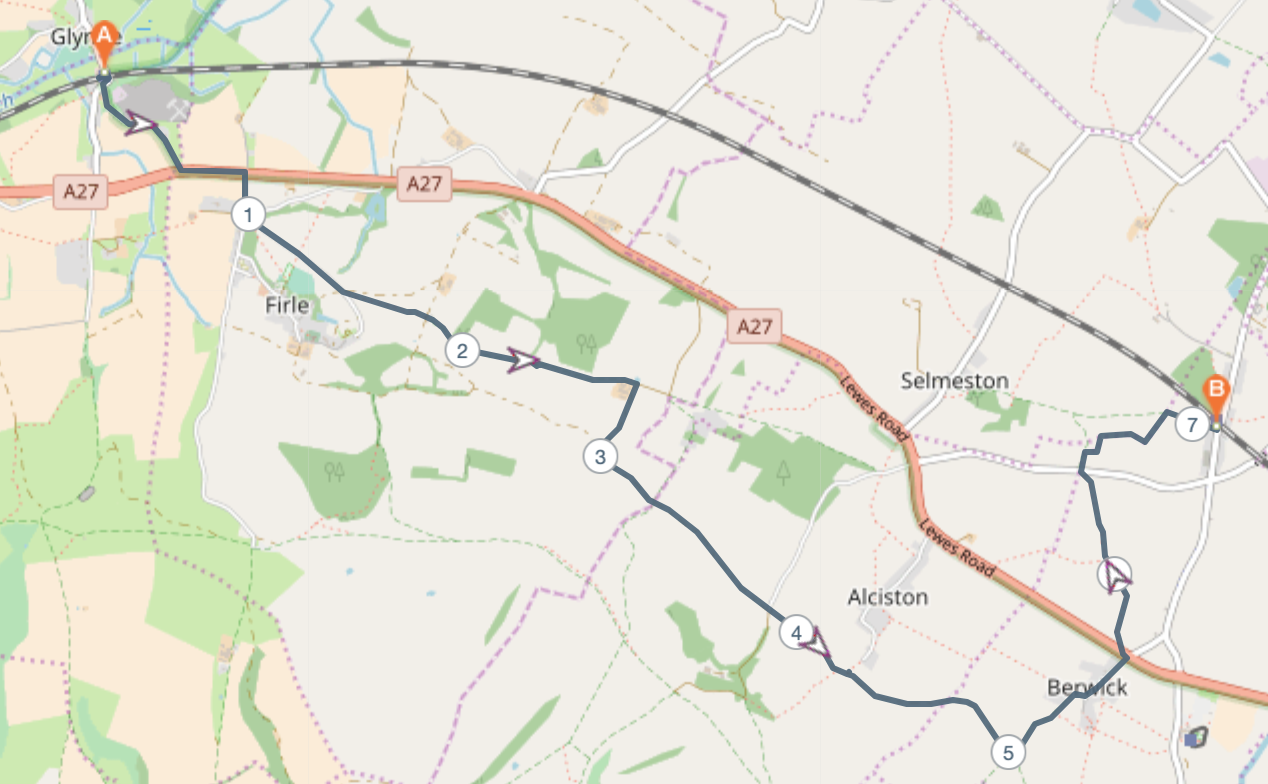 Meet at Brighton station at 12:45pm before taking a train to Glynde at 1:05pm.
Walk a relatively flat route through the valley via underhill lane for 7 miles (~3 hours) passing through scenic villages and downland along the way (pub stops available).
We will catch a train from Berwick (Sussex) at 6:55pm back to Brighton.
Obviously walks in the countryside are weather permitting for most, so a 'plan B' will also be decided for each walk, in the form of a local pub crawl around Brighton, in the event of heavy rain.