Event Information
Refund policy
Contact the organiser to request a refund.
Eventbrite's fee is nonrefundable.
TEDxBrayfordPool returns for its fourth instalment this November in a landmark virtual event featuring 11 incredible speakers & performers.
About this event
After living through a "once in a lifetime" pandemic event we get to decide what we keep from the last 18 months, and what we let go of. As virtual meetings and working from home becoming the "new normal" we get to spend more time contemplating the things that we truly want in life and what kind of communities we want to live in.
Join us as we welcome twelve incredible speakers and performers to the TEDxBrayfordPool stage as we ask the question 'what does tomorrow look like?'
Join us as we head Into Tomorrow with 12 incredible speakers and performers.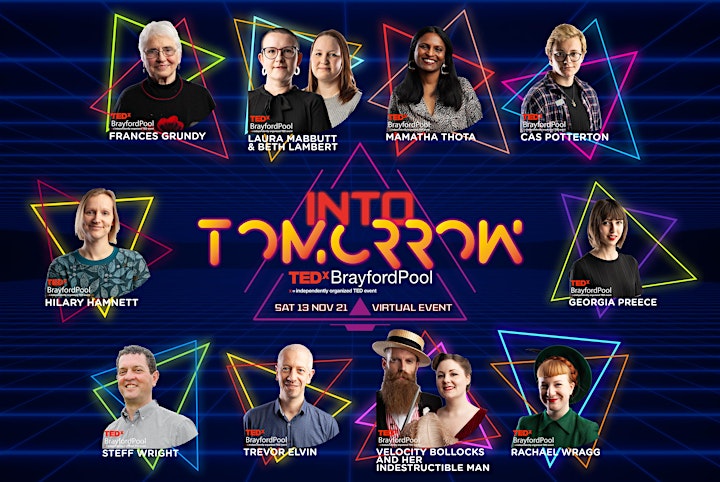 Session One:
Dr Frances Grundy explores Gender Inequality in STEM: How does power operate?
Why do women often get left at the bottom of the pile? Through the lens of her own career in Computer Science, Frances examines why women and girls still face barriers in STEM careers and education. Frances looks at the environment that creates these systems and ways to challenge these norms.
PhD student Mamatha Thota looks at AI for All of us
Artificial Intelligence (AI) is revolutionizing virtually every industry: automobile, banking, education, to name a few, and is benefiting us from efficiency gains to improvements in quality of life. The promise of AI is enormous and plays a vital role in our future, can solve some of the biggest challenges that humanity is facing today?
Poet and performer Cas Potterton encourages young people to Choose Your Own Adventure: Why young people need more choice in the curriculum.
By happy accident Cas' enrichment science class was oversubscribed and he found himself catapulted into an English literature class that would change his life forever. This fluke situation changed the way Cas looked at his future and empowered him to follow his creativity. Now Cas asks the question, if young people had more input into the curriculum would they be able to find happiness sooner?
Artists, Curators & Producers Laura Mabbutt & Beth Lambert examine How to keep your sense of play in a world that tells you to grow up!
Fresh from their first collaborative AR exhibition in Lincoln, Beth and Laura explore the role of art and creativity in bringing our communities back together in physical spaces. They delve into what art and the curatorial experience could look like as things begin to return to normal post covid, and ultimately how we can all have much more fun in a world that constantly tells us to grow up.
Multidiciplianry artist and poet Georgia Preece explores the themes of love, loss, class and a cheated generation through her perofmance A Whale's Heart.
Session Two:
Dr Hilary Hamnett probes the idea that The Science Doesn't Lie: Cognative contamination in forensic science.
Forensic science plays an important role in many criminal cases. You may have even heard the expression 'the science doesn't lie'. But what happens when a forensic scientist learns information about a case that has nothing to do with science? How can this affect their decision making? We know we need to protect evidence from physical contamination, but we also need to protect scientists from cognitive contamination.
Stone mason Rachael Wragg shares the secrets of Lincoln Cathedral in My Office is a Time Machine.
One of few female stone masons Rachael's "office" is Lincoln Cathedral, one of the finest examples of medieval architecture in Europe. It's a place that she gets to see in a way that very few people, except the original crafts people and builders, have ever seen. Explore the social history of this mighty monument through Rachael's eyes, see how the present still echos the past and what we can learn for the future.
Gusto Group CEO Steff Wright shares why Empowering Communities can Change the World!
Steff grew up in a close-knit rural community in Nottinghamshire, something that's now becoming more of a distant memory in our modern society. Despite incredible technological leaps during the course of the pandemic, our physical communities have suffered. Steff wants to see that change and thinks businesses have a duty of care to be at the heart of the communities they serve.
Academic and design practitioner Trevor Elvin explores Places to Play: The urban in-between [and other left over spaces]
Focusing on the ideas generated by the GroundLAB collaborative community design studio in Lincoln Trevor looks at how to unlock and re-engage existing leftover, disused and in between spaces within our dense urban environments. By reimagining these spaces, they become important in their ability to knit the urban and social fabric together, providing access to space for play, including opportunities for social cohesion.
Velocity Bollocks and her Indestructible Man invite you to explore the rich history of sideshows and perform some incredible feats of daring-do and danger for your entertainment in The Safety Last Sideshow.
Date and time
Location
Refund policy
Contact the organiser to request a refund.
Eventbrite's fee is nonrefundable.