Description
TEDxGoodenoughCollege 2017 proudly presents a memorable evening of speakers, music, performances and networking, allowing you to learn about some truly innovative ideas, relating to this year's exciting theme of '[R]evolution'.
TEDxGoodenoughCollege 2017 is taking place on Saturday the 20th of May in the Great Hall of London House, Mecklenburgh Square, London, WC1N 2AB.
Your ticket will give you access to a series of inspirational live talks, interspersed with a variety of astonishing musical and artistic performances and a number of handpicked TED-talks. A lavish dinner buffet, snacks and copious drinks will be available throughout the evening as well as a number of surprises!
Be prepared to be amazed!
Tickets include:
A seat at the TEDx conference
Drinks and a buffet dinner (incl. vegetarian options)
Musical performances, Virtual reality demonstrations and artistic installations
Surprises!
Please note that content is considered appropriate for 13 y+
Venue is wheelchair accessible
If you have any other special needs, please contact the Events Management Team (events@tedxgoodenoughcollege.com)
Refund requests are accepted until 23:00 on Tuesday the 9th of May.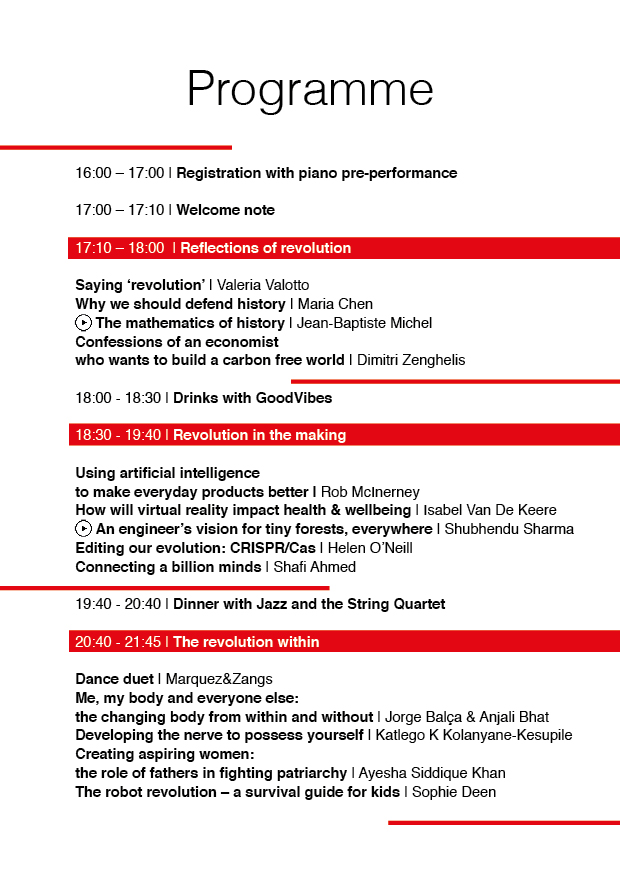 Date and Time
Location
Great Hall, Goodenough College
London House
Mecklenburgh Square
London
WC1N 2AB
United Kingdom