TEDxSHMS

Wednesday, 8 November 2017 from 14:00 to 17:00 (CET)
Event Details
The first TEDx organised by Swiss Hotel Management School. "Welcoming Disruption": in a fast-moving, ever-evolving environment, changing our modus operandi is essential to staying one step ahead! Embracing all facets of change, we're welcoming an uncomfortable topic in comfortable surroundings, to bring you the latest ideas!


Program:

Check in:                   
13:00-14:00
TEDxSHMS Talks:     
14:00-16:00
Networking Cocktail:   
16:00-17:30
---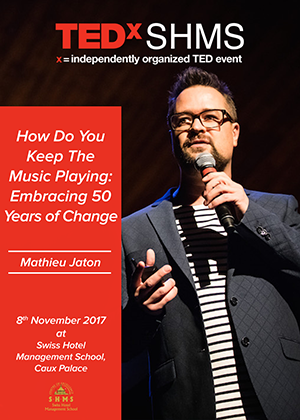 Mathieu Jaton
The Montreux Jazz Festival welcomes over 250,000 visitors each year to the shores of Lake Geneva each summer. Attracting the biggest artists of the moment to perform in intimate venues, they follow in the footsteps of legends including Prince, Nina Simone, David Bowie and Stevie Wonder.
With over 50 years of iconic history, what happens when a festival experiences unexpected disruption? After 45 years under the same leadership, Mathieu Jaton officially took the lead of the Montreux Jazz Festival in 2013. In this TEDx talk, he shares how he is committed to honouring the festival's legacy, and at the same time finding his own way in a dynamic, ever-changing industry.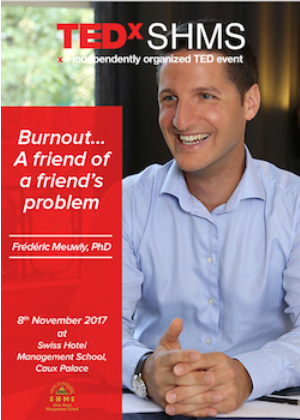 Frédéric Meuwly
Based on a true story from a "burnout survivor", this talk will reveal the red flags to look out for when it comes to personal exhaustion and burnout. With the early signs of burnout hard to detect, learn how adopting a "Welcoming Disruption" mindset will help you recognise triggers and ultimately prevent this silent risk - whether it affects you or the people you care for.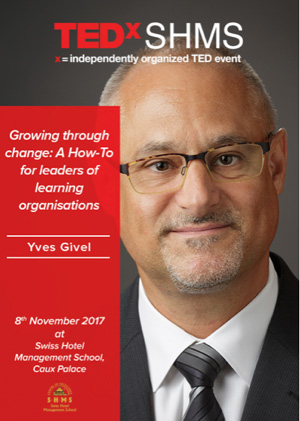 Yves Givel
Forward-thinking organisations have earned the title of "learning organisations" as they pioneer ways to keep up with external changes, including globalisation, increased competition and rapid technological advances. This TEDx talk will explore how leaders in these organisations can create optimum conditions to help their teams not only survive, but thrive with change every day.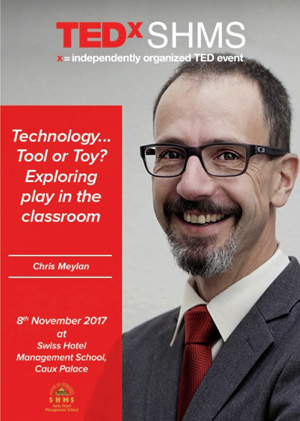 Chris Meylan
With students no longer willing (or able!) to sit back and passively listen to their teacher, new approaches need to be considered. Technology offers an opportunity for our students to be more directly involved in their learning experience, moreover it offers an opportunity for playful interaction and collaboration. Reflecting on my experience when we introduced 1:1 iPad technology at SHMS all the way to becoming an Apple Distinguished School, this TEDx Talk will highlight how technology, when used thoughtfully, can open doors to an innovative and effective learning experience.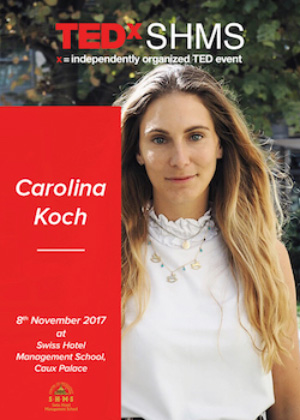 Carolina Koch
Choosing to share my life online has shown me how changeable truth can be. But shutting out the online world and the comments that come with it is like covering your eyes and choosing not to see the world. It's there…and its staying. How do you find your own truth when everyone seems to be telling you who you should be, or who they want you to be?
The online world has the power to divide us if we let it. This TEDx talk will share my personal journey navigating my way through and how for me, it has become a tool that ultimately strengthens my relationships.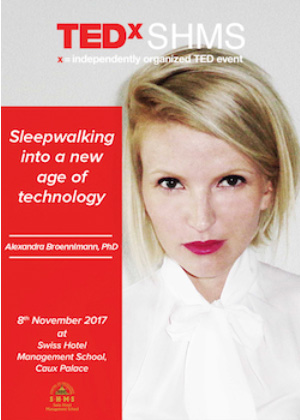 Alexandra Broennimann
Born device in-hand, Generation-Z is the first generation of Digital Natives growing up in the digital transformation age. They are speaking the language of technology as their mother tongue. They are confident and fast, but they were never taught the grammar and rules. From an educational perspective, they have been sleepwalking their way into an age of technology. This TEDx talk will explore the impact of technology on the developing brain of Digital Natives and the new behaviours that result as we shift more towards a virtual environment.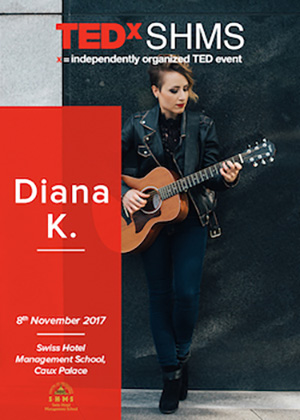 Diana K. CANCELLED
Diana K. is a British/Swiss singer-songwriter from Monaco, living in Switzerland. After many years of performing and songwriting, her debut EP unexpectedly "happened" last year, as a result of a divergence between her passions for marketing and music. As each activity "disrupts" the other, welcoming these two strongly conflicting activities gave birth to the song "Society Wants" in 2011, recorded for the first time in Nashville in Spring 2016, together with four freshly written songs on the CD. Leading a full-time Project Manager's job alongside a musical career is a difficult challenge when there are only 24 hours in a day but it is a conflict that continues to feed her creativity and determination as a fully independent artist.
Recorded in Nashville, 'TENNESSEE' is the name of Diana K.'s debut blues/folk EP, released in November 2016.
When & Where

Caux Palace
Rue du Panorama 2
1824 Caux
Switzerland


Wednesday, 8 November 2017 from 14:00 to 17:00 (CET)
Add to my calendar
Organiser
Long ZHOU
Director of Cultural Integration
Swiss Education Group