Description
The Rise of Humans
Artificial intelligence is no longer a futuristic concept, but a reality that is starting to replace human interaction in a variety of ways. At-home assistants answer our requests thanks to an "OK Google" and Amazon Key allows in-house parcel deliveries when we are not at home. Even simple tasks such as banking, food shopping or customer service enquiries can now all be a faceless process.
Yet, while technology provides unprecedented levels of efficiency, human interaction and connection are still essential to meet Maslow's fundamental needs for a fulfilled life. In a time of limited attention spans, communication overload and the fastest-pace of life known to man thus far, the time for humans to rise up has never been more important.
Program:

Check in:
17:30-18:15
TEDxSHMS Talks Part 1:
18:15-19:15
Networking Cocktail:
19:15-20:15
TEDxSHMS Talks Part 2:
20:15-21:00
Farewell:
21:00-21:30
---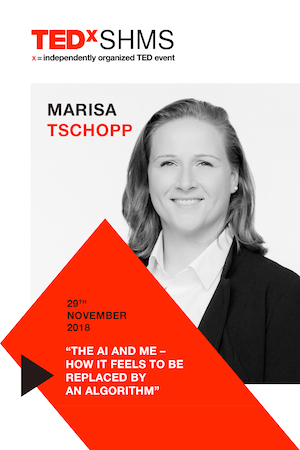 The AI and me – How it feels to be replaced by an algorithm
Through recounting her personal journey as a psychologist in the field of AI, Marisa Tschopp wants to inspire people of all backgrounds to create their own role in the age of AI.
There are serious concerns about losing control over AI, about it harming democracy and the job market when certain positions are replaced by algorithms. Our very survival is sometimes questioned. But even in everyday situations, like shopping with Alexa, we are in danger of losing what is most important to humanity: the human connection. Therefore, Marisa invites everyone, regardless of their knowledge of technology, to participate in the discussion about the role of AI in our lives to proactively shape the future.
Marisa Tschopp works as a researcher focusing on AI from the humanities perspective and is an ambassador for Women in AI in Switzerland.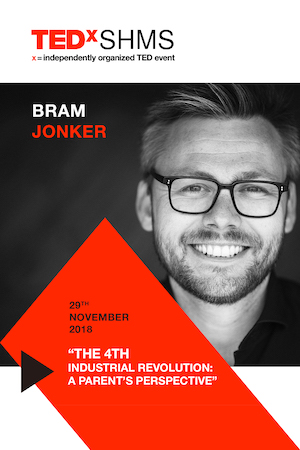 The 4

th

Industrial Revolution: A parent's perspective
Rapid technological changes and the Industry 4.0 are often discussed in relation to their impact on wider society or on our way of working. However, for our speaker Bram, SHMS alumnus and father of two young children, the issue of AI feels a lot closer to home. In the past, children would ask their parents for advice, while now they often turn to Google Home instead of mom and dad. With further developments in AI, will parents lose some control over their children's upbringing? In his talk, Bram discusses how AI will impact parenting and family relationships.
Bram Jonker, a Dutch national, is a successful entrepreneur who has founded and sold multiple companies in data analytics in the healthcare industry. He is driving the adoption of disruptive technologies in a corporate environment. Bram believes that only by empowering people with an understanding of technological changes, can we transform perceived threats into great opportunities for our world.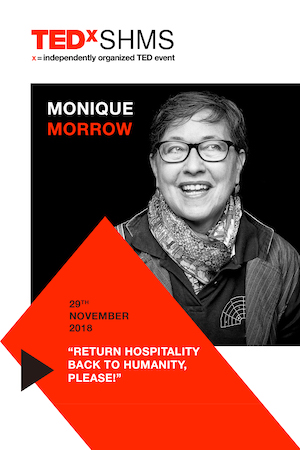 Return Hospitality Back to Humanity, Please!
We live in a world where boundaries between technology and humans are becoming blurred, hospitality industry being no exception. Concierge robots may welcome you at hotels, bars or restaurants; automated chatbots may answer your questions about local attractions or help you book a table.
Such interactions are defined by algorithms, a set of rules or processes executed by a machine. They leave no room for human emotions, spontaneity or a sense of belonging that are the results of the best hospitality experiences. Our speaker Monique Morrow argues that robots and chatbots do not define hospitality, humans do. She invites us to rethink the role of humans in hospitality and create the future we can get excited about.
Monique holds several industry advisory positions and has been recognised by numerous awards, including Switzerland's Top 100 Digital Shapers 2018.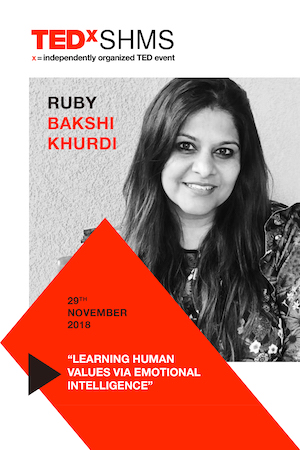 Learning Human Values Via Emotional Intelligence
We have created smart appliances, virtual reality and artificial intelligence to make our private and professional lives better yet sustaining our inner peace and harmony among this digital "noise" is becoming more and more challenging. How do we find a good balance between our reality and developing technologies? Dr Ruby Bakshi Khurdi believes that the answer lies in fostering our human values that help us distinguish between right and wrong.
To create a promising future for our children, where technology enhances their quality of life instead of diminishing it, we need to teach them strong values and develop their critical thinking and emotional intelligence.
Dr. Ruby Bakshi Khurdi is an award winning international motivational public speaker, global goodwill ambassador for Switzerland, chairperson for All Ladies League, social entrepreneur and trainer. She has received an Exceptional Woman of Excellence Award at the Women Economic Forum, Lisbon.
How Passion is Ignited Within You
With digital disruption at every turn, it's becoming harder and harder to imagine the role humans will occupy in our shared future. As a lifelong hotelier and now Internship and Career Programme Leader and Lecturer at Swiss Hotel Management School, Robert Saltz ponders the question of how we can harness our inner passion to build a future that keeps humans at the centre of it all.
In his talk, Robert invites us to look within and discover the light we can share with others to create a promising future together.
Brick by brick: Finding creativity offline in the digital age
Learning through play is effective not only for teaching children but also for helping adults communicate, interact and solve problems creatively. In his talk, Patrick Banas will explore the way LEGO® Serious Play® methodology enhances innovation and business performance through familiar, completely analog toys without the use of the latest technologies. Patrik believes that in our rapidly changing, digitalised world, humans can achieve so much more than AI ever can and will prove it with his story and examples.
Patrik Banas is a trainer, speaker and consultant focused on developing team capabilities and leading transformational programmes to enhance business growth and internal cooperation.