Sales Have Ended
Registrations are closed
Thank you for your interest in this webinar, if you were unable to register for the event, please contact ioo.admissions@ucl.ac.uk Thank You
Sales Have Ended
Registrations are closed
Thank you for your interest in this webinar, if you were unable to register for the event, please contact ioo.admissions@ucl.ac.uk Thank You
Join Pearse Keane & Dawn Sim to learn more about our exciting new PGCert; Telemedicine for Ophthalmology starting in January 2021
About this Event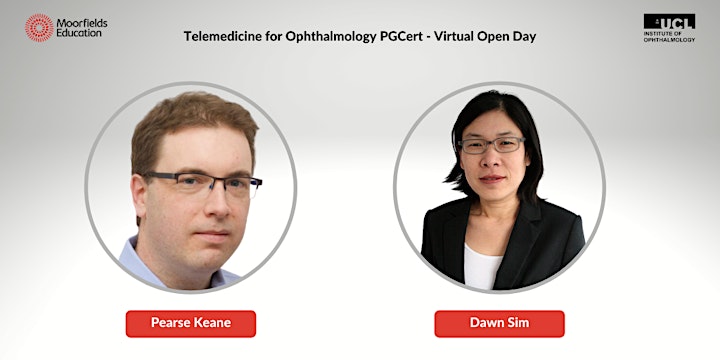 Telemedicine for Ophthalmology PGCert is aimed at ophthalmic professionals (medical and non-medical) who want to advance their knowledge and skills in order to address the rapid changes in healthcare towards digital health and telemedicine. Students will be introduced to health informatics in the context of eHealth and telemedicine systems, supported by specialist modules in diagnostic imaging for ocular diseases. Our researchers have pioneered AI breakthroughs developed with Moorfields Eye Hospital and Deepmind, stem cell-based discoveries for regenerative treatments and neuroscience innovations through Cortex Lab. Many of the scientific breakthroughs and inventions of academics at the Institute of Ophthalmology go on to be spinoff companies through UCL
This programme is delivered jointly with UCL Institute of Ophthalmology and Moorfields Eye Hospital. You will be taught by leading experts in imaging and digital health. You will learn about the latest imaging technology and gain the essential skills required for setting up and using telemedicine services for eye care. The programme is delivered predominantly online with an optional one week of residential face-to-face teaching, making it ideal for busy professionals who want to advance their knowledge and skills without having to stop working.
Register today to learn more!
Pearse Keane is a Consultant Ophthalmologist at Moorfields Eye Hospital and an associate professor at UCL Institute of Ophthalmology. In 2016, He initiated a formal collaboration between Moorfields Eye Hospital and Google DeepMind, with the aim of developing artificial intelligence (AI) algorithms for the early detection and treatment of retinal diseases. In August 2018, the first results of this collaboration were published in the journal; Nature Medicine. In October 2019, He was included on the Evening Standard Progress1000 list of most influential Londoners.
Dawn Sim is a Consultant Ophthalmic Surgeon and Director of Telemedicine at Moorfields Eye Hospital. Her primary areas of research interests include retinal imaging, tele-ophthalmology and Digital Health applications in eye care. Dawn is a winner of the Telehealth Business Award 2019, Moorfields Eye Charity Innovation Award 2018 for her work in the field of tele-ophthalmology and was voted in the past three years on the Ophthalmologist magazine power list as one of the top 50 ophthalmologists globally.
There will be an opportunity to interact and ask questions afterwards.
To read more about the programme and apply - please visit - https://bit.ly/32YwFhf
Register Now!