Portals are proud to present Colchester post-metal quartet Telepathy's launch party for their new album 'Burn Embrace'
About this event
After tearing it up on the main stage at Portals Festival last year, and performing stunning sets at the likes of Dunk! Dessertfest and Roadburn, atmospheric post-metal/sludge quartet Telepathy are releasing their third full length album 'Burn Embrace' on Svart Records.
Portals are proud to present their album launch party at The Black Heart, Camden, with support from Tacoma Narrows Bridge Disaster, Earth Moves and Burden Limbs.
For fans of: Cult of Luna, Neurosis and Russian Circles.
Praise for Telepathy:
"Thought post-metal had nothing left to say? Well, Telepathy just read your mind. Now let them prove you wrong", Kerrang.
"The drama is felt from the crush of the oceanic riffs that wash menacingly around the listener and the sense of desolation that grips you during the disquiet" (Metal Hammer)
Tacoma Narrows Bridge Disaster are a staple of the London post-whatever scene, having crafted their trade over the past 10 years and set to release a new album in 2020, they promise to bring intricate, expansive and heavy riffs to the table. Everything from delicate, complex introspection to crushing monolithic passages, TNBD have you covered.
Earth Moves will be taking the stage off the back of the album they released in November 'Human Intricacy', the London/Brighton based quartet comprising of members from We Never Learned To Live, Grappler, and Cloud Boat meld post-metal, screamo, shoegaze and black metal to create astonishing sounds.
Burden Limbs will open the evening, with their twisted, gothic rock that jumps out and grabs you to take you along for the ride.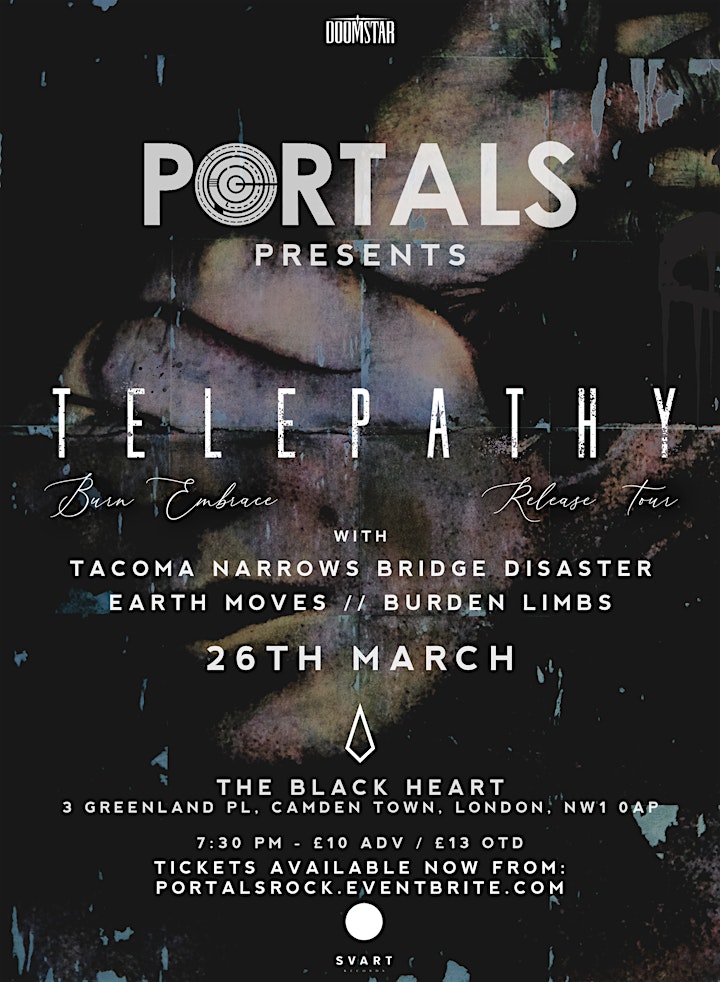 Organiser of Telepathy Album Launch at the Black Heart w/ TNBD