Description
Join us on the first Tuesday of each month for Coffee & Natter, Telford's only FREE business networking event with no meeting fees or membership fees.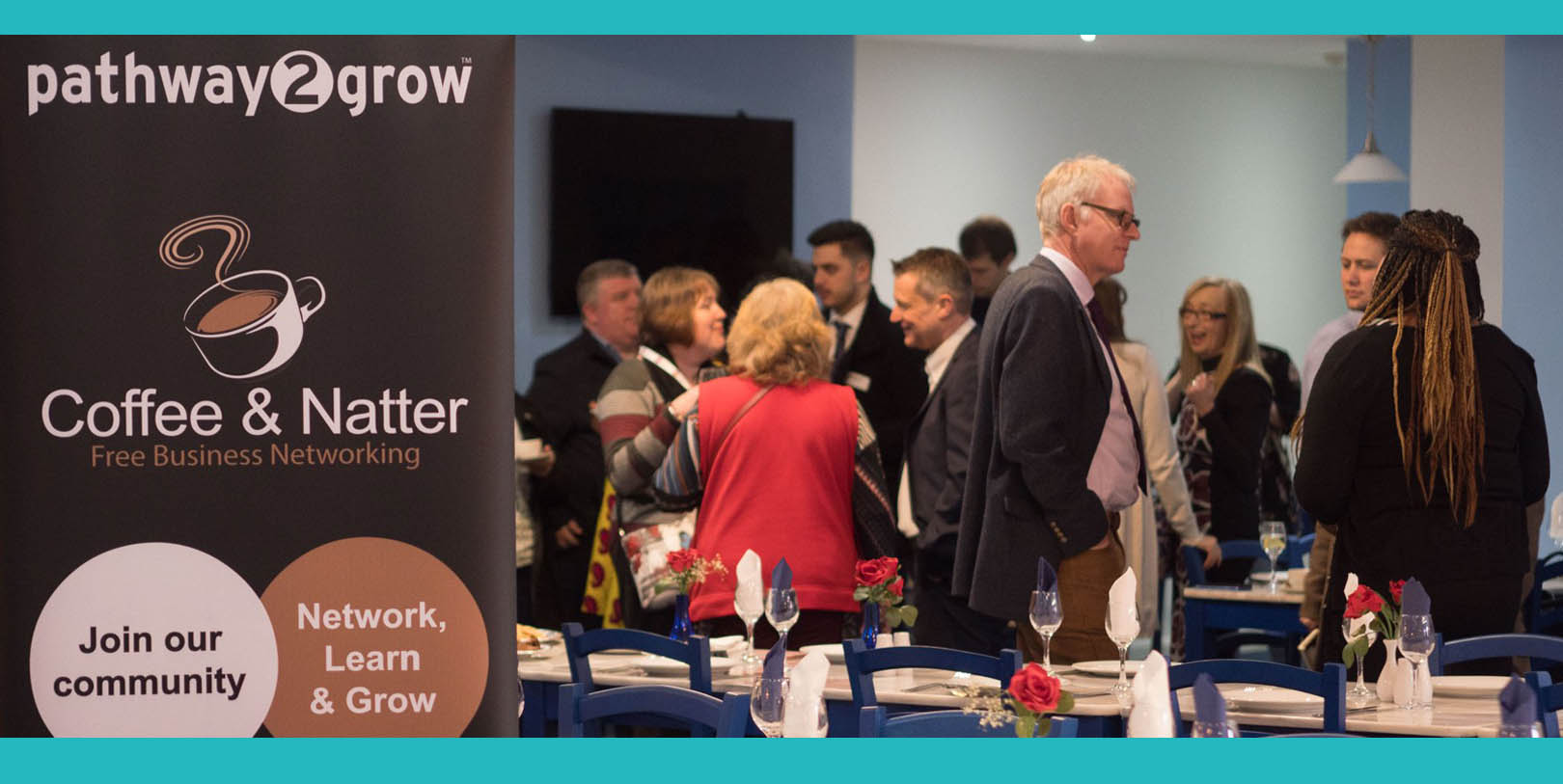 We provide the coffee and you bring the natter! Pathway2Grow hold Coffee & Natter afternoons in various locations across the country as part of our mission to build a business community that can #Network, #Learn & #Grow together. This free event gives you the opportunity to meet professionals from a range of industries as well as listen to a high quality Keynote Speaker. There will be tea, coffee, water, biscuits and other sweet treats provided for free during the afternoon to give you plenty of energy for networking!



The Agenda for Tuesday 7th May 2019 will be:
13:00 – 13:30 Registration & Networking
13:30 – 14:00 Welcome & Delegate Introductions
14:00 - 14.10 Business in a Bite

14:10 – 14:40 Keynote Speaker - Mark Northall "How to formulate a Social Media Strategy for your business"

14:40 – 15:00 Business Clinic - Share, Discuss & Resolve Business Problems
15:00 – Open Networking, Photos and Video Testimonials

Keynote Speaker - Mark Northall "How to formulate a Social Media Strategy for your business"
You can waste a lot of time on Social Media – Following this talk you will have an idea of how best to spend your efforts online this year. Forming a Strategy to best market your Business can be achieved by following a simple 5 step plan which you can take away and implement straight away. As an added bonus there will be some Crystal ball gazing into what will happen on the various platforms in 2019.

Mark is a Social Media Manager, Coach and Strategist. For the last 6 years he has developed and actioned strategies for numerous Small Businesses and Individuals.
About Coffee & Natter

The Pathway2Grow "Coffee and Natter" business networking event is relaxed networking centred around a guest speaker, which will involve a presentation on a topic of interest to anyone seeking self-development and personal and business growth. Attendees are given the option of introducing themselves with a one minute intro to the rest of the floor; however, there is absolutely no pressure to do so!


We believe in building an online and an offline community and there are plenty of ongoing opportunities to converse and share with a Shropshire Coffee & Natter WhatsApp group, click link to join: https://chat.whatsapp.com/LFLGcuWhdOOGgWMVXMlOO9
Join our Facebook Group and also on LinkedIn as well as our monthly meets.
https://www.facebook.com/pathway2grow/
https://www.facebook.com/groups/coffeeandnatter/
https://www.linkedin.com/groups/8243224/

So come and join us to #Network, #Learn & #Grow!


Regards

Your hosts

Fallon Pryce - Regional Director for Coffee and Natter, Pathway2Grow (@FallonPryce),

Kasim Choudhry - National Director for Pathway2Grow (@choudhry_kasim)

and
Safaraz (Saf) - Founder of Pathway2Grow (@SafarazAli)

P.S. Follow Us on @Pathway2Grow