Description
TENERIFE BOAT PARTY 2020
The Tenerife Boat Party takes place weekly all year around every Wednesday, Friday, Saturday and Sunday sailing from 15:30 - 20:00 from the harbour in Puerto Colon which is near to Playa de las Americas & Los Cristianos.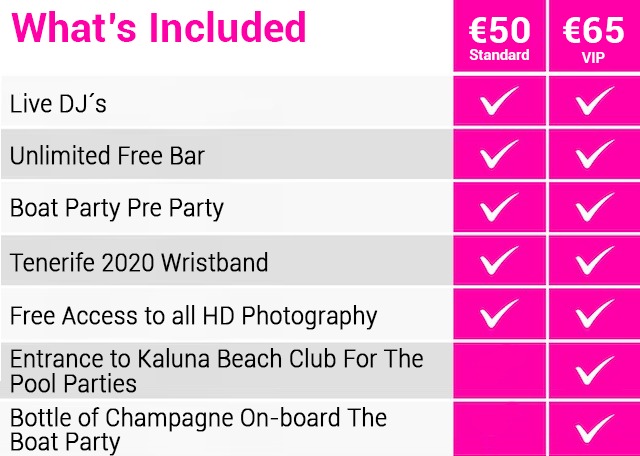 BOAT PARTY PRE PARTY!
Pre boat party warm up which includes a welcome drink at the meeting point in Puerto Colon.
UNLIMITED FREE BAR!
Make full use of the unlimited free bar for the duration of the boat party without any limitations!
TENERIFE BOAT PARTY DJ's
Tenerife Boat Party DJ's playing the best house, old skool, dance classics and on board requests. Expect special guest DJ appearances throughout 2020.
AFTER PARTY!
Once back on dry land and included in the price of the boat party, we have an after party with discounted drinks at the harbour in Puerto Colon.
UPGRADE TO VIP!
Why not upgrade to VIP for Free Entry to the Pool Party at the exclusive Kaluna Beach Club and you can choose any day of your holiday!
TENERIFE 2020 WRISTBAND!
When booking the boat party we will include the Tenerife 2020 wristband which gets you heavily discounted drinks and 2 for 1 every night of your holiday in the best bars and clubs in Playa de las americas such as The Sound of Cream, Linekers, Tramps, Rumours, Rah Rah's.
The Tenerife 2020 Wristband also includes free entrances to some of the best clubs in Tenerife and giving you discounts on watersports and other trips and excursions, also great discounts in restaurants.
All this for only 50 euro for the boat party and unlimited free bar and wristband or 65 euro for VIP Which gives you the same plus Free entry to The Infinity Pool Party at Kaluna Beach Club any day of your holiday! Don't miss out reserve and guarantee your place now from a 15 euro deposit online reservation & you pay the remaining balance prior to the boat party on arrival in Tenerife all the details are in your E-Ticket which is sent by email as soon as you book.
The boat party is great for everybody groups of friends, couples or stag and hen parties.
If you are a large group please contact us for a quote.
For any more information about the parties you can Email: info@boatpartytickets.com or Whatsapp or call
+44 7473 376 534.
What is the refund policy?
Deposit reservations are non-refundable. In the event of a trip or activity being cancelled, we will try to transfer you on to the next available trip. However, if this
is not possible due to you flying back to your home country you will be issued a full refund.
In certain circumstances, called "force majeure" conditions, are unusual circumstances, outside the control of Boat party tickets which cannot be avoided even if Boat party tickets acts with all due care. Boat party tickets is not liable for any loss, damage or expense or any limitation or withdrawal of facilities or services caused by these force majeure conditions including war, terrorist attack, civil unrest, industrial action, weather, flood, fire, drought, closures, unforeseen alterations of public transport schedules, rescheduling of buses, boats or planes, spread of disease and/or epidemics, acts of God or any other event outside the control of the company which either delays, extends or reduces the trip or changes the trip after departure.