Description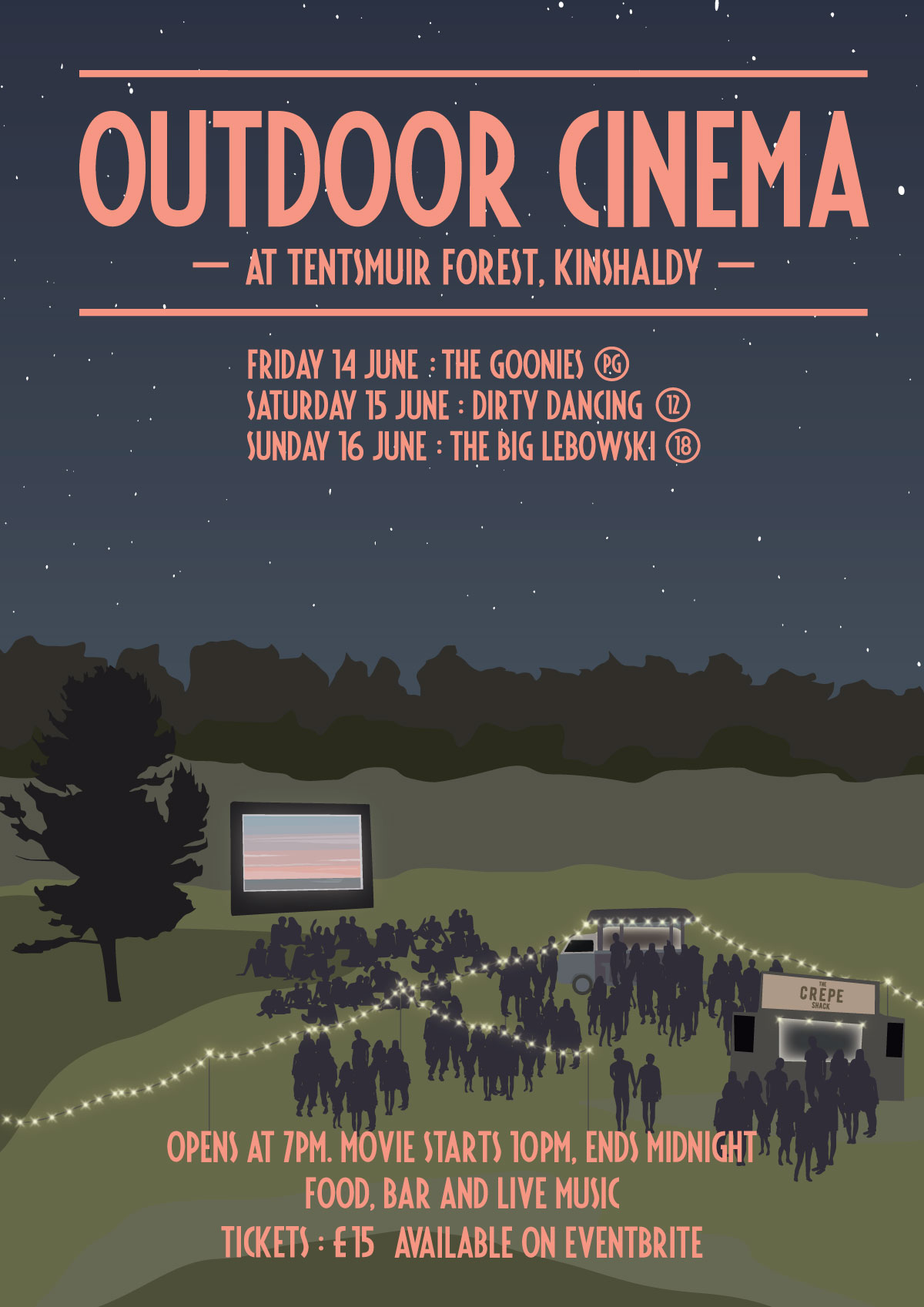 ---
---
TENTSMUIR FOREST FIRST EVER OUTDOOR CINEMA .
Offering an incredible cinema experience over 3 nights in the heart of Tentsmuir forest with live acoustic music, food and drinks.
Gates open at 7pm, we will be opening the night with a DJ set and live acoustic from local artists to get you all in the mood for the show which we aim to start at 10pm (sunset). Make sure to arrive early to grab the best spot. We will provide hay bales as seating but we recommend you bring a blanket and some warm clothes.
We have hired an incredible 8mx4m inflatable screen to catch up on some memorable classic movies!
There will be food available from The Crepe Shack and a BBQ.
Thirsty? We got you covered! A mobile bar will be serving beers, ciders, wine and soft drinks.
Other stuff...
Bus transfer available: First pick up Dundee 6.30pm / 2nd pick up Newport on Tay / 3rd pick up Tayport. Bus returns at midnight same drop offs. Bus tickets availbale to purchase on the tickets sales page. Limited seats.
Toilets available on site.
Feel free to bring your own picnic blanket or chair if you don't want to seat on hay bales.
If it rains the event will stil go ahead so make sure you are dressed for all weathers!
No camping will be permitted on site.
No overnight parking.
No alcohol allowed on site, drinks can be purchased inside the venue.
Dogs welcome.
Ticket purchases are subject to a booking fee.
TERMS AND CONDITIONS
Arrival and Admission
1. Gates open at 7pm. Free parking available when you purchase a ticket.
2. Only customers in possession of a valid ticket will be admitted into the event to which the ticket relates and admission will be permitted only for the duration of the performance specified by the ticket.
3. The Staff on duty at any given time during cinema operating hours reserve the right to refuse admission to any member of the public
4. Please note that extreme weather could affect the screening. This event can operate in all weather conditions providing the safety of movie goers and staff is met. Rain does not cause any problem, but high winds may give us grounds to stop or cancel screenings.
5. Should an event be cancelled an alternative date may be provided, if the screening is not to go ahead a full refund will be issued. The refund will take 5-10 working days to be credited to your account
6. The Event organisers and security staff reserve the right to refuse the entry onto its premises of any person who is believed to be overly intoxicated and may require any person or customer who is believed to be overly intoxicated to leave the premises immediately without any entitlement to a refund.
7. No customer is allowed to bring any illegal substances or weapons onto the premises. Anyone found in possession of such items will be refused entry or will be required to leave the premises immediately without any entitlement to a refund. We take such matters seriously and may report any incident to the police.
8. All persons must be eligible for the appropriate film rating and must provide valid ID if requested. We will refuse entry to anyone deemed underage for any screening without any entitlement to a refund.
9. No alcohol or glass is permitted on the premises, these will be confiscated until departing the premises. Any alcohol purchased in a licensed area must be consumed in that area and cannot be taken away.
Litter – Numerous litter bins will be placed around the site cinema goers are encouraged to use these
First Aid –A First Aider will be present throughout each screening.
Further Terms and Conditions
1. The event organisers or any employees will not be liable or held responsible for any goods or items taken or stolen from them at the cinema premises. We will not be held responsible for loss of personal possessions during our events.
2.In the event of cancellation, for any reason; cancellation notices will be placed at the entrance to the event, an update will be posted on Facebook and an email will be sent to all customers who have booked online as soon as a decision to cancel has been made. Following cancellation an alternative date will be provided. No refunds will be given if you are unable to attend
3.Customers are not allowed to bring any filming or recording devises with them to site It is a criminal offence to knowingly record a copyright performance and can lead to criminal proceedings being taken along with equipment confiscated and handed over to the authorities, the security will be checking for such devices before and during the showings
4. Mobile devices should remain off or put on silent before the film starts