Have fun in your car, increase your driving ability and confidence, and meet new faces.
About this event
ABOUT THE EVENT
Tesla cars have broad appeal. You might have chosen one because you like gadgets and technology, or because you want to reduce your carbon footprint. However these cars are all seriously quick, and for many owners they are a BIG performance upgrade. This driver activity day provides an opportunity to explore the full performance of your car in a safe and friendly environment. Start by enjoying our high speed bend where we have the space to allow you to push your limits and that of your car, with input from our instructor to improve the control and handling of your vehicle. For many it will turn the well known rules of driving on their head! Later enjoy the circuits around soft cones, improving your lap with each time around. Unlike the road or track days, on the activity days with only one car travelling at speed in an area at a time, you can concentrate on what you're doing without worrying about everyone else's actions. A great day to increase your driving ability and have fun.  If time+weather permits in the afternoon, we'll put all of the exercises together into the sprint circuit, as shown here:
LOCATION
If using Sat Nav, please note, some sat navs will take you to the wrong part of Merlin Way as there is an old gate in a car park that is now locked shut, so access can not be gained from this direction. The easiest way is to get off M11 at Junction 7 and just follow the signs to 'North Weald Market'.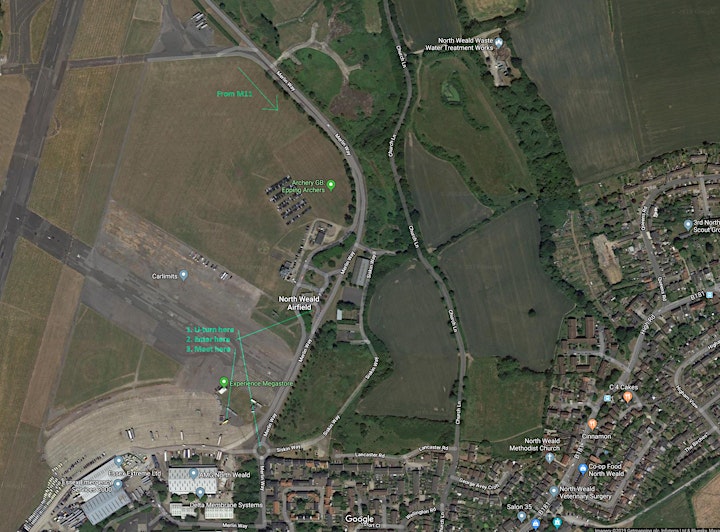 ITINERARY 
08.45 Meet on the airfield by the coffee bus.
09:00 Once most people have arrived there will be a briefing by the instructor.
9.30am - 4.00pm - A large group day with the following activities;
High speed bend
Small circuit
Medium Circuit
Sprint Circuit included weather/time permitting
Lunch break is usually around 12:00pm.
INSURANCE
This is NOT a track day - it is driver training on private land. This is normally covered under your standard car insurance policy - if in doubt please check your policy wording and/or contact your insurer.
SPECTATORS, PASSENGERS + MULTIPLE DRIVERS?
Spectators and front seat passengers are no problem, but rear seat passengers are not allowed on the activities. There is no problem with two or more people sharing the driving in the same car with one ticket. Don't buy multiple tickets for one car as you'll run out of battery.
WAITING FOR A MODEL 3 DELIVERY?
Please do not book a place on this event unless you have at least a delivery appointment scheduled prior to the event date. If the tickets sell out before you have this don't worry - we'll organise another date.
RANGE ANXIETY
More like range euphoria! The first exercise of the day will probably be driving to the airfield in the most efficient manner possible, but you should only expend 40-50% of your available charge while you're there - so if you arrive on 75% you should have around 25% when it's time to leave. The nearest Tesla superchargers are Birchanger Green (15m) and South Mimms (25m).
I took the photo below near the end of the day in between runs on the sprint circuit. I'd arrived with ~85% charge.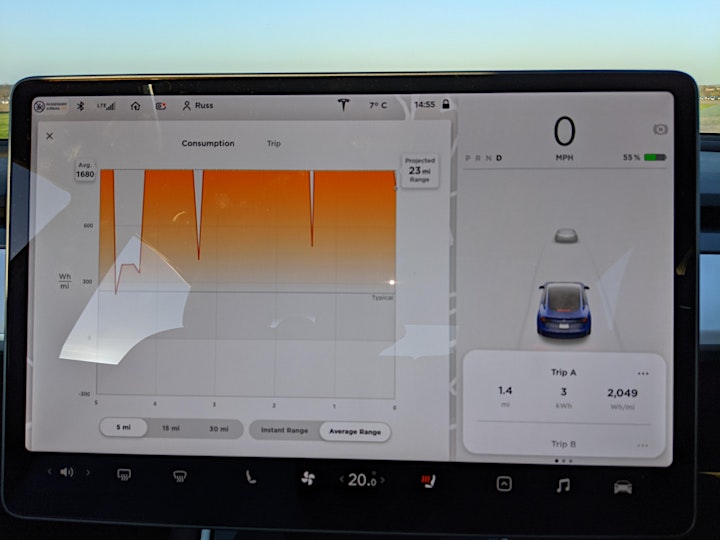 NOISE LIMIT (This is a Carlimits rule but you can probably skip this bit unless you like your music LOUD)
All vehicles attending the Activity Day must pass a static noise test of 105dBA before they are allowed to participate. The static test will be measured at 0.5m from the exhaust at 45 degree angle from the exhaust with the vehicle at 3/4 maximum engine revs. Should the car be unable to rev at 3/4 maximum revs, the vehicle will be subject to an additional drive by test (92dBA limits measured at 50m) driven by a CarLimits instructor before being permitted to be used on site. No vehicle measured or suspected of exceeding the noise limits will be permitted to operate unless rectified and retested to be shown to be within the noise limits. No refund will be granted to any vehicles failing the noise limit. There must also be no starting of engines or driving activity before 09:00 or after 16.00.
ON THE DAY
Pump up your tyres to at or near the number printed on the tyre sidewall (not the lower number on the door panel). This is to protect your tyre sidewall under hard cornering. There is a garage just off the M11 roundabout (on the A414 towards Harlow) where you can do this before the event. We usually have a tyre pressure gauge so that you can decrease the tyres before your journey home!
Bring your driving license
Drive efficiently to the airfield to arrive before 09:00 and with > 70% charge.There are food facilities located on the airfield.
The day will begin at 9.00am and finish at approximately 4.00pm.
Rear passengers and crash helmets are not allowed.
LEARNING THE CIRCUIT
The circuit we will use is shown in our Car Limits game – why not have a play to help you learn where you need to go on the day. Don't worry, they've used a bit of 'artistic license' we don't really have helicopters and people to mow down on the circuit! http://www.carlimits.com/game/
ABOUT ME
 I was lucky enough to take delivery of a Model 3 Performance in mid 2019, and while discussing the car with other owners and prospective owners it became apparent that a lot of them were new to performance cars. Having previously owned a Lotus Elise, I knew that driver training makes a huge difference to safety and confidence. The Lotus groups all went to one place for this - carlimits at North Weald airfield in Essex. I can personally vouch for how much fun these days are, as evidenced in the old videos below.
Our first Tesla-only activity day ran successfully on 29th November 2019. In what was an unusually quiet day for the Carlimits staff, we whirred our way around the high speed bend and circuits. The day went well - everyone seemed to have a good time so we thought we should do it again.
Carlimits will provide a couple of expert instructors and an airfield to have fun on, I'm bringing together up to 20 cars and drivers to take part.
As the organiser I'll be paying up front for the costs of the airfield and instructors. After the event, any remaining profit will be donated to the Essex and Herts Air Ambulance charity. Proof of the donation and the event accounts will be available on request to any attendee after the event.
The date is set for Friday March 20th 2020. Join us!