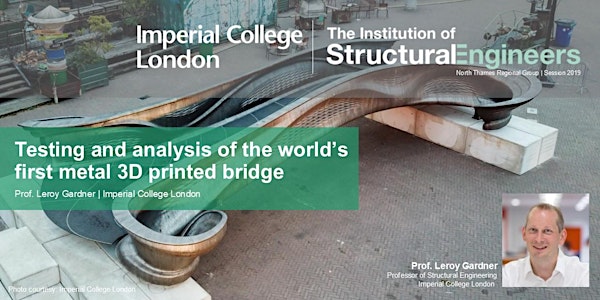 Testing and analysis of the world's first metal 3D printed bridge, followed...
Description
Testing and analysis of the world's first metal 3D printed bridge by Prof. Leroy Gardner from Imperial College London, followed by Talk on Research Award Winner
EVENT INFORMATION
Date: Wednesday 27th November 2019
Time: 18:00 tea and coffee for 18:20 start, 19:30 finish
Venue: Main Auditorium, Institution of Structural Engineers HQ, 47-58 Bastwick St, London EC1V 3PS
Tickets: FREE for members and non-members
SCHEDULE
18:00 - 18:20 Tea and Coffee Reception
18:20 - 19:00 Technical Talk on MX3D (40 mins)
19:00 - 19:10 Q&A
19:10 - 19:25 Research Award by Dr Adam Jan Sadowski and Dr Dimitris Pachakis
19:25 - 19:30 Q&A
19:30 Close

SYNOPSIS

Wire and arc additive manufacturing (WAAM) is a method of metal 3D printing that is suited to the requirements of the construction industry in terms of scale, speed and cost. Using this technology, a 10.5 m span footbridge, the first of its kind, has been constructed. The testing, analysis and verification of the bridge and its components are described in this presentation. The experiments performed have included material testing, compressive testing of cross-sections and full-scale load testing of the bridge, and have featured the use of 3D laser scanning and Digital Image Correlation. Parallel finite element modelling of the full bridge and its constituent elements has also been performed as part of the verification. The project highlights the potential for metal 3D printing in structural engineering, as well as the challenges and necessary considerations for design.
SPEAKERS
Prof. Leroy Gardner BEng MSc DIC PhD CEng FIStructE FICE FHEA
Professor of Structural Engineering | Imperial College London
Leroy Gardner is Professor of Structural Engineering and Director of Research in the Department of Civil and Environmental Engineering at Imperial College London. He is engaged in teaching at both undergraduate and postgraduate level, industry training, specialist advisory work and leading an active research group in structural engineering.
Prof. Gardner's principal research interests, in respect of which he has co-authored 4 textbooks, 7 book chapters and over 400 technical papers, lie in the areas of structural testing, numerical modelling and the development of design methods for steel structures. He is Editor-in-Chief of two international journals and serves on the Editorial boards of five others. He chairs a number of IStructE and BSI committees, is the UK National Representative on the European Working Group for the structural steel design standard EN 1993-1-1, and is a Fellow of both the Institutions of Civil and Structural Engineers. Prof. Gardner was awarded the prestigious IABSE prize in 2017 and was appointed Distinguished Visiting Professor at Tsinghua University in 2018.
IStructE Research Award Winner
At present, there is very limited research and testing of hollow steel pipe piles, commonly used in marine construction. The research indicates that they may be susceptible to inelastic buckling and low cycle fatigue when subjected to cyclic loading, such as during an earthquake. A reliable and predictable description of the inelastic post buckling behaviour of steel circular hollow sections in the marine pile range in cyclic loading would be indispensable for their performance based seismic design in the marine pile range - however, such a characteristic does not yet exist.
Dr Adam Jan Sadowski MEng MSc MEd PhD CMath CSci FHEA
Senior Lecturer in Structural Engineering | Imperial College London
Dr Adam Jan Sadowski is a Senior Lecturer in Structural Engineering. His research interests include the theoretical and computational simulation of the strength and stability of complex metal shell structures, for which he employs methods from shell theory, finite element analysis, applied mathematics and solid mechanics.
Dr Dimitris Pachakis
Technical Director | COWI
Dr Dimitris Pachakis is a Civil/Structural Engineer, licenced in Greece, California, the UK and the UAE, with over 20 years of experience, 15 of which in port planning, and engineering. He has worked on over 50 port planning and engineering projects worldwide, involving medium and large container terminals, liquid and solid bulk terminals, and oil and gas supply bases. He has worked in the UK for 10 years and is part of 2 PIANC workgroups and external member of research centres at Imperial College and City University. His key areas of expertise are port planning, maritime structures, seismic design and technical due diligence.

NOTE
Register for ticket or to share this event: https://MX3D.eventbrite.co.uk
Places are limited and this event has a awaiting list, please cancel the ticket if no longer required.
All events listed in our regional group can be found here: http://IStructE-NTRG.eventbrite.com
This event will not be recorded or live streamed online. Opinions expressed on any matters by the presenters or participants during or in connection with any presentation are solely the views of the authors. Opinions and views must not be taken to be the views of The Institution of Structural Engineers and accept no responsibility for the content and/or accuracy.
This event will be photographed. By attending, you acknowledge that you may be photographed and that may be published without limitation by The Institution of Structural Engineers.
Organiser of Testing and analysis of the world's first metal 3D printed bridge, followed by IStructE Research Award Winner
The North Thames Regional Committee represents those members and affiliates of the IStructE whose registered address lies within the north Thames region in London. Our regional group members are volunteers from our region to work closely with the Institution of Structural Engineers HQ, which is a professional body for structural engineering based in the United Kingdom. The Institution has over 28,000 members working in 105 countries around the world.
Our aim is to promote engineering in our community and to provide a platform for everyone (not just engineers) to exchange ideas and thoughts. We organise various events throughout the year, including talks, walks, courses and social events.
For events listed on Eventbrite: 
http://IStructE-NTRG.eventbrite.com
For more information about our regional group: 
https://www.istructe.org/near-you/europe/united-kingdom/north-thames
Facebook page: